Student Letters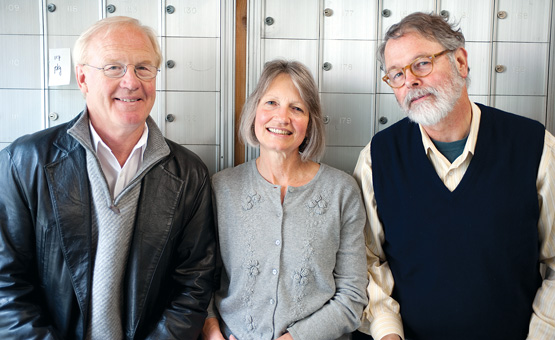 Cleve Larson '71, Barbara Morrison James '71 and David Current '71 collected about 80 letters from classmates for their project.
By David Brauhn
In an April 1970 letter to her parents, Carolyn Dvorak Nielsen '71 wrote about the strange animals living inside her dorm.
"I got lucky Thursday and Friday and got to go to the mountains with a couple of classes. I brought home a frog … The illegal animals here still abound. The freshman dorm is featuring rabbits and ducks along with the usual contingent of cats, dogs, fish and turtles."
After reading this letter, today's Whitties wanted to know one thing, said Barbara Morrison James '71: How did students in the dorms get away with that?
David Current '71 told them, "We weren't supposed to get away with that!"
In an effort they dubbed the Whitman Letter Project, Current, James and Cleve Larson '71 collected from alumni nearly 80 letters that give a glimpse into campus life during the late 1960s and early 1970s, when friction between tradition and counterculture made for, well, wilder times.
For the project, the three classmates boiled letter excerpts down to a script, which seven student readers presented to alumni at the 2012 spring reunion.
To see a video of a reading of the Whitman Letter Project at the Class of 1972's 40th reunion and to read the script, go to the
Whitman Letter Project
website.
"I think Whitman was an example of where the counterculture movement arrived like the fog," Larson said, "and it swept over campus, and forevermore, post-World War II, Eisenhower, 1950s … Wave by wave, we got involved in it during our time here."
Current said the way students of that era surfed the countercultural wave moved him to tears. "The changes in the school and the changes in individuals were dramatic, sometimes within months or weeks. And so reading the letters, having been there and remembering that, was just stunning."
The three classmates got the idea for the project at their 40th reunion in 2011, when G. Thomas Edwards, the William Kirkman professor of history emeritus, lectured on the history of the college in the late '60s and early '70s.
Larson said, "As we were listening, we asked, 'What else could we add to this history in an age of email, text messaging and electronic communication? What else is out there that could be added to the known history of Whitman to make it come alive?'"
The answer they came up with was letters. Hard-copy letters were the primary link between students and their parents in this era.
"One of the things that surprised me is the quantity of letters that we wrote," James said. "For some people, it was almost a daily activity."
Current added, "We were talking to some students the other day about the cost of the telephone. There is no comparison today. You only called on Sundays, because weekdays were impossibly expensive."
The three classmates worked with Associate Director of Alumni Relations Nancy Mitchell to issue a call for letters.
Glen Drake '71 answered that call for submissions in a big way, contributing 26 pages of excerpts from his letters.
Have letters? Be a part of the project.
If you have letters you'd like to submit to the Whitman Letter Project, email them to whitmanletterproject@gmail.com
or mail them to:
Whitman Letter Project
1463 E. Republican St. #179
Seattle WA 98112
"There was a whole binder of things that my mom had saved," Drake said. "As she was down-sizing, she handed me this stack of stuff and I went, 'Oh my goodness, are you kidding me, you kept all this stuff?' It was a thrill to relive my college experience through my old letters."
James said letters preserve those college days more than 40 years ago in a way that memory can't.
"It's a completely different kind of thing than it would be for us to sit around at our age today and try to remember college, because it's just not a problem of memory, but all the filters we would have, and the way we would interpret things differently."
The Whitman Letter Project isn't over yet. In fact, it may mark the start of a broader effort to collect student correspondence. Current said their goal is to motivate alumni to dig up their old letters and send them for inclusion in the project.
"What we're all hoping is that after seeing the results of our project, people will realize the letters they wrote are valuable," he said.