Crossing Disciplines
Cross-Disciplinary Learning and Teachin Initiative Workshops
This spring, 40 faculty members from all three academic divisions and a host of departments are participating in seven workshops through the Cross-Disciplinary Learning and Teaching Initiative. Here's a look at five of the workshops, the participating faculty, what they expect to learn, and how they believe that learning will ultimately inform their teaching and benefit their students.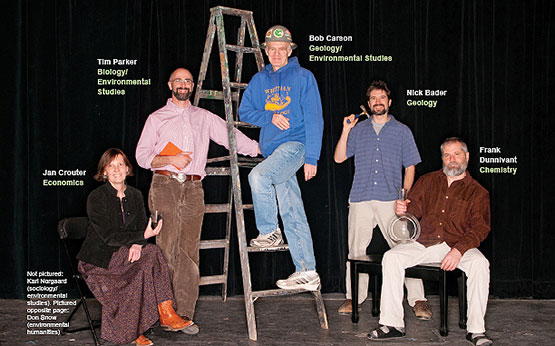 Interdisciplinary teaching in 'Introduction to Environmental Studies'
Assuming the role of Whitman provost and dean of the faculty in 2009, Tim Kaufman-Osborn is the chief academic officer of the college. In addition to overseeing divisions ranging from Penrose Library to Off-Campus Studies as well as all athletic programs, Kaufman-Osborn is responsible for proposing and implementing academic initiatives that advance the curriculum while maintaining the college's legacy of excellence in liberal arts education.
Few issues of the modern world can be confined — or defined — using a single academic discipline. Whether examining the relationship between climate change and the economy, or exploring the many ways in which human experiences are conveyed, advancing contemporary knowledge increasingly requires collaboration from experts trained across multiple fields of study. Perhaps more importantly, these experts must possess an understanding and appreciation for how different fields interact, converge and impact one another.
Preparing future generations to address the needs of a complex global society is critical. But how does Whitman College — a liberal arts institution more than 125 years old — adequately equip students to be leaders in the 21st century?
The answer, according to Tim Kaufman-Osborn, Whitman provost and dean of the faculty, involves honoring the college's impressive legacy while planning for its innovative future. Some might say that legacy reflects a "tradition of innovation."
Kaufman-Osborn, previously a longtime politics professor at Whitman, is quick to parse that phrase.
"On the face of it, to refer to Whitman's 'tradition of innovation' is oxymoronic. If we are always innovating, then it means that we are constantly shedding the traditions that we once considered valuable. That's not what we're doing at Whitman," Kaufman-Osborn said. "Instead, I would say that Whitman is constantly innovating within the context of our traditional liberal arts curriculum. Whitman and other liberal arts institutions are, by their nature, wedded to a very traditional notion of what it means to educate a human being. Our adherence to these core principles is, in itself, an innovative approach in the current landscape of higher education, which too often encourages forms of specialization that veer toward insularity."
The cornerstone of this traditional notion, said Kaufman-Osborn, is that a proper liberal arts education must have a significant component of academic breadth — giving students the opportunity to explore the convergence of disciplines that might not be visible through a more narrowly specialized perspective. While continuing its longstanding support for formal majors and academic departments, the college is working increasingly to bolster cross-disciplinary programs and curriculum that encourage students and faculty to cultivate connections between different "provinces of inquiry," he said.
The goal: to immerse students in a rigorous liberal arts education that also provides myriad opportunities to examine the fascinating regions where disciplines intersect.
"Rather than trying to create new departments or departmentally based majors that require significant resources, we are finding new ways to cultivate what we call 'cross-disciplinary webs of connection' between existing departments, programs and majors," Kaufman-Osborn said.
These connections are manifest in a variety of creative ways — each dedicated to uncovering new pedagogies that further enhance the breadth of curriculum throughout the college. One such effort already well under way is the Global Studies Initiative (GSI), launched in 2008 by a $345,000 grant from The Andrew W. Mellon Foundation. The initiative brings together faculty from diverse departments and backgrounds who work together to incorporate global issues, perspectives and critical analyses into their teaching as well as their scholarship. Currently directed by Bruce Magnusson, associate professor of politics, GSI activities include ongoing faculty discussions of cross-disciplinary texts, faculty development workshops, visiting educators and symposia, and the creation of new team-taught, cross-disciplinary syllabi for courses that will be offered in the future.
Whitman's efforts to bridge disciplines also are seen in a number of existing courses and academic programs, such as the Semester in the West program, founded and led by Phil Brick, Miles C. Moore professor of politics. Offered every other fall since 2002, the semester-long course takes 21 students on a trek across the Western United States — stopping to examine, hands-on, environmental themes through a comprehensive liberal arts lens. Instead of traditional textbooks, students gather information and insight by engaging directly with more than 60 leaders representing a broad spectrum of opinions in the fields of conservation, ecology, environmental writing and social justice.
"This kind of intellectual and creative engagement doesn't happen frequently enough in higher education."
— Tim Kaufman-Osborn
provost and dean of the faculty
After several months of research, writing and interactions with field experts, Semester in the West students return to campus where they share their experiences through capstone projects and presentations. The Western Epiphanies series features "poetry and prose" from "Westies" who share their critical analyses and newfound insights through stirring readings. Additionally, each student is required to produce a professional-quality podcast — in the style of a National Public Radio segment — using their field experiences to write a script and edit and arrange audio clips recorded on their journey.
"Increasingly, students are demanding a 360-degree education grounded in the liberal arts, enriched by experiences in which they must apply their knowledge, and that isn't confined to a single academic discipline," said President George Bridges. "This is one of the reasons students choose to attend our college, and we are committed to sustaining and enhancing these programs to fit the changing needs of our students and our world."
• • •
In September 2010, Kaufman-Osborn announced the inauguration of Whitman's Cross-Disciplinary Learning and Teaching Initiative, the latest in a series of "web-connecting" programs that, like the GSI, enables faculty members to "develop and participate in cross-disciplinary workshops that enhance the academic program of the college." The new initiative, funded by a generous donor as part of the Advancing Excellence in Teaching Endowment, was extremely well received by the Whitman faculty, many of whom were eager to work with their peers in this compelling way.
"I was delighted with the workshop proposals we received, and I was pleased to see that people were reaching out not just to other departments in their own academic divisions but also across academic divisions, including the natural sciences, the social sciences and the humanities, as well as the fine arts," said Kaufman-Osborn.
The first phase of the initiative includes seven faculty workshops this spring. The sessions gather faculty members from varying divisions and professional backgrounds — pairing artists with scientists, mathematicians with musicians. Workshop topics range from a multidivisional conversation about the production and perception of sounds, to an exploration of "Interdisciplinary teaching in 'Introduction to Environmental Studies.'"
Kaufman-Osborn said there is an interesting mix of both younger and more established faculty members taking part in the initiative. For example, the "Computational thinking across the disciplines" workshop pairs "our new faculty member in digital media, Justin Lincoln (an assistant professor of art who joined the faculty in 2010); Albert Schueller, a mathematician; Bill Bogard, a sociologist; Sharon Alker in English; and Sarah Hurlburt in foreign languages and literatures, French.
"This kind of intellectual and creative engagement doesn't happen frequently enough in higher education. What we are doing here at Whitman is unique but also entirely consistent with the ideals of an education in the liberal arts and sciences," Kaufman-Osborn said.
"We become better scholars and teachers when we can deepen our areas of expertise," said Nadine Knight, assistant professor of English and coordinator of the workshop titled "The deviant female form." "How can I do the best job teaching literature without understanding the history that informs it? And when I can add knowledge of how this applies to politics or theater or medicine, then my students and I get an even richer sense of not just the text but also of the world around us."
As part of the initiative's requirements, each workshop must meet at least five times during the semester, and significant time must be devoted to "how one might learn and teach about this theme from a cross-disciplinary perspective."
Perhaps most impactful to Whitman's curriculum, after the semester's workshops have concluded, the coordinators must prepare and submit written synopses of their workshops, detailing the themes that were covered, how they were approached, what was learned and how future iterations might better accomplish their purpose. These summations will then be posted to the website of the college's Center for Teaching and Learning, enabling all faculty members to access the findings and incorporate key learning and content into their course structures.
"Meetings near the end of the semester will focus on synthesizing information for possible incorporation into existing classes. These discussions will focus on leveraging our individual expertise to help with technical, pedagogical or resource questions," said Kurt Hoffman, professor of physics and coordinator of the workshop on the production and perception of sounds.
"There is always another way of seeing things, and learning how to shift from lens to lens is a useful way to get a well-rounded understanding of a subject."
— Kate Potter '13
geology and religion major
This new initiative, combined with Whitman's existing programs, is establishing the college as a leader in the advancement of cross-disciplinary curriculum programs. As a member of the recently formed Northwest Five Consortium (NW5C) — a faculty development, student enrichment and resource-sharing partnership between Whitman, Willamette University, University of Puget Sound, Reed College and Lewis & Clark — Whitman hosted faculty members from each of these institutions for several workshops in March, including one on cross-disciplinary learning and teaching led by Kaufman-Osborn. His workshop reviewed best practices from each participating college, uncovered new ways of encouraging this type of academic inquiry and discussed how innovative programs such as Whitman's can be implemented elsewhere.
Kate Potter '13, a geology and religion major at Whitman, has experienced, first-hand, the value of the college's cross-disciplinary approach in bridging courses of study. As one example, she pointed to a paleoanthropology course she took during her sophomore year.
"The class focused on a wide variety of subjects, ranging from biology and geology to religion and art. It was through this class that I realized how much I enjoy both my majors, and I was able to see the ways in which they intersect philosophically, historically and scientifically," Potter said. "I ended up writing a research paper on Christian creationism in present-day America for the class, and it was the first paper I truly enjoyed writing and researching. It made me more passionate about both my areas of study.
"I think it's important for professors to take a cross-disciplinary approach to their field of study because it allows us as students to think critically through different lenses. There is always another way of seeing things, and learning how to shift from lens to lens is a useful way to get a well-rounded understanding of a subject."
• • •
While interdisciplinary work has been on the radar of higher education since the 1970s, Kaufman-Osborn said that departmentally based majors still predominate in the curriculum of most institutions. "The dominant model at other institutions is to create interdisciplinary programs that, over time, too often come to look much like conventional academic departments. Whitman really is attempting to accomplish something rather different through its cross-disciplinary efforts to build bridges between different domains of knowledge without losing sight of the significant differences in their respective ways of coming to know and make sense of our world," he said.
"At the end of the day, if we don't move in this direction, we will be doing our students a disservice. The cultivation of the liberal arts education we provide at Whitman today needs to look backward and forward simultaneously. We need to look backward to our origins in order to ensure that we remain true to the traditional ideals of a liberal arts education and, at the same time, we need to engage in critical modification of those ideals in order to ensure that they remain relevant within very different contemporary political, economic, sociological, scientific and technological contexts."
Story by Joe Gurriere
Photos by Greg Lehman