Awards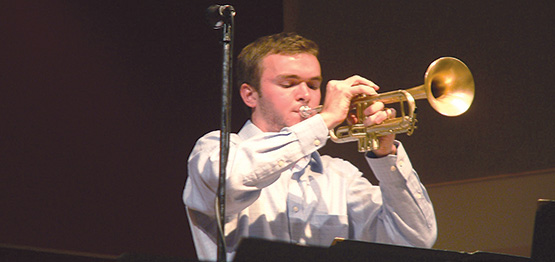 Ross Eustis '11 earned a prestigious Watson Fellowship to study transnational dialects of jazz.
Whitman students and alumni have earned a Watson fellowship and five Fulbright grants, along with a host of other national awards for a total of 39 national fellowships, scholarships and grants in the 2010-11 academic year.
Molly Smith
"The response this year from students and alumni to fellowship and grant opportunities has been tremendous, and their success has followed in kind," said Keith Raether, director of the Office of Fellowships and Grants. "The most rewarding outcome may well be the fact that this year's awards list represents 24 fellowship and grants programs, and two of our recipients are first-year students."
Here is a look at some of the awards and where they will take Whitties:
Ross Eustis '11, through a Watson Fellowship, will pursue an independent project, "Speaking Transnational Dialects of Jazz," with travel and study in Sweden, India, South Africa, Brazil and Japan.
Molly Smith '11, Isabel Hong '11, Nick Gottschall '09 and Oak Rankin '05 will teach English in Colombia, Germany, India and Brazil, respectively, through the Fulbright U.S. Student Program; Chris Fleming '11 will conduct research in India.
Stephen Parkin '09 will receive funding for four years of graduate study at the University of Chicago through a Javits Fellowship.
Matt Manley
Aaron David '08 and Brandon Nickerson '06 will receive funding for three years of graduate study through the National Science Foundation Graduate Research Fellowship. Both students will focus on ecology — David at University of California, Davis, and Nickerson at Oregon State University.
Alexis Guy '13 will study at McGill University or University of British Columbia and Osta Davis '13 at McGill University after earning Killam Scholarships through Fulbright Canada.
Matt Manley '11, Clark Van Horne '11 and Elise Otto '11 will teach English at Chiang Mai University in Thailand, Jishou University in China and Soc Trang Community College in Soc Trang, Vietnam, respectively, through Princeton in Asia Fellowships.
Alicia LeClair '11 will work with the nongovernmental organization mothers2mothers in Cape Town through the Princeton in Africa Fellowship.
Gary Wang
Gary Wang '11 earned a China Education Initiative Fellowship to teach English in Yunnan, China.
Eric Wehlitz '07 earned a Davis Critical Language Fellowship that will enable him to study Hebrew.
Donna Phan '12 will conduct research at the University of Heidelberg, Germany, through a German Academic Exchange Service RISE Scholarship.
Jeff Hopfenbeck '11 will participate in a two-year leadership training program in Colorado through the El Pomar Fellowship.
Nathan Abrams '13 will conduct research in the Physical Measurement Laboratory at the National Institute of Standards and Technology in Gaithersburg, Maryland, through a Summer Undergraduate Research Fellowship.
Alice MacLean '11 will work with the Fundacion Juventas NGO in Tunja, Colombia, through a Princeton in Latin America Fellowship.
Ahren Stroming '14 will study at Roehampton University in London through the Fulbright UK Summer Institutes program.
Matt Dittrich
Matt Dittrich '12, Lyndsey Wilson '12 and Zach Duffy '12 were selected as national finalists for the highly competitive Truman Scholarship, the first time Whitman has had three finalists.
Patricia Vanderbilt
Carson Burns '11 and Nate Rankin '11 will carry out a waste management project in Punto Ocote, Honduras, through a Davis Projects for Peace award.
Thomas Friedenbach '11, Patricia Vanderbilt '12 and Miranda Morton '13 each earned Critical Language Scholarships from the U.S. Department of State. Friedenbach plans to study Chinese, Vanderbilt will study Hindi, and Morton will focus on Arabic.
Alice Minor '12 earned a Humanity in Action Fellowship (Denmark program).
For a complete list of awards, see Record-setting year for fellowships, scholarships and grants.