Alumni News
Alumni Association 2010 Alumnus of Merit

Dr. Sigvard "Ted" Hansen Jr. '57, a pioneering orthopedic surgeon lauded as the "father of traumatology,"is the Alumni Association's 2010 Alumnus of Merit.
2010 Faculty Service Award

"Ancestry" of classics at Whitman helped lead Professor Dana Burgess to Faculty Service Award.
Alumni Book Collection

In this issue: textbooks, novels and a personal memoir.
Howells Tweets

Tommy Howells' clever asides and anecdotal comments, collected from notes taken by his students during his classroom years, are now available in a book and on Twitter.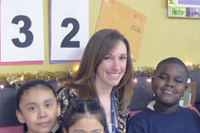 White House Lunch

Mary-Eileen Gallagher '09 and students at Sojourner Truth Charter Academy have visited the White House: Now they're inviting the president to come to them.
History 101

Louis F. Anderson lived at a strange junction of past and present, change and tradition, and his life was one of contradictions.
Mary Hanna

"I met Mary Hanna two decades ago at Whitman. I was a self-conscious teenager looking for a voice. She was this dynamo who had found her own..."
In Memoriam


State Treasurer Ben Westlund '72; Overseer emerita Georgia-Mae Wilkins Gallivan '37.