Fouts Center for Visual Arts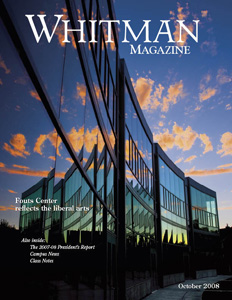 The Fouts Center for Visual Arts "embodies the value of studio art within the construct of a liberal arts education," said Charles Timm-Ballard, associate professor of art, at the building's dedication in September. "We asked for clean, light-filled, maintainable, airy spaces. They gave us all of that and wrapped those spaces in a visually stunning arrangement of material, form and light," he said. "These qualities immediately announce that this is a place on campus that provides the needs of visual, tactile, kinesthetic and aesthetic intelligence." The $14.2 million, 38,000-square-foot facility is a model of "current esthetic, technological, and health and safety standards in the arts," Timm-Ballard said.
The Fouts Center is named for the late Elizabeth "Betty" Fouts van Oppen '40, a longtime schoolteacher and the matriarch of a three-generation Whitman family. Twenty-three of her family members and friends traveled to Whitman for the dedication event. For a list of donors who made possible this spectacular addition to the campus, see the Annual Report of Gifts 2007-08, pages 32-33.
A photo gallery is available showing the building dedication, and students and faculty already at work
Photo by Greg Lehman