July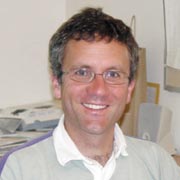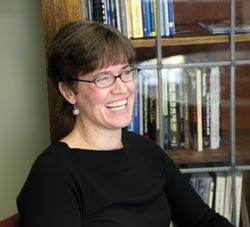 Physics Professor Doug Juers receives a $465,000 grant from the National Science Foundation to purchase an X-ray diffraction instrument for research and course work.
Lori Bettison-Varga begins her tenure as provost and dean of the faculty.
The Board of Trustees establishes the Ralph C. Rittenour Jr. Professorship in Economics, in memory of the longtime chair of the Whitman Investment Committee.
August
The college welcomes welcomes 425 first-year students to campus.

The 2008 Princeton Review's "The Best 366 Colleges" ranks Whitman No. 1 for "Happiest Students" and in the Top 10 in five other categories. U.S. News & World Report again ranks Whitman in the top tier of national liberal arts colleges.
Luis Alberto Urrea, author of the national best-selling book "The Devil's Highway," speaks at Cordiner Hall. His book is the year's Summer Read.
September
Stephanie Van Dyke '99, co-founder of the Engeye Health Clinic in Uganda, is named a "Daily Point of Light" by the Points of Light Foundation and Volunteer Center National Network in Washington, D.C.
October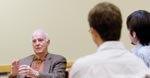 Whitman students and programs are cited by The Chronicle of Higher Education for Fulbright awards.
Dan Evans, former Washington governor and U.S. senator, visits campus to address "Where Have All the Moderates Gone?" and to meet with students.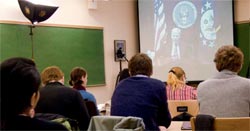 Politics professors Shampa Biswas and Bruce Magnusson turn their class on the Iraq War into a live videoconference discussion with U.S. Ambassador to Iraq Ryan Crocker '71.
November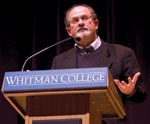 Booker Prize-winning author Salman Rushdie visits campus to lecture on "Culture Wars and the Importance of Free Speech." More than 1,400 students, faculty, staff and area residents attend.
December
Nine projects designed by 14 professors are selected for funding through Whitman's new Support for Innovation in Teaching and Learning initiative, created to support new approaches to student learning and collaboration.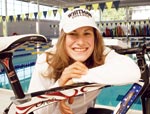 Mara Abbott '08 finishes the 2007 season at the top of the International Cycling Union rankings.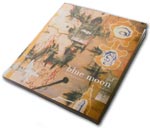 blue moon, Whitman's annual art and literary magazine, is awarded the Columbia Scholastic Press Association's Gold Medal.
January
Whitman holds the second annual Symposium on Diversity and Community, built on the theme of "Unfolding Identities."
Twelve faculty-student teams receive Abshire Research Scholar Awards for projects ranging from author Daniel Defoe to security forces of Costa Rica to issues of climate change.
February
The Princeton Review selects Whitman for its 2008 edition of "America's Best Value Colleges."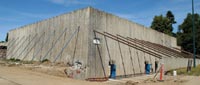 Demolition begins on Sherwood Athletic Center, the first phase of a $15 million renovation.
Keith Boykin, author, TV personality and former special assistant to President Bill Clinton, presents the fifth Matthew Shepard Lecture on "Sexuality, Human Rights and the Media."
March

Kiplinger's ranks Whitman No. 28 in its 2008 survey of "100 Best Values in Private Colleges."
David Schmitz, Robert Allen Skotheim Chair of History, is interviewed by CBS Radio News for a feature marking the 40th anniversary of the Tet Offensive.
April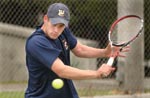 The men's tennis team captures the Northwest Conference title.
The 10th annual Whitman Undergraduate Conference features presentations and performances by some 150 students. The all-day event includes nearly 130 lectures, 19 poster presentations and several mini-concerts.
The college receives an $800,000 grant from the Howard Hughes Medical Institute to enhance undergraduate instruction and research in the life sciences.
The first Classical Liberalism lecture features Terry Anderson, senior fellow at the Hoover Institute and executive director of the Property and Environment Research Center.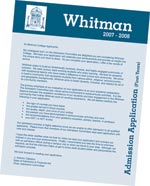 Whitman receives a record 3,283 applications for admission.
May
At Commencement, 385 students receive diplomas as witnessed by honorary doctorate recipients Margaret Chesney '71 and William H. Gates Sr., co-chair of the Bill & Melinda Gates Foundation. Gates delivers the Commencement address.
Forbes magazine ranks Whitman No. 9 of 94 top liberal arts colleges in the country in its feature, "How to Choose a College." Author of the story is Reichard Vedder, director of The Center for College Affordability and Productivity.
June
News arrives that Whitman students receive five Fulbrights, three Watsons, two Trumans, a Udall and more.
Twenty-one teams of Whitman faculty and students are selected for Perry Summer Research Grants.