Medica gift supports online newspaper and visiting journalists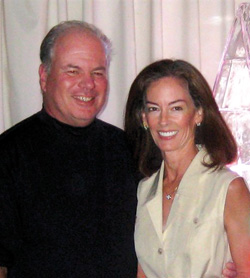 John and Megan Salzman Medica '81
When they aren't making the world safer for cats, dogs and horses, and easier for computer users, Megan Salzman Medica '81 and John Medica devote a good portion of their energy and resources to Whitman's debate program, and more recently, its student newspaper, the Pioneer.
Megan, who operates an animal rescue operation on the couple's Virginia farm, and John, vice chairman and corporate adviser of Compal Group for Compal Electronics, recently provided a gift to fund the redesign and weekly content management of the online version of the Pioneer ("Pio"), and to bring visiting journalism educators to campus.
"This gift is a wonderful acknowledgement of the importance of the Pio, not only as an information source for the community but also as a learning tool for Whitman students," said Kim Sommers '11, co-editor with Jamie Soukup '10.
"As ardent as Kim and I are in our support of print journalism, there are some advantages to online news that you simply cannot equal in a hard-copy newspaper," said Soukup, who is coordinating the Web aspect of the project. "Instant updates, open fora for discussions, archives, columnist blogs and a wider audience base are all possibilities with this gift," Soukup said.
Meanwhile, Sommers is organizing the Pioneer/Medica Visiting Journalist Series. "We hope that it will provide the Pio and its staff with mentors who will help us identify short- and long-term objectives for the newspaper," she said. "While each workshop will be tailored to fit the visitor, we hope that all of them will allow for maximum interaction with editors, staff and advisers." Sommers believes the program will allow the Pio staff to develop relationships with professional journalists that will last long after the visits.
It is just that type of personal interaction and mentoring that Megan Medica found as a student at Whitman and hopes to foster by funding the journalist series.
A native of California, Megan learned about Whitman through a high school friend's family from Touchet, a small town 17 miles west of Walla Walla. She applied and received Early Decision admission, but finances kept her home. Instead, she enrolled at California State University, Hayward, and as a political science major joined the debate team and the staff of the newspaper, coincidentally, The Pioneer.
"I was a full-time student and working full time. I had a full plate," Megan said. At least she thought she did. Her political science professor pulled her aside one day, and told her she needed to leave Hayward. "I thought he was kicking me out of school," she said. Instead, he told her she needed to move on to a college that could challenge her.
Megan reapplied to Whitman, entered as a junior and found the challenge she needed in the professors and the curriculum. "I still feel a connection, literally, to the college because it afforded me the education that I really wanted and I hadn't found," she said.
When her academic schedule allowed, she "floated in and out" of Whitman's Pio staff, writing stories occasionally. The debate team also drew her attention, and she marvels at how professors Bob Withycombe, who started her senior year, and later Jim Hanson, have improved the program by quantum leaps. (The Salzman-Medica Speech and Debate Endowment provides scholarships for debaters and is the largest source of support for Whitman's debate program.)
After Whitman, Megan pursued business communications in the master's program at Wake Forest University. There she met her husband, John, who was working on his master's degree in business administration. They graduated in 1983 and married in 1985.
John became a senior director for Apple Inc., then a senior vice president at Dell Inc., retiring from that position in 2007. In addition to his work with the Compal Group, he is on the board of directors of National Instruments Corp.
Megan, meanwhile, worked as a technical writer for computer, telecom and medical equipment businesses in California during the early years of their marriage. She took a break when they moved to Texas for John's job with Dell, and "innocently" stumbled into what would become her passion and her full-time career: rescuing animals. The couple created the Salzman-Medica Foundation in 1998 to fund animal rescue efforts and higher education, specifically at Wake Forest and Whitman.
Megan, who served as a Whitman overseer in 2002-04 and recently rejoined the board, believes in "paying back and giving back."
"I know people including myself who wouldn't be where they are today without Whitman," she said. "I have a great sense of indebtedness to the college."
Editor's note: This fall John Medica visited campus for the first time to give the Allen-Boeing Lecture. The Medicas closed the Medica-Salzman Foundation in 2007 and use the Schwab Donor Fund for their philanthropic work.