Twelve students from the Nixya'awii Community School who attended an intensive writing workshop at Whitman this summer discovered the power stories hold "to define and name and enthrall," in the words of Don Snow, senior lecturer of environmental humanities and general studies.
They weren't alone. The experience reaffirmed that power for their professors as well.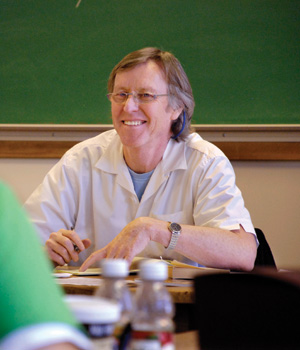 Don Snow, senior lecturer of environmental humanities and general studies, enjoyed working with Nixya'awii students during a summer writing workshop.
The three-day workshop, coordinated by Kay Fenimore-Smith, associate professor of education, was the latest event in the continuing partnership between Whitman and the charter school on the Confederated Tribes of the Umatilla Indian Reservation.
Snow began the workshop with an eye-opening session on how to write essays and letters of introduction, requirements for many college and scholarship applications. "I never knew I could write like that," one student wrote in an anonymous evaluation of the workshop.
Snow maintains he benefited more than the students as he discovered their hopes and passions and listened to them tell their stories. "In the end — this is the frequent guilty pleasure of teaching — I felt like I probably got the best of it and hoped that the students took something good away, too."
A field trip and journal-writing exercise on the second day of the workshop took students to Treaty Rock on the Whitman campus, the statues of missionary Dr. Marcus Whitman and Walla Walla tribal chief Peo-Peo-Mox-Mox in downtown Walla Walla, and the Whitman Mission National Historic Site west of town.
Jennifer Karson, adjunct instructor of anthropology, wanted the tour to "create an understanding of place and the historical ties that exist for these students on the Whitman campus and the region."
"I never knew I could write like that."
— student, Nixya'awii Community School
Comments from her students affirm her success. "I learned 10 times more than I ever knew about the Whitman Massacre," said one. "It was cool to hear the Native American side," said another. "I've never heard that side before."
"The Whitman Mission did seem to be an important place of reckoning for these students," Karson said.
Students were able to explore their feelings about what they had learned on the third day in the constructive writing workshop led by Katrina Roberts, Mina Schwabacher Associate Professor of English/Creative Writing and Humanities. This session of reading and writing found the students pulling potent words from the previous days' journals and contemplating the words of other writers, including Julia Alvarez in "Bilingual Sestina."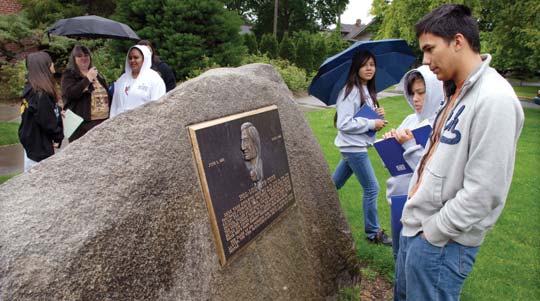 Nixya'awii Community School students visited Pe-Wa-Oo-Yit, known on campus as Treaty Rock. Treaty Rock was a gift to the college in 1955 from the Yakama, Nez Perce, Cayuse, Walla Walla and Umatilla tribes to commemorate the signing of treaties with the U.S. government in 1855. Members of the Cayuse, Umatilla and Walla Walla tribes make up the Confederated Tribes of the Umatilla Indian Reservation.
Roberts was particularly moved by a student who strongly identified with Alvarez's words:
"some things I have to say aren't getting said
in this snowy, blond, blue-eyed gum-chewing English."
The student felt the same way when forced to abandon "her own" language in kindergarten, Roberts said.
Roberts was proud of her students and thrilled to experience the words of this poem coming alive for them. "They made me love the poem even more than before, for which I'm extremely grateful," she said.
"I hope that I encouraged this group of young writers to think closely about individual words as building blocks, and about their own potential power as wielders, molders and architects … with words as their medium."
---
Editor's note: The Confederated Tribes of the Umatilla Indian Reservation founded the Nixya'awii Community School in 2004. A $25,000 gift to Whitman (including $10,000 toward a scholarship to Whitman for a Nixya'awii graduate) from Washington Mutual Bank in 2005 allowed the college to partner with the Nixya'awii school to study, evaluate and promote student progress, and encourage students to perceive college as a realistic goal. Kay Fenimore-Smith spent her 2006 sabbatical teaching at the school and evaluating its progress. Her findings have since been published.