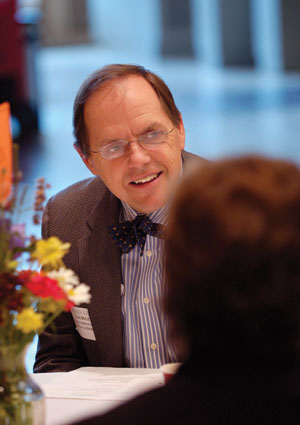 In a word, 2007-08 was stellar.
We received a record number of applications, recorded our highest-ever number of prestigious academic awards, and tallied the third-largest fund-raising total in the college's history.
Borrowing from the words of William Gates Sr. in his Commencement address in May to our 385 graduates, "We're all in this together." The fundamental idea in that axiom, Gates said, is interdependence.
I believe Whitman's success last year is due in part to that interdependence; our faculty, staff, students, alumni, parents and friends are a collaborative community, and we live and work in support of this institution.
• • •
In 2007-08 the college attracted 3,283 applications from an exceptional group of high school seniors, an 8 percent increase from the previous year. From 2001 to 2008, applications to Whitman have grown by 68 percent.
The 431 students enrolled in the Class of 2012 come from 38 states and 22 countries, and nearly 70 percent of those whose high schools rank their students are in the top 10 percent of their class. Forty-four are first-generation college students, and one in five is an American ethnic minority or international student, encouraging indicators in our efforts to widen the learning circle.
The Whitman community achieved new records and set new standards.
— George S. Bridges,
president
Our banner year of academic awards included five Fulbright U.S. Student Program grants, three Watson Fellowships, two Harry S. Truman Scholarships and one Morris K. Udall Scholarship.
Alex Potter '10, a double major in politics and Asian studies who speaks Chinese and is learning Arabic, is studying in Egypt this year on a National Security Education Program Scholarship. His purpose: "to begin a lifelong dialogue between my American culture and the Islamic/Egyptian culture." Suzanne Zitzer '08 is in Germany on a Fulbright research grant, preparing for a career in international global environmental policy. Her goal: "to shift global practices in the direction of sustainability and harmonize the lifestyles of humans with their natural environment."
When Projects for Peace winner Meheret Endeshaw '08 returned to Ethiopia this summer to implement her initiative for HIV orphans, she brought with her the essence of citizenship: the conviction that every person in the world matters equally.
These awards and achievements are a testament not only to our students' talent and tenacity but also to the skills and standards of our faculty and staff, whose own awards and achievements this past year are too numerous to list in full. Assistant Professor of Biology Kate Jackson, for example, wrote a best-selling book about snakes, science and survival in the Congo ("Mean and Lowly Things"), lectured at the Smithsonian Institution, published in Nature magazine, was featured on National Public Radio and returned to Africa this summer to do more research.
Associate Professor of Philosophy Patrick Frierson received a $50,000 grant from the National Endowment for the Humanities that will support a book project. Assistant Professor of History Elyse Semerdjian spent the year in Syria and Lebanon completing her own book through another Fulbright award.
I couldn't help but think about the powerful examples set by these students and faculty — and many other members of the Whitman community — in the context of Gates' heartfelt speech about interdependence.
Whitman's focus on community and the cooperation within departments and divisions exemplify this interdependence and the interdisciplinary efforts that maximize the education earned by our students.
Would the college have received a $465,000 grant from the National Science Foundation to purchase X-ray diffraction instrumentation for interdisciplinary faculty-student research without the contributions of eight members of the science faculty to support Assistant Professor of Physics Doug Juers' proposal?
Would the college have received an $800,000 grant from the Howard Hughes Medical Institute to enhance undergraduate instruction and research and expand the biochemistry, biophysics and molecular biology (BBMB) laboratory without the collaborative efforts of a number of professors under the leadership of associate professors Jim Russo and Andrea Dobson '82, and the Office of Development staff?
VITAL SIGNS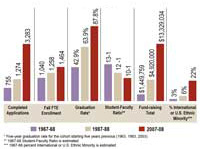 Click to view
WHITMAN ENDOWMENT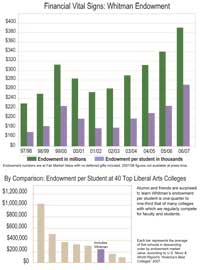 Click to view
What about our $345,000 grant from The Andrew W. Mellon Foundation to support the school's new Global Studies Initiative? The genesis of that initiative dates to 2005, when a core group of faculty formed the Global Studies Working Group to move toward what was then just a vision of the potential for interdisciplinary faculty-student teamwork on global issues.
These are but a few examples in which the scope of learning at the college is expanding across disciplines. At the same time, our community of educators continues to grow in number and diversity.
The college welcomed as its new provost and dean of the faculty Lori Bettison-Varga, whose positive presence was felt in myriad ways as soon as she arrived. In her first year of leadership, Lori restructured scholarship and development funds to broaden support for faculty; tackled issues related to faculty workload and nontenured faculty; and launched nine faculty projects under the new fund for Innovation in Teaching and Learning.
Under the supervision of Peter Harvey '84, treasurer and chief financial officer, our spectacular $14.2 million Fouts Center for Visual Arts opened in September with dedicated studio space for seniors and faculty, and exhibition space for faculty and student art.
A major expansion of Sherwood Center is well under way, and renovation plans for Harper Joy Theatre, Maxey Hall and Olin Hall are on the drawing board. In each case, the updated facilities will provide a powerful new learning environment for our students as they prepare to lead the world in their fields.
Our Office of Development, under Vice President John Bogley '85, was instrumental in identifying programs and professorships that matched donors' philanthropic priorities, yielding total gifts of $13.32 million during the fiscal year, a clear indication of a community that shares an abiding commitment to the college.
I felt this passionate dedication more than ever this past year as I participated in a series of dinners and alumni events across the country. Whitman is at a critical juncture in its history; the dinners especially were organized to share our vision of the college for the future and explain what it will take to get us there. During our discussions, many alumni and friends were surprised to learn that the college's endowment per student is only one-quarter to one-third that of many of the colleges comparable in quality to Whitman.
Whitman's role in a complex, interconnected, interdependent society cannot be underestimated.
Witnessing the joy that these alumni and friends expressed in response to a video of the college, past and present, redoubled my appreciation of what Whitman means in the lives of so many. (If you haven't seen the video, you're in for a treat. Visit www.whitman.edu/giving.) Alumni affirmed the difference the Whitman experience made in not only their lives as students but in their adult lives as parents and partners, employees and employers, as friends and mentors and philanthropists, and as global citizens.
Whitman's role in a complex, interconnected, interdependent society cannot be underestimated. We must strive, individually and collectively, to maintain the qualities of the Whitman that alumni know and love. At the same time, we must move forward to keep a Whitman education relevant to the needs of our students and the world. Our reward for these efforts will be the citizenship that our students demonstrate through their projects and practices in the longer narrative of their lives.
Whitman students begin making a difference in their communities and in the world long before they graduate. How they learn and grow through these experiences enhances the education we offer to all of our students — an education that promises a brighter future for all of us in a world without borders.
As ever, I thank each of you for the role you play that contributes to the life of Whitman College. Whether through your time, talent, service or philanthropic generosity, you are a vital part of Whitman, and I hope and trust Whitman — and our unwavering focus on the liberal arts and sciences — will remain vital to you.