Message from the President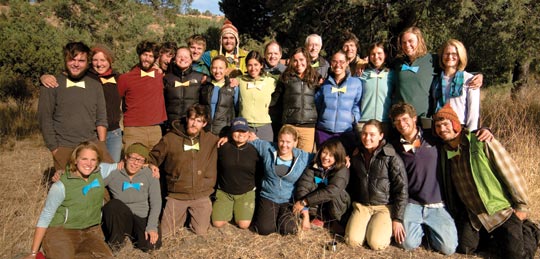 Semester in the West students welcomed President Bridges (back row, center) with symbolic bow ties.
At Whitman, we routinely witness exhilarating examples of innovative teaching and learning opportunities. Just a few weeks ago, Trustee Tom McCracken '63 and I spent two days in the Chiricawa Mountains of southern Arizona with 22 Whitman students and Professor Phil Brick, who teaches politics and environmental studies. As part of Whitman's innovative Semester in the West program, the students were encamped on a massive ranch owned and operated by Josiah and Valer Austin. The Austins have invested a lifetime of personal energy and resources in reclaiming a landscape once stripped of vegetation by overgrazing and the ensuing loss of topsoil from summer monsoon rains.
It had been years since Tom or I had spent nights outdoors in subfreezing temperatures in sleeping bags. Still, the opportunity to participate with students in climbing on and over rock coffer dams in a stream bed, while collecting, analyzing and interpreting data on the Austins' impressive reclamation projects was among the most memorable of our Whitman experiences. As we listened to the students' oral presentations about their observations and reflections on their work, Tom and I were immensely impressed by the knowledge they exhibited on the role of water reclamation in protecting our environment, by their compelling oral and written expressions of ideas and observations, and by the energy infusing every aspect of their studies.
Tom and I agreed that two cold nights on the hard ground and a day of climbing and hiking were adequate to grasp Semester in the West and the importance of this type of experience to our students' learning. We left the Austin Ranch with enormous satisfaction about the quality and depth of education Whitman delivers.
Back on campus, the country's economic downturn presents not only challenges but learning opportunities. In a panel presentation, Trustee Megan Clubb '79 and Overseer Mark Kajita described banking practices in the United States and how some banks have, through very conservative lending practices and tight controls on mortgages, escaped the huge losses recently experienced by some of the larger lenders.
As we advance learning on these issues, we remain vigilant (as ever) in our oversight of the college's endowment, budget and expenses (see letter, Page 3). We continue to recruit and enroll very talented, diverse students, faculty and staff. We continue to work with students and their families in need as they seek to complete their education uninterrupted by difficult economic conditions. Finally, we advocate for Whitman precisely what most economists are recommending for our country: Now is the time to think strategically about the future, to invest in the most promising and essential of assets in our community and society — informed and well-prepared men and women who will become tomorrow's leaders.
Sincerely,


George S. Bridges