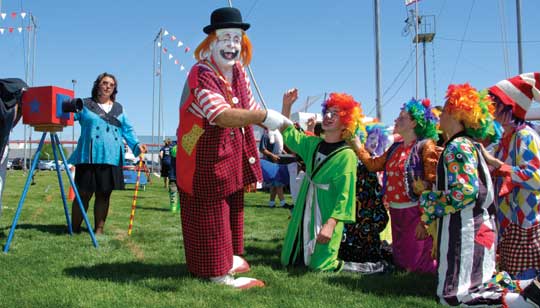 The Wenatchee Youth Circus, which began as an after-school tumbling team, has been home to more than 3,000 kids ages 3 to 18 over the past 56 summers.
When Paul Pugh '51 looks back on his 56 years as a circus owner, operator and clown, his thoughts invariably return to his friend and mentor, Harper Joy '22. Joy and Pugh were a generation apart but suffered the same affliction: They had sawdust in their shoes — the circus in their blood — before, during and after their years at Whitman College.
"We both loved that world," said Pugh, who since 1952 has lived the good circus life as Guppo the Clown and leader of the Wenatchee Youth Circus, in addition to teaching and guiding kids as a schoolteacher and principal for many of those years. "I suppose I loved it a bit more than Harp."
As evidence, Pugh still wears the orange wig he bought in 1956 from F.W. Nack in Chicago to play Guppo, his alter-ego. At 81, he still has his act together and still takes it on the road, mentoring the members of his young troupe and bringing a universe of goodwill and grand imagination to his audiences. Pugh even has Guppo's foot-wide leather shoes, manufactured by Griffin Theatrical Co. in Rochester, N.Y.
The youth circus has provided 217 students with scholarships.
The Wenatchee Youth Circus, aka, the "Biggest Little Circus in the World," has been around the block and then some, delivering tricks, laughs and astonishment to kids and kids at heart. Pugh's fleet of converted milk trucks, Army trucks, railway express trucks and circus wagons saddled to flatbed trailers have traveled from Anchorage to El Paso, from Fort Collins, Colo., to San Diego.
"Our circus has covered the western front over the years," he said. "Our kids aren't just performers; they're troupers. They get a whole fifth dimension of what sawdust show business is all about, and what it takes to put it up and take it down." On their own or by the dozen, they come from local and area schools with a love of performing in their bones. And since 1967, the WYC has provided 217 of them — as high school seniors — with scholarships toward furthering their education.
For all intents and purposes, Pugh's own life in the circus was laid out on the table when he was 4 years old. Every night at dinner, his grandfather would draw pictures of circus tents and horses. Whenever the Cole Brothers circus came to town, they'd watch the 35-railcar production from beginning to end, unloading to show. Soon the boy wanted to be the next Otto Griebling, the German-born "Master Clown" who worked with the Cole Brothers and Ringling Bros. and Barnum & Bailey circuses. Griebling made the world a happy place, a connected place.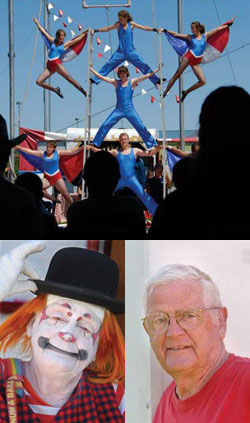 At age 81, Paul Pugh '51 and his alter-ego, Guppo the clown, still take the act on the road, mentoring the members of his young troupe.
The closest Pugh came to the circus at Whitman was Harper Joy Theatre. There his co-conspirators included William Anderson '51, aka Adam West (aka Batman in the television series). Pugh's friend and mentor was Joy, a tireless alumnus who built a career in finance but spent his summers on the circus circuit. Joy and Pugh shared a fraternal connection in Phi Delta Theta.
"Harp was very open and friendly," Pugh said. "Being a young kid on the block, I didn't know that he'd been on the original radio version of 'This Is Your Life.' Harp led an amazing life, from vaudeville to banking."
He also led Pugh straight to the circus with equal parts inspiration and contacts. When Pugh came home to Wenatchee and set his own circus company in motion, Joy even contributed some props: a few old trunks with volumes of history and a billiard cue ginned up to magically balance three balls in the air. "I'm too old to use it, but I still have it, bless Harp's soul."
The WYC, which began as an after-school tumbling team while Pugh taught full time at Ellison Junior High School, has been home to more than 3,000 kids ages 3 to 18. Each summer Pugh and his company — which includes assistant managers David Henderson and Cyndi Thatcher — present some 50 shows to upwards of 25 communities.
They've done it all the old-fashioned way: with a fleet of repainted trucks and their own load-in and load-out labor. Years ago, on long hauls, the company drove overnight to avoid the heat — and overheating engines. Three drivers were assigned to each truck. Pugh was one of them.
For 18 years (1964-82), the show went on while Pugh held forth as principal of Orchard Junior High School in Wenatchee. Guppo and the WYC played at the annual Southern California Exposition in Del Mar and the Los Angeles County Fair in Pomona, where single shows drew 12,000 spectators. They covered the state of Washington and pushed north to Alaska. At one point, the company boasted a 25-piece band. Now the musical settings come from a calliope, drums and a soundtrack tailored to the acts in the show.
"We're not Cirque du Soleil," Pugh allowed. "We don't try to tell a story with our show. Our stock-in-trade is good old slam-bang entertainment. There are enough people around who still appreciate that."
Jim Boule '50, a fellow Phi Delt who now oversees Merryant Publishers in Vashon, Wash., is one of them. "My love of the circus goes back to childhood in Walla Walla, where almost every summer Al G. Barnes came to town," Boule recalled. "I earned tickets by feeding and watering the elephants.
"At Vashon this year more than 30 WYC performers ages 8 to 18 gave a very professional show. I visited with a second-grader who performs in several acts. He told me, 'Mr. Pugh really likes me and helps me with my acts.' This boy flies in the air and on the ground. I didn't start feeding the elephants until I was 12 years old."
For his part, Pugh simply says the show must go on because it's in his blood like holy wine. He looks forward to the next chance to take the WYC show to the next place, bringing glee to kids 6 or 96 with Guppo's East Indian rope trick or the derring-do of all the young men and women on the flying trapeze.
"George Burns put it best," Pugh said: "'Everybody gets older, but you don't have to get old.' I suppose that's why I — and Harp, for that matter — fell in love with the circus. It keeps you young at heart, and the people you meet are friends for life."
— Keith Raether