Megan Salzman Medica '81


Carpeted ramps lead to ledges and perches in the cat barn at Purrsfield Farm.
Megan Salzman Medica '81 collects cats. Sometimes, dogs. Occasionally, horses. Neglected, abused and abandoned, these unloved creatures find a haven at Megan and John Medica's farm in Middleburg, Va. At last count, 40-plus cats, two dogs and five horses resided comfortably there.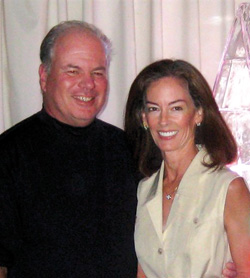 John and Megan Salzman-Medica
The Medicas don't run a commercial shelter, although they do evaluate whether a new stray can be "re-homed" elsewhere given the number of rescues currently on their farm, Megan said. "A lot of these animals are difficult to find homes for, and if we can't place them we'll keep them for the rest of their lives," Megan said. "We enrich their lives, and they have enriched ours."
Animal rescue is not the career Megan imagined when she graduated from Whitman with a degree in political science and earned a master's degree in speech communication from Wake Forest University. She worked as a technical writer, following her planned career route for a while. But when she and John moved to Texas for his position as a vice president at Dell Inc., her daily jog took her directly into the path of homeless, hungry kittens eating out of the garbage cans behind graduate-school housing near the University of Texas campus.
"The next day when I ran, I brought cat food," Megan said. Then she set up feeding stations. It wasn't long before she realized her kind little gesture was creating a great big problem. "I had become a feral cat colony caretaker, and I didn't even know it," she said. By feeding the cats, she was making them healthy, and, in turn, they were reproducing and creating an ever-larger population of strays.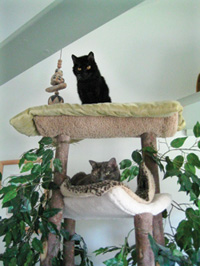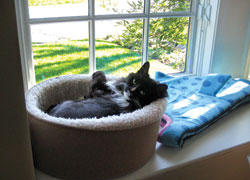 Above: Black Kittie and Olive look down from their plush perches; Randy enjoys his heated bed with a view. Below: Dugan, one of the two shelties rescued by the Medicas, and Soda await their snacks.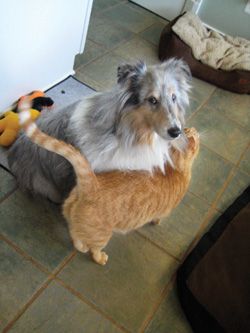 In search for a solution to this new dilemma, she discovered Alley Cat Allies, an advocacy nonprofit out of Washington, D.C., that promotes a trap-neuter-and-release program to manage feral cats. Following its plan, Megan started catching the cats, spaying, neutering and vaccinating them, finding them homes when possible, and continuing to feed and manage the remaining feral cats.
What started out "quite innocently" as a desire to provide sustenance for a few hungry kittens grew into a passion that would prove to be the driving force in Megan's life. She and John created a foundation to fund their animal-rescue efforts, as well as to provide financial support to a host of animal-care agencies, which include therapy dog programs, low-cost spay and neuter efforts, and no-kill shelters and sanctuaries. Over a 16-year period, Megan has found homes for nearly 200 cats, 10 dogs and two horses. When John retired from Dell and the couple moved to Virginia, they took their rescue efforts to a new level, transforming an old farm building into a cat barn, which could more aptly be described as a kitty city. In the center of the large structure is a kitchen with a stand-alone island that doubles as storage for medications and food, and a workspace for visiting veterinarians. Rescued cats make their home in large rooms to the left and right of the central common area.
"It's like a house, except there are carpeted ramps leading to ledges and perches, oversized kitty condos and heated beds everywhere," Megan said. "Each room has an enclosed outdoor pen with covered shelters, logs and scratchers, and trees for climbing." Sometimes, cats in need find their own way to the Medicas. Not long ago, one of the farm employees found an uncommon and badly hurt female orange tabby (almost all orange tabby cats are male, Megan explained) and brought her to Megan's animal-care manager in a bucket.
"We could see the fleas jumping; the kitty had a broken sternum, bad lacerations, ticks in its mouth. She was so emaciated and anemic, she had become anorectic," Megan said, explaining that when cats can't find food, they lose interest in eating. The injured kitten had a rare blood type and needed a transfusion. Amazingly, the last cat rescued had the same blood type, making a transfusion possible. After the kitten recovered, she was adopted by a new family. They named her Hope.
"It's funny how sometimes things work out," Megan said.
Especially for cats that land on their feet at the Medicas' farm, aptly named "Purrsfield."
— Lana Brown
Editor's note: John Medica is vice chairman and group corporate adviser for Compal Electronics Inc. and is on the board of directors of National Instruments Corp. Megan is a Whitman overseer. The couple's other favorite philanthropic focus is higher education. For more about their long relationship with Whitman, see Medica gift supports online newspaper and visiting journalists in the October 2008 issue of Whitman Magazine.