Mr. Whitman: Fun and Philanthropy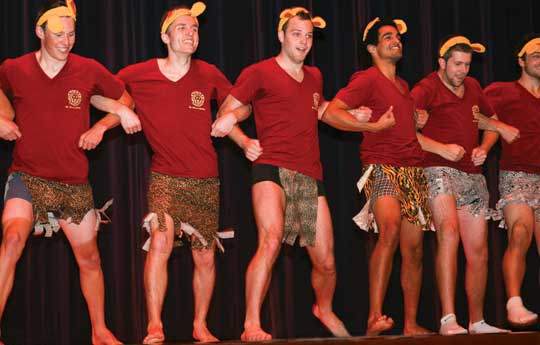 Mr. Whitman contestants opened the event with a dance number performed to the sound track from Disney's "The Lion King." Vying for the Mr. Whitman title ("King of the Jungle" was this year's theme) are from left to right: Andy Erickson '09, Evan Cartwright '09, Eric Rietveld '09, Kaston Griffin '09, Ned Schaumberg '09 and David Ogle '09. Not pictured: Blake Saunders '09 and Willie Kunkel '09.
From mermaid costumes to six-pack abs drawn on with permanent marker, the seventh annual Mr. Whitman Male Beauty Pageant, hosted by the Kappa Kappa Gamma sorority, was the place to be on a November Friday night. Eight senior men, one from each of four fraternities and four independent candidates, competed for the coveted title of Mr. Whitman and in the process raised more than $21,000 to support an orphanage for children of AIDS victims in Uganda.
Before a packed crowd in Cordiner Hall, each candidate performed his own wacky interpretation of spoof competitions that included formal wear, swimsuit, question-and-answer and talent. That the event playfully mocked traditional beauty pageant stereotypes gave it a distinctly Whitman spirit, said contestant Blake Saunders '09.
"All of us are not male models," he added. "It's more about coming up with the weirdest stuff and doing what's most interesting on stage."
This year's acts included a tribute to Will Smith, in which contestant Ned Schaumberg '09 sang and danced along to the rapper's hit song "Get Jiggy With It," while solving a Rubik's Cube puzzle. The audience "oohed" and "aahed" as Andy Erickson '09 attempted to complete an astronomy problem while cycling on metal rollers.
"I appreciate the creativity that comes out of it," said Delbert Hutchison, associate professor of biology and faculty judge for the Mr. Whitman pageant. "I always like to see someone put it all on the line."
While the performances may have seemed like the big event, the race to be Mr. Whitman started in September.
"Almost all of the money is raised before the night," said Maryn Juergens '10, Kappa philanthropy chair and Mr. Whitman organizer. "The show is just kind of an appreciation of all the work that the candidates put in."
While the Kappas charged admission to the event, contestants generated the bulk of the funds for charity by writing letters to family and friends at home, soliciting donations on campus and hosting their own fund-raising events.
All of the proceeds from Mr. Whitman benefit the Lake Nukuruba Orphanage Project in Uganda, which provides educational and medical expenses for children orphaned by the AIDS epidemic. Uganda has the world's highest population of AIDS orphans.
The charity was chosen through a formal application process in which 18 different organizations were considered. Kappa Carole Wilson '09 had a personal connection with the orphanage from her study abroad experience in Uganda.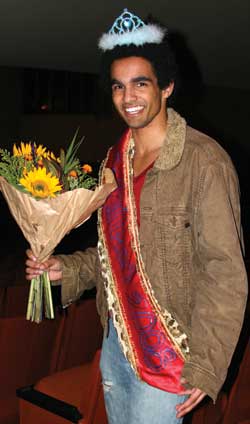 Kaston Griffin
"I can't even describe what it has meant for me to have Kappa adopt this project and take such an interest in helping my Ugandan family," said Wilson, who described the orphans as her brothers and sisters. "I know how rare it is to find an organization that is truly making a difference in the world. I know from personal experience that the orphanage project is such an organization."
This year's Mr. Whitman total is more than double the amount generated by the contest last year, and far exceeds Juergens' initial goal of $15,000, the estimated cost to pay two years of educational expenses for the 156 orphans in the project.
Phi Delta Theta fraternity member Kaston Griffin '09, who was declared the pageant winner, raised $4,450 of the total and attributed his fund-raising success to collaboration with his fraternity.
"Dealing so closely with Phi Delta Theta reaffirmed my belief that all people have an innate desire to do good, and they appreciate it when someone comes along and makes an effort to focus that energy into something real," Griffin said.
"It was fun to be crowned Mr. Whitman, but from the beginning I've been pretty aware that this competition isn't about me. The real winners are the orphans."
— Gillian Frew '11