Northwest photographer sharpened her focus at Whitman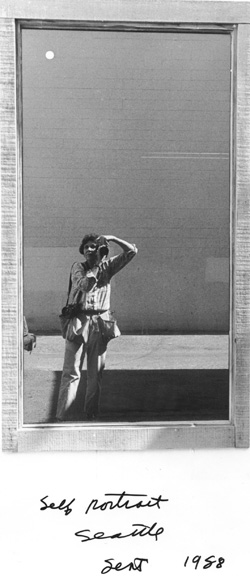 Self-portrait
"My life has always been my work, my photography, and the work is really my life." — Mary Willis Randlett '47
She was 10 when she produced her first photo album, a digest of regular moments captured with a rudimentary Kodak. Her high school photography class riled her because she wanted "technical information, not someone telling me how to shoot pictures." But at Whitman, she literally found her niche. The basement darkroom in Billings Hall became her laboratory and atelier, and her art flowered like irises in the riot of spring.
For 60 years, Mary Willis Randlett '47 has captured with a Rolleiflex, Pentax Spotmatic and four Nikon F3 cameras (and a limitless supply of Tri-X film) the Northwest landscape and the poets and painters who, like Randlett, have found their muse through it. Don Ellegood, former director of the University of Washington Press, called her "beyond question the leading photographer in the Northwest." Randlett simply says, "My life has always been my work, my photography, and the work is really my life."
She photographed the Slo-Mo-Shun IV hydroplane when it debuted on Lake Washington in 1949; the inviolate stretch of sand and sea along the Outer Banks (shot from the top of Cape Hatteras Lighthouse); the writers Henry Miller and Theodore Roethke and the painters Morris Graves and Mark Tobey in private moments at their homes. The pictures of Roethke — four rolls shot on July 18, 1963 — were the last photographs taken of the poet. He died of a heart attack on Aug. 1, 1963, on Bainbridge Island.
"I still get chills when an image appears and I'm able to catch it on film," says Randlett, now 84. "I suppose I like to shoot landscapes most of all. The coastal light in the Northwest ­— there's nothing like it." She likens the luminescence to the spirit-charged skies in Albert Pinkham Ryder's paintings, particularly "Toilers of the Sea."
Randlett left the oyster light of western Washington to attend Whitman in 1943. She brought with her an insatiable curiosity and a disarming sense of humor. She was a political science major but "an artist and a mischief at heart."
"I was very fond of (political science professors) Chester Maxey and Walter Riley, but I was no scholar," she recalls. "I remember Walter calling me into his office after the last test in the class. I was petrified. He sat me down and said, 'Mary ... you got an 'A' on the exam. Shall we frame it?'"
"I still get chills when an image appears and I'm able to catch it on film."
— Mary Willis Randlett '47
At Whitman, Randlett's interest in photography began to crystallize. When she wasn't running the dishwasher at Prentiss Hall ("That's what I liked about Whitman — everybody worked," she says), she was shooting pictures of cloudy days, Walla Walla homes and roommates smoking cigarettes. When she'd seen and photographed enough for one day, she'd take her film to Billings, where she also had a chemistry class, to "find out if I'd done anything worth my time."
"I was always scared I'd blow something up in chemistry," she said. "But then I'd go to the basement at Billings and feel just the opposite. I suppose I was testing my creativity, exploring the unknown."
When Randlett graduated from Whitman in 1947, she had a destination ("back to cloudy skies!") but no vocation in mind. Making a living in photography as a woman seemed a pipe dream. Instead, she took a job at the Bon Marché in Seattle. When she discovered that men doing the same work sold less but were paid more, she demanded a raise. Instead, she was fired.
The release galvanized Randlett. She sought out fashion photographer Hans Jorgensen, who'd moved to Seattle from New York. He introduced her to the twin-lens Rolleiflex camera; she apprenticed with him in his commercial studio.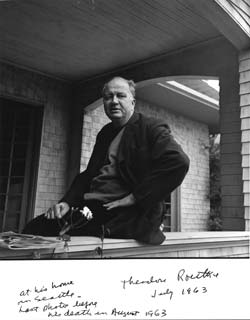 Randlett immortalized poet Theodore Roethke with this portrait taken less than two weeks before he died of a heart attack in 1963.
When Randlett bought her own Rollei (for a staggering $325) and built a darkroom, the die was cast. In 1949, she captured the Slo-Mo-Shun IV — the world's fastest boat at the time — moving at upwards of 150 mph. The photo garnered national attention and positioned Randlett for a career in photography.
Love entered the picture first. At Whitman, she had dated Bob Randlett. In 1949, she married his fraternal twin, Herbert '42, and over the next six years had four children. It wasn't until Randlett photographed Roethke that the lens of her life widened again. A year later — 1964 — she entered into a publishing agreement with the University of Washington Press that has resulted in photographs for scores of books on Northwest art, artists, landscapes and architecture, including three of her own, as well as many books on other subjects.
Randlett's resume is now 42 pages long. A major exhibition of her landscapes graced the Tacoma Art Museum earlier this year. Requests for her work continue to pour in, and the order of her days remains the same: She prefers to receive phone calls after 9:30 p.m., after the work is done.
"I just keep seeing new things and meeting new people and taking pictures of all of it," she says. "Why should I change a thing when I still get chills doing what I do?"
— Keith Raether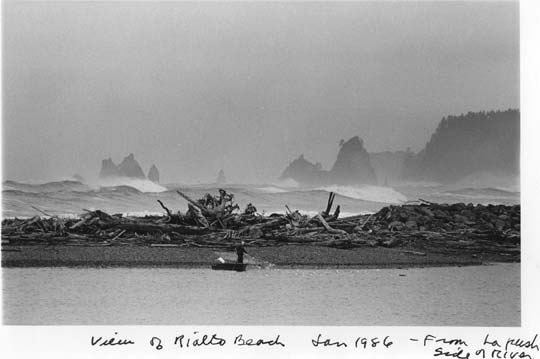 Randlett took this photograph of Rialto Beach in the Olympic Peninsula (from the LaPush, Wash., side) in January 1986.