Former football players in the spotlight again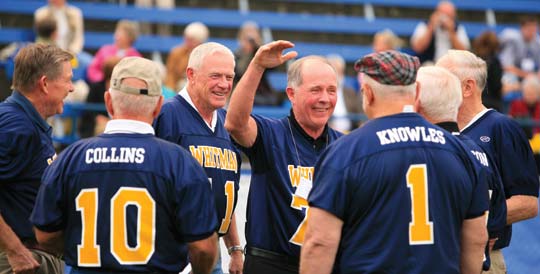 Former players are all smiles at the ceremony to introduce players at Borleske Stadium. (Left to right) Ev Beck '57, Bob Collins '59, Robin Beck '61, Glen Groden '60 and John Knowles '58.
"Wow. What a weekend! I feel the same kind of pride and sense of accomplishment as I did when we won a tough game on Saturday," said Bob Crabb '72, former football player and one of four teammates from the 1972 team who helped create the playbook for the college's first football reunion in October.
It was a watershed moment for Whitman. In 1977, the college turned off the scoreboard and packed up the equipment, putting an end to football, a sport the college had fielded since 1897.
"People who played football at Whitman had been cast adrift," said Eric Johnson '72, another organizer.
The reunion, which drew 94 players and five coaches from across the United States, was an opportunity to heal old wounds. "We wanted to let players know we understood their frustrations and valued their feelings," said Nancy Mitchell, associate director of alumni.
The alumni staff had considered hosting a football reunion in the past, but this is the first time players were willing to step up to be team captains for such an event. Art Mitchell '72 and Chris Helton '72 (chair) joined Crabb and Johnson in organizing the reunion.
The college treated us as "honored guests, and, for a few moments, like heroes," Crabb said.
While players and coaches relived old times and made new friends, the highlight for many of them was the ceremony at Borleske Stadium, their old stomping grounds. Each player and coach was presented to the crowd — which cheered them on with blue-and-yellow pom-poms — and each received a personalized jersey.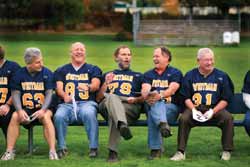 Former teammates enjoy a laugh before the ceremony at Borleske. (Left to right) Paul Jarczyk '73, Dana Jessen '73, Steve Washburn '73, Bob Crabb '72 and George Gillette '72.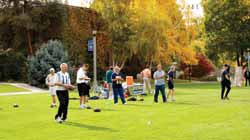 In the Punt, Pass and Kick competition on Ankeny Field, former players tested their skills at the 40-yard dash, throwing for distance and accuracy, field-goal accuracy and distance kicking. Winners were honored at the banquet Saturday night.
"The players and coaches were very touched by this gesture," said President George Bridges. "They were deeply heartened by the college's desire to bring them back to campus."
Five former football players were inducted into the Athletics Hall of Fame during the reunion: Royal Niles '14, Walfred "Wally" Holmgren '30, George Sullivan '58, Gary Jones '68 and Mike Levens '71.
Another highlight was a presentation by G. Thomas Edwards, professor of history, emeritus, on the history of football at Whitman and how it was influenced by national trends. "Dr. Edwards was absolutely remarkable," said Johnson, who remembers him as a strong team supporter "who traveled with us to games and sat on the bench with us."
Following Edwards' presentation, a panel of former players and coaches representing each decade from the 1930s to the 1970s shared their memories and also their opinions on the demise of the sport at the college.
The reunion brought together players "who found their experience to be so meaningful that they wanted to share it one more time, some from far away in both miles and years," Crabb said.
"Football has this kind of effect on me, and many of us, because it is an endeavor that requires a total physical, emotional, psychological and mental commitment in order to be successful," he said.
Johnson agreed. "From 1976 on, there weren't people coming to Whitman who had the same interest in the game that we had. It was important for us to reach back to the college and to say, we're not ashamed to say, 'We love the game, and we think we are important to the school, and the school is important to us.'"
Editor's note: Football is not making a comeback at Whitman. However, there is increased support for athletics at the college with the formation of the W Club this year. For details, see the Whitman Athletics Web site.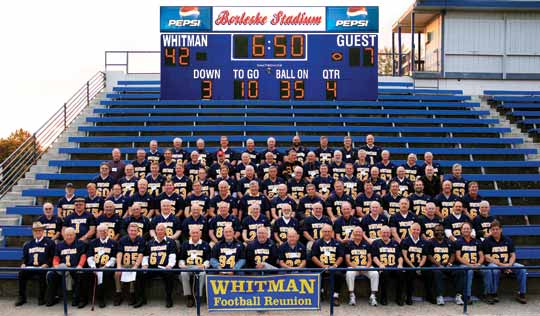 TEAM PHOTO — ROW 1: Coach Bob Thomsen, Coach Keith Loper, Scotty Cummins '38, Ev Beck '57, Frank Wood '58, Cal Boyes '51, Dick Neher '53, Bob Bratton '53, Harold Wilson '51, Donald Hanson '54, Roger Strawick '56, Bill Fowler '54, Eric Johnson '72, Arthur Mitchell '72, Bob Crabb '72, Chris Helton '72. ROW 2: David Wheeler '55, John Knowles '58, Bill Grant '59, Robert Becker '58, Ted "Sig" Hansen '57, George Sullivan '58, Bill Dunn '54, Earle Walker '55, Vic Walker '61, Bob Collins '59, Glen Grodem '60, Max Johnson '59, Jim Dow '71, George Gillette '72, Logan Hazen '72, Verne Ferguson '76. ROW 3: Ron Saario '70, David Shinstrom '70, Lance Christiansen '63, Cleve Larson '71, Dean Nichols '70, Dave Turner '70, George Osborne '66, Charlie Stookey '66, Jim Moore '66, Dan O'Neal '58, Jeff Gredvig '70, Evans Van Buren '70, Scott Farrow '74, Steve Washburn '73, Dana Jessen '73, John Glueckert '75. ROW 4: Steve Whitman '71, Guy Nelson '71, Charles Treneer '71, Mike Levens '71, Glen Owen '61, Harold Allen '60, Bob Anderson '59, Carl "Duke" Iverson '62, Douglas Allen '69, John Adkison '70, Dugan Baker '70, Jim Sprenger '64, Bob Lorence '63, David Millen '70, Paul Jarczyk '73. ROW 5: Coach Ken Woody, Don Pinkerton '77, Mike Giusti '77, Coach Jerry Anhorn '59, Gerald Garrett '62, Larry Pedegana '63, Terry Lofsvold '60, John Alsip '59, Jerry Hillis '61, Pat Smith '61, Al McKee '61, Terry Parsons '63, Duane Moodhe '59, Robin Beck '61. ROW 6: Del Klicker '56, Dean Lodmell '56, Ned Lange '56, Michael Henniger '70, Coach Keith Jensen, John Kerrigan '77, David Hartsfield '79, John Rowley '74, Thomas Mings '75 and Coach John Wilcox.