Board Chair shares law school wisdom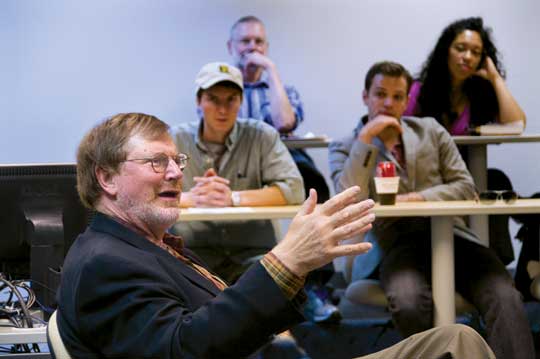 For young people who want to pursue a career in law, Whitman is a great launching pad, James "Jim" Robart '69, federal district judge and chairman of the Whitman College Board of Trustees, told students in an informal classroom session this fall.
Robart, who earned his law degree at Georgetown University, wanted to meet with Whitman students to "stir up interest in law school," although he also urged them to be sure they want a career in law before they invest the time and money. "There is no group more enthusiastic than first-year law students," he said. "You're in love with the law, but three years later you have to find a job."
He spoke briefly about his career in private practice and public service, and then answered questions. One student said he had heard that Whitman students might not be well suited for law school because they are encouraged to think creatively and express themselves freely. Robart strongly disagreed.
"I was incredibly well prepared for law school by Whitman, better prepared than my classmates out of the Ivy League. At Whitman you are taught to do the right thing, and that's what you're given the power to do," he said, noting that the great teachers of Whitman offered him a strong sense of right and wrong. "I can write a good sentence and do the right thing," Robart said. "I'm a George Ball graduate. Not a lot of people know (the religion professor) had a law degree."
Federal judges in the United States can do a lot of good, Robart said. For him, doing the right thing included leaving private law practice to serve as a judge for the U.S. District Court for the Western District of Washington. Prior to his appointment, he was the managing partner of a Seattle law firm. "I took a two-thirds pay cut to get death threats once a month, but I'm benefiting society," he said.
His advice to students considering a law career: Take courses that require a lot of writing and provide critical analysis of that writing, seek internships at law firms to determine whether the career is a good fit, and earn good letters of reference — they do matter.