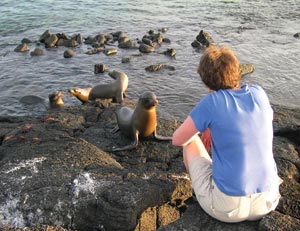 Galapagos Islands:
Linda Weihmann Brown '69 sits within chatting distance of a sea lion on this 2006 alumni trip.
Take a group of people interested in a topic or locale, add a professor or two with wanderlust and expertise, mix together with (pick one or two) a beautiful, rugged, enchanting or historical location, and — as many alumni, parents and friends of the college will attest — you have the perfect recipe for a once-in-a-lifetime trip.
The Office of Alumni Relations organizes four or five such trips a year. "We try to offer weekend and longer trips, and trips that explore a variety of academic disciplines," said Margaret Hoglund, alumni trip organizer and administrative assistant in the alumni office. The journeys connect alumni and parents to the college and give them access to Whitman's outstanding faculty.
"We've had parents go on trips specifically because their son or daughter took a class and came home raving about the professor."
— Margaret Hoglund,
Office of Alumni Relations
Greg '70 and Linda Weihmann Brown '69 traveled to Philadelphia a few years ago on an alumni-organized trip led by Professor of Rhetoric and Film Studies Bob Withycombe.
"It was different than any other kind of trip to Philadelphia we could have taken," Linda Brown said. On the history-filled journey, Withycombe explored the rhetoric of the country's Founding Fathers, including debates about the exact wording of the Constitution.
"People are still talking about that trip," Hoglund said. The 2005 journey immersed participants in the history of the birth of the nation. "First, we learned about what happened behind the scenes, and then we actually got to see drafts of the Constitution with notes in the margins," she said.
The group was deeply interested in the topic and brought a variety of perspectives to the discussion, Brown noted. "We'd stay up talking until 11 p.m. It was like attending a major seminar with field trips and good food in-between."
The alumni office staff designs most trips to explore a topic or locale from a broad liberal arts perspective. For example, a trip to Mount Rainier one year featured Professor of Geology Bob Carson explaining and illustrating volcanism and glaciation, while Don Snow, senior lecturer of environmental humanities, talked about Rainier's role in tribal legends.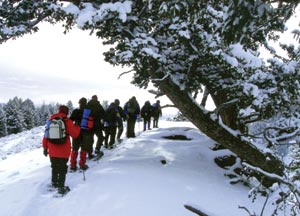 Yellowstone:
This group of alumni discovered a winter wonderland on a January 2005 trip to Yellowstone National Park.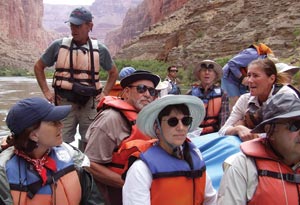 Grand Canyon:
Pat Spencer, professor of geology (standing), shared his expertise on an alumni trip through the Grand Canyon in 2006.
"We've had parents go on trips specifically because their son or daughter took a class and came home raving about the professor," Hoglund said. "Some colleges wonder how we get professors to travel with alumni. At Whitman, professors frequently come to us."
While the college pays for the faculty member's trip, the time they devote to the endeavor goes above and beyond the call of duty, Hoglund said, with many professors offering pre-trip reading material for participants and spending all their waking time on the trips lecturing or leading informal discussions.
Professors who travel with alumni are "passionate about their subjects and successful in transferring that passion to participants," said Nancy Gray Hawley '63. She and her husband, Mal Hawley '63, first traveled with an alumni group in 1994 and most recently with the sold-out "Civil War and the Old South" trip this spring with Tom Edwards, professor of history, emeritus.
"Aside from having a common bond, you know that the participants are there because they have an interest, and in many cases, a background in the subject area to be explored," Nancy Hawley said. "On the Civil War trip, we had a guide at Gettysburg who was to be with us for about three hours. When he realized the depth of interest and knowledge of the group, he went home and brought back his maps, and we spent another two hours with him," she said. "It was an outstanding afternoon that we all thoroughly enjoyed."
Brown appreciates the fact that alumni trips draw this interesting (and interested) group of people from a range of ages. Hoglund agrees. "This summer, people came from all over the country for our Missouri River trip, and along for the canoe ride were two almost 80-year-olds and three 14-year-olds," she said.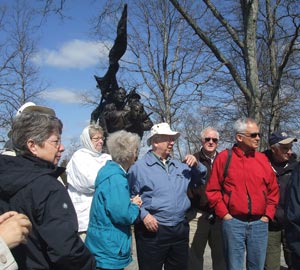 Civil War and the Old South:
Tom Edwards, professor of history, emeritus, (center, white hat), stands in front of a statue at Gettysburg with his wife, Nannette, at his right, and participants on this spring 2008 trip.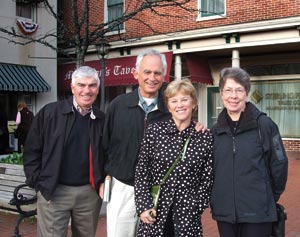 From left: Mal Hawley '63, Bill Schulte '63, Laurie Pickett and Nancy Hawley '63 are all smiles in
Gettysburg
on the spring 2008 trip with Professor Edwards.
We've been to...
Here are some of the alumni trips since 2000:
Yellowstone National Park
Glacier National Park
Olympic National Park
Grand Canyon National Park, rafting
San Juan Islands, kayaking
Steens Mountain
Mount Rainier
Oregon Coast
Lewis and Clark trail, Montana
New York theater, culture
Philadelphia
Intra-coastal waterway
Sun Valley skiing
Middle Salmon River, rafting
Oregon Shakespeare Festival
Civil War and the Old South
Greece
Oaxaca, Mexico
Baja California, Mexico
Vietnam
Galapagos Islands
Provence, wine and geology
Arctic Norway, Svalbard
Missouri Breaks Canoeing
Photo Gallery: 2008 Alumni Trips