What is an ally? Who decides? And at what point does allyship become more about the status of being "in" with an affinity group then it does about using your privilege to elevate and protect it? Is the concept of "allyship" itself broken and harmful to those wanting to build coalitions that will advance a more equitable society?
These were just some of the many questions that students, staff and faculty at Whitman College grappled with during the 2020 Power & Privilege Symposium on Thursday, Feb. 20, 2020.
Led by members of the Whitman College Debate Team, one of the first sessions of the day brought a conversation around allyship and coalition building, and the impact of having non-members present in protected spaces belonging to marginalized groups.
The debate wasn't just an introduction to the format the college Debate Team uses, but also a demonstration of the type of civil discourse that is important when dealing with tough topics. It was a good jumping off point for this year's event theme, "Building Bridges, Not Walls."
On Thursday, Feb. 20, 2020, classes were cancelled for the day and more than two dozen Power & Privilege sessions were held across campus. Students broached a wide-range of topics that affect them and society, such as Islamophobia, underrepresented communities in STEM fields, mental health issues and homophobia.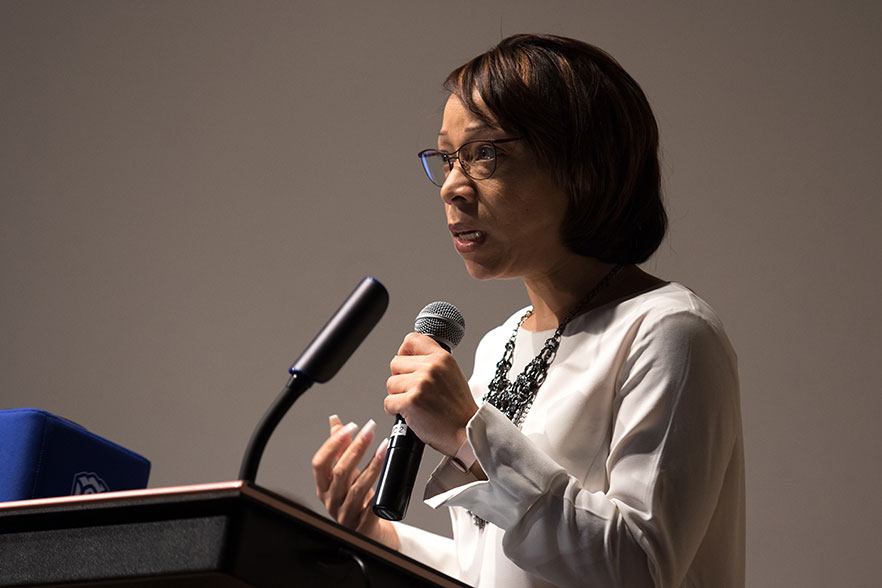 Looking for Representation
For the program "Queer STEM of Color: Underrepresented Communities in Science," international student Gustavo Bejar Lopez '20, geology, and MJ Wilner '20, physics/geology, talked about perceptions of underrepresented groups — such as people of color , women LGBTQIA+, the (dis)ability community, and first-generation/working-class students — in science, technology, engineering and math fields.
As international student for whom English is a second language, Bejar Lopez said people often perceive him as "incapable," despite his own beliefs that being multilingual is tied to high achievement.
"Instead of being more capable, I am considered unqualified," Bejar Lopez said.
Visiting Assistant Professor of Geology Lindsay Szramek talked about the responsibility of faculty to welcome underrepresented students into STEM.
"What is the professor's role in all of this?" Szramek asked the audience. "First, we have to remember that professors make mistakes, we don't know everything. I might know a lot about rocks, but I don't know it all."
An extensive education in geology wasn't enough for her to know how to create a safe and inviting learning environment for underrepresented communities, Szramek said. Faculty, staff and students can all use help in creating environments that welcome in persons from all backgrounds.
Other sessions also touched on issues that marginalized groups face, not just in school but in the world. In sessions on racial issues in medicine and mental health stigmas facing people of color, students and staff talked about how a lack of people of color in medical roles and issues of access can create life-threatening inequities.
Many people of color come from family histories that are filled with trauma, noted Rae Chresfield, associate dean of health and wellness and director of the Counseling Center.
"We weren't encouraged to talk about how we felt, because it wasn't going to make a difference," Chresfield said. "But now this is what I do every day — and it does make a difference."
In "Queer Me, Myself and Eye," LGBTQIA+ students shared the troubled history around representations of the queer community in the media, and offered ideas for ways those interested in working in media fields can better represent the community, including telling stories about queer individuals beyond "coming out" tales, and allowing queer characters to have stable, healthy relationships.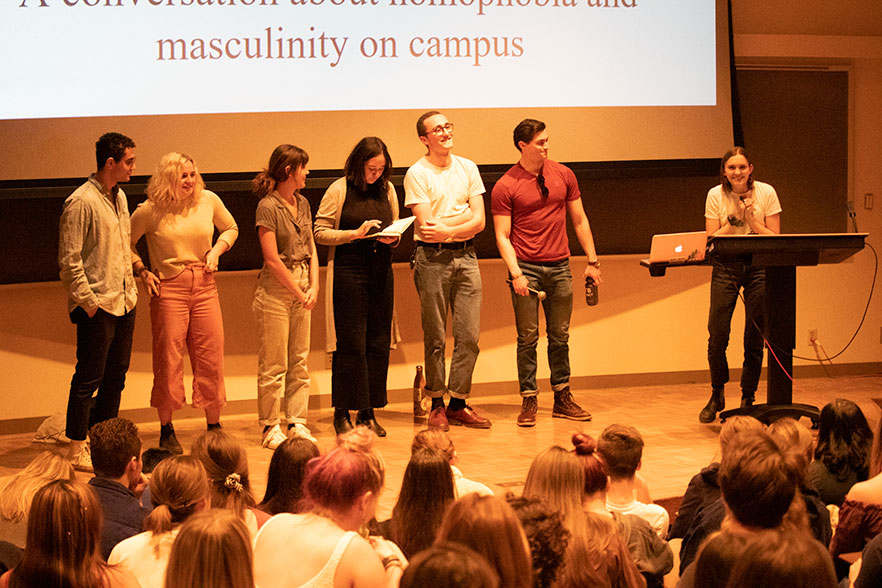 Building Bridges
Other sessions encouraged Whitman students to build bridges through their communities, and beyond.
In the session "Building Bridges Within the Walls," Senior Lecturer of Philosophy Mitch Clearfield and students from his PHIL 219: Case Studies in Applied Ethics course shared their experience taking a course at the Washington State Penitentiary, where students from campus teamed up with incarcerated students to discuss ethical dilemmas to reach a consensus.
In "Bridging the Bubble," student interns from the Student Engagement Center talked about the importance of Whitman students engaging in the greater Walla Walla community, and challenging the notion that students can't make a difference because they only live here for four years.
Being a student can feel like being a long-term house guest, said presenter Alejandra Wait '22 — you volunteer to do the dishes, but you shouldn't try to rearrange the furniture.
"There are a lot of ways to engage with the Walla Walla community," said Wait, who has been involved as a community service program leader, among other things. "My commitment doesn't feel like an 'extra-curricular,' it feels like a necessary, and lovely, part of my life."
Students shouldn't feel like community engagement is a box to check or an extra burden, said Andy Burnstein '20, history, co-director for Whitman Teaches the Movement. In the end, students should be involved in the community in ways they would naturally.
"Ultimately, we're just encouraging Whitman students to live a normal life, and break down this idea that there has to be this separation between Whitman and Walla Walla," he said.