Dismantling mental health stigmas. Addressing racism in the medical field. Being Christian and LGBTQIA+. Gun violence. Islamophobia.
The Whitman College community will take a hard look at these topics and more during the eighth annual Power and Privilege Symposium on Thursday, Feb. 20, 2020.
The theme for this year's symposium, "Building Bridges," is seen reflected in not only the topics represented in the daylong event, but also in the speakers. About 75 percent of the 32 presentations are being led by students, but the others are being led by faculty and staff.
It was an intentional move, said Jordon Crawford '21, executive director for Power and Privilege.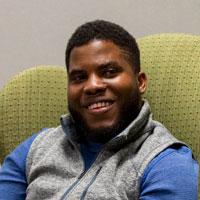 "One of my goals as the executive director was that we go out into the Whitman community and engage with different parties, and let as many people — no matter how polarized or how different their departments are — to get involved," he said. "We have so many different facets of Whitman coming together. We wanted to make Power and Privilege reflective of every single community on campus — not just students of color, communities of color, but majority communities also."
The result is enough panels and sessions across campus that every person at Whitman should be able to find a topic to engage with.
"It's such a diverse pool of options," Crawford said. "You can't say there's nothing for you."
Building Bridges
The symposium begins on Wednesday, Feb. 19, with a keynote address by Angela Davis, an activist, philosopher, author and professor emerita of the University of California, Santa Cruz. Crawford is excited to bring the well-known speaker to Whitman, and to hear firsthand about her experiences as an African-American woman and activist in the civil rights era. Read more about the keynote address.
"It excites me to know that she's going to inspire us," he said. "It's very easy to lose hope. It's very easy to become disheartened. I think Angela Davis represents hope."
The Power and Privilege Symposium itself was born out of a call from Whitman students to see a commitment from the college to address issues of diversity, equity and inclusion. The first race symposium was held in November 2006 and led by faculty. Its current iteration — which is organized entirely by students — began in 2012. The college cancels classes for the annual event to allow all faculty, staff and students to participate.
The "Building Bridges" theme is important to Crawford; he knows that discussions of equity and inclusion aren't always easy — or comfortable.
"I think in order to build bridges effectively, we need to come together," Crawford said. I want people to come. I want people to listen attentively. I want people to participate. I want people to be uncomfortable. I want people to not be afraid."
He also wants to see people be motivated to action.
"Power and Privilege is simply the beginning. I want people to ask themselves, 'Now that I've gone to P&P — what next? What am I going to do to be building the bridges in my life and in my circles?'" he said.
The event ends Thursday evening with a performance by local spoken word artists Taisaun Levi and Jonquil McCray. It will begin at 4:30 p.m. in the Reid Campus Center Coffeehouse, located on the basement level.