Inside Maxey Hall's newly constructed Avian Communication Lab, Assistant Professor Nancy Day '05 is fitting songbirds with tiny headphones.
The headwear isn't a fashion accessory for the small finches — instead, it's a device Day is using to study how changing gene expression may alter how well a bird can learn to correct its songs. Birds can correct their song in the same way a human might try to pronounce an unfamiliar word again or practice it several times to get it right.
Day is a neuroscientist, the first one to join the Department of Psychology at Whitman College. While the first neuroscientist, she's the second psychology faculty studying birds in Maxey — Professor Wally Herbranson, the Herbert and Pearl Ladley Endowed Chair of Cognitive Science, works with pigeons in his Comparative Psychology Lab.
"We're really hoping for a bird-takeover in the not too distant future," Day said. "I think we've determined that once we're fully up and running, the number of birds will outnumber the faculty in the building."
Studying Bird Brains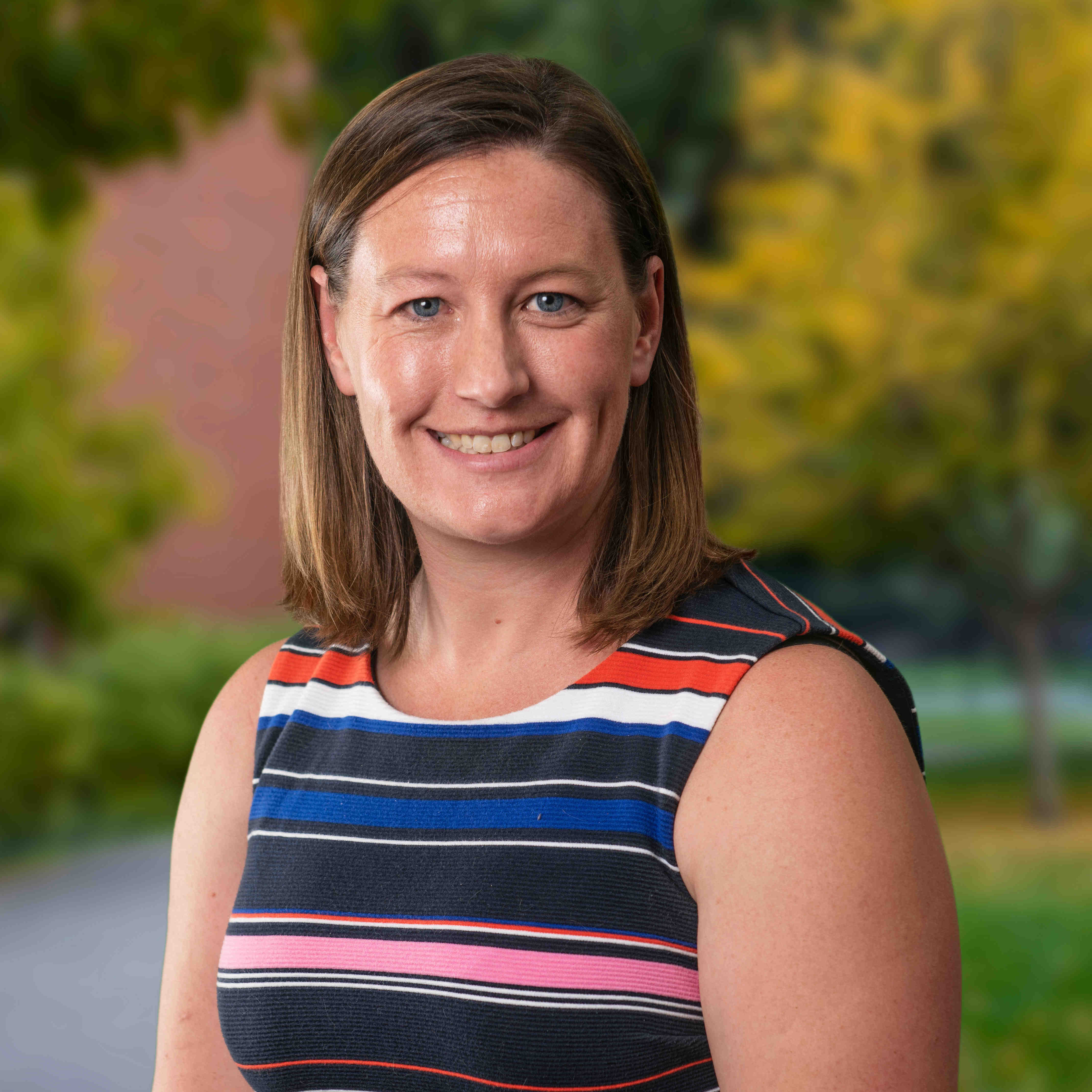 Birds and psychology may seem like an odd combination, but it's one Day has been studying for several years. Day graduated from Whitman in 2005 with a biology and psychology double major, and returned as faculty in fall 2019. Day knew that she would find her way back to the liberal arts.
"I found it all so inspiring, and so with that in mind I tried to gain the experience that would be necessary and helpful in teaching at a liberal arts college. I never anticipated that I would end up back at Whitman and so it was kind of a strange dream come true," Day said.
After earning her undergraduate degree, Day took a year to figure out what she wanted to do next. She was drawn to both neuroscience and developmental psychology, and it was the process of interviewing for graduate school that she found her path of study. She studied in the neuroscience department at the University of Minnesota, where she began studying songbirds.
"Songbirds are really cool animals because they learn their vocalizations in the same manner that humans learn speech," she said. "They go through a little baby bird babbling phase where they begin to explore their vocal range and slowly over time, they are able to match the vocalizations that they produce to the vocalizations of their environment. I am really interested in what is happening in the brain during this learning phase."
Day studies a specific gene, FOXP2, that has mutations linked to speech and language deficits. She performs brain surgeries on birds to inject a virus that increases the gene expression. She then records the bird songs in a small sound chamber so that she can determine how well the song of the bird matches the song of another 'tutor' bird, usually the young bird's father. During her postdoc at UCLA, Day and colleagues learned that the overexpression of the FOXP2 gene impairs song learning. Now, at Whitman, she hopes to accomplish in vivo electrophysiological recordings in brain regions dedicated to singing to identify how the gene is important in sculpting song learning.
After completing her education at the University of Minnesota, Day lived in Los Angeles for seven years and taught at UCLA. She also taught as a visiting assistant professor at Claremont College, where she realized how much she missed the liberal arts setting.
"I wanted to really emphasize the role of student learning and not just telling the students what I know, but instead inviting them to really explore the topic on their own and ask thoughtful, insightful, discerning questions, about current research and then thinking about those questions in more detail," Day said.
Returning to Whitman
In a moment of "pure luck" as Day called it, Whitman happened to be hiring a neuroscientist for the psychology department at the same time as she was looking for a new job. Day was thrilled to return to Whitman. Not only has she been able to re-connect with the professors she had while a student at Whitman, she also reconnected with members of the Girl Scout troop she volunteered with as a student.
"It's been really fun to be back and to make new memories associated with a new phase in my life," she said.
This year, Day taught introduction to psychology and a seminar titled "Brain and Language." One of the highlights for her was the one-on-one conversations that she had with students.
"To have that personal connection and find out what motivates them and interests them and then to figure out how to best adapt my classes to meet these, that has been one of the most rewarding parts of my year," said Day.
The one-on-one conversations changed dramatically during spring semester due to classes being moved online in the wake of the COVID-19 outbreak, but Day continued to connect with students over Zoom. Adapting to teaching virtually was an obvious challenge, but Day was able to embrace the changes with her classes.
"There's a lot of behind the scenes to this job that I never fully appreciated as a student; it has been very eye-opening in that sense," she said.