A college located 260 miles east of the Pacific Ocean may not be thought as the best environment to pursue studies in marine biology.
But biology major Makana Stone '20 found that despite Walla Walla, Washington's high desert climate, she was able to find the opportunities she needed to pursue her love of marine science at Whitman College.
Growing up in Coupeville, Washington, on the Puget Sound, Stone, would take care of injured animals and has always had an interest in marine ecosystems. Even though Walla Walla isn't the coastal, marine environment Stone hopes to study long-term, she was confident in Whitman's biology program. She has found ways to connect her inland study location to her passion for marine biology, including taking advantage of paid internship opportunities.
Last summer, Stone conducted an internship with the Confederated Tribes of the Umatilla Indian Reservation's (CTUIR) Freshwater Mussel and Lamprey Laboratory, located at the Walla Walla Community College. The internship is funded through the Student Engagement Center's Whitman Internship Grant.
"I talked with the wet lab manager and she told me about their research projects to help the tribes reestablish culturally significant species. These species, like the lamprey, are significant for their First Foods program," Stone said.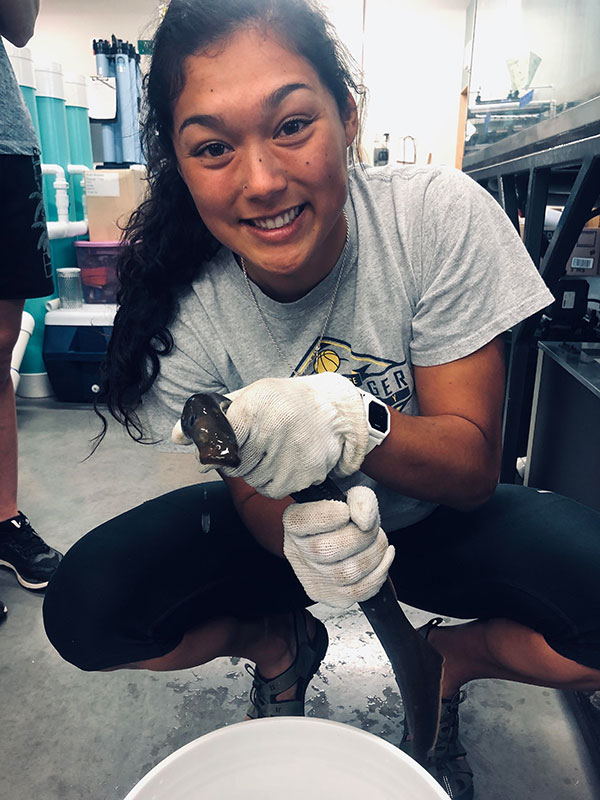 Lamprey are an eel-like, jawless fish that are known for their toothed, funnel-like sucking mouth. The species is considered ancient and was a historic part of the diet of indigenous populations living in central and eastern Washington.
For her internship, Stone worked with lamprey, fish and freshwater mussels. She's using the data she collected on lamprey burrowing trials and behavior ecology studies as part of her senior thesis.
"The intent of the research is to find the best management practices for culturing larval lamprey. Releasing lab propagated larva and juveniles into sub basins within the Columbia River Basin has successfully contributed to the positive impacts of stream restoration and regional management efforts to increase population sizes," Stone said.
In addition to the lab and field research, one of Stone's favorite experiences of her summer internship was helping with her supervisor's doctoral data collection on freshwater mussels.
"We snorkeled in the Snake River, grabbing freshwater mussels. It was so much fun. I love doing that kind of field data collection and research," she said.
Stone loved the hands-on field and lab research the internship allowed her to conduct. The experiences she gained in the field and lab helped Stone solidify her plans for after graduation.
"I hope to transfer from the freshwater systems to the marine system. I am looking to apply to Oregon State University's marine biology program," she said.
Stone is continuing to work with CTUIR this fall, on a different aspect of research: Data analysis.
"I really liked working with the tribes and my supervisor, so I offered to help with data analysis and lab work during the fall," she said. "My supervisor was excited and had lots for me to do," she said.
The Whitman Internship Grant also supported her fall internship. She said the data work is challenging, but very rewarding.
"It was a lot of questions like: how can we use this information to figure out what to do next and to improve research methods? It's a challenge, but it's also fun to figure out how I want to interpret the data, communicate that data, and what direction to take future research," Stone said.
Stone's freedom to interpret the data gave her lots of personal responsibility for her analysis and research.
"My supervisor helps direct me, but she also encourages me to find my own way, which is really great because that's what we look for in an internship experience, to be guided, but not told exactly what to do. It allows us to experiment and form our own understandings" Stone said.
In addition to her internship research, Stone is a member of the women's basketball team. Whitman's academic rigor and competitive athletics were part of what drew her to Walla Walla. She also was able to visit the campus during the 2016 Summer Fly-In, a program for first-generation/working class students that introduces them to campus and college life.

"Everybody was so welcoming and enthusiastic about helping us get on our path and that solidified the decision for me," she said.