Born in a new millennium, the students in Associate Professor Jim Russo's infectious disease course have never known a time that HIV/AIDS wasn't treatable.
But Russo was a graduate student in the 1980s as the virus was first discovered.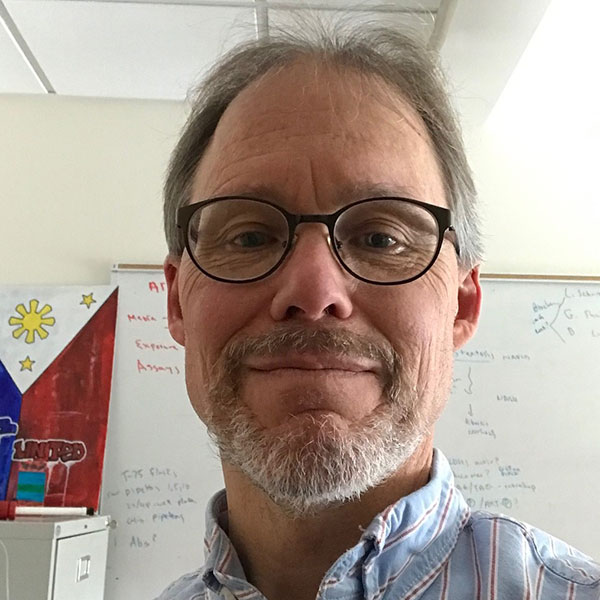 "My entire process for going about a laboratory and dealing with human tissue was changed," Russo said. "But for students, they think 'oh, we've always had drugs to treat HIV.'"
Living through the discovery of a new virus — and the fear and social issues it created — left a mark on Russo. One that's being replicated around the world today while a novel coronavirus reshapes the landscape.
While part of the Department of Biochemistry, Biophysics and Molecular Biology (BBMB) curriculum, Russo's course goes far beyond the science of viruses, and helps students understand the complex history of disease transmission, and the politics that go with it.
"It's looking at drivers like poverty, race, economic disparities and other stigmas that lead to higher mortality and morbidity rates from infectious disease," he said. "Public health is very much an interdisciplinary discipline — you can't come at it from only a biomedical perspective. You also need to come at it from a biosocial perspective."
Creating a Course
Russo came to Whitman College in fall 1989. He and his wife, Visiting Associate Professor Ruth Russo, team-taught biochemistry courses, and took turns teaching special topics classes on biochemistry of cancer, and pharmacology and drug design. In 1992-1993, Jim Russo taught a course on HIV/AIDs.
"Teaching on HIV/AIDS in the early '90s was about the most disheartening, depressing, demoralizing thing you could drag students through," Russo said. "They were so drained by the end of the semester. There was no treatment, everyone with HIV was dying. It was a very hard course to teach."
While on sabbatical, Russo came across the article "In Time of Plague: The History and Social Consequences of Lethal Epidemic Disease," by Noble laureate Joshua Lederberg, which looked at the complacency of humans against viruses, and the inevitability of pandemics. It inspired Russo to expand his course to look at infectious disease on a larger scale.
His interest particularly focused on the social distribution of disease, and its uneven impact on communities of color and those living in poverty.
"It was expanding from HIV/AIDS and recognizing that as just one part of a very large aspect of thinking about how our disease burden infectious diseases has changed dramatically over the last century, but changed in very asymmetric ways. Whether people die depends on where you live," he said.
BBMB 430: Infectious Disease officially launched in 1995, and even though Russo said he always intends to quit offering it, demand never lets up. The course draws interest from students across campus — juniors and seniors with interests in psychology, health, sciences, anthropology, religion, race and ethnic studies, among others.
Biology major Mika Nevo '20 took the class to explore her interest in human immunology. This fall, Nevo begins a graduate program in molecular, cellular and development biology at the University of Colorado, Boulder.
"One of my biggest takeaways from the course was the extent to which infectious disease prevalence and transmission is influenced by things that are not purely biological, whether it is access or willingness to vaccinate, resources to treatment and testing, education, politics, the economy, etc.," Nevo said. "Growing up in the United States, we are not often threatened by endemic infectious diseases, and this pandemic is a good reminder that all humans are linked through infectious diseases, and these issues are global issues that cannot be isolated by country or region."
A Personal Experience
With the impact of COVID-19 in spring 2020, the topic of infectious disease became more real for all of his students. But depending on the makeup of the course, he often has students in class who have experienced the disease they cover. For example, having an HIV-positive student in class changes the dynamic, and takes the conversation from a rhetorical exercise to one that is very real.
"It changes the dynamic entirely," Russo said. "I never know what the class is going to be like, because those types of insights present themselves. There are people who have had family members who have died of something. An important part of the introduction is talking with the class about how we're going to talk with each other. What is the space we're going to have so that we can talk about this."
Throughout its history, the course has relied on two backbones of structure: Journaling, which asks the students to reflect on what they've learned and how their attitudes change through the course, and case studies.
The case studies allow groups of students to dive deeply into a chosen disease — such as influenza, malaria, tuberculosis, HIV or dengue fever. They study the history of the illness, including life cycle, and its scientific routes — transmission and epidemiology. But they also look at the socioeconomic factors that govern why that disease persists, how it impacts different parts of the world, and factors that cause transmission rates to increase or decrease. The groups then take turns presenting their disease to the rest of the class, leading exercises and offering readings.
"They have ownership about what they're going to do to teach that material to the rest of the class," Russo said. "That is both daunting for them, and also an incredibly valuable aspect, to think about how am I going to think about a complex problem from all of its different avenues."
Pivoting for Pandemic
Russo is familiar with adapting his course as new science comes out around infectious diseases, but this fall offers a particular challenge.
"You never teach the same class two years in a row," he said. "But doing this in the fall of 2020 is going to be a very different environment."
Students will get the chance to watch virus knowledge unfold in real-time. They'll also look at how information about COVID-19 came out, early statements made about the disease and how they changed over time.
"It's the difficulty of pandemic preparation. You have to act amidst uncertainty," Russo said. "I'm sure we're going to be talking a lot about antiviral drugs and vaccine development. What are you going to want to know before saying yes to a vaccine?"
Nevo said the course has helped her understand COVID-19 better, even as the science is still evolving.
"This course allowed me to know what questions to ask, and to acknowledge what information is missing," she said. "It has been especially challenging navigating this disease since so much is still unknown, and even when I have a question about the disease (either on a purely biological level or at an epidemiological level), the answer is not always available, yet it helps to be aware of what parts of the story are still missing."
Throughout the spring and summer, Russo was able to use his expertise to help the college in another way, serving on committees dedicated to the health of the community and advising about how to bring people to campus safely.
And while the notion that "we're all in this together," can be helpful in encouraging the community to maintain physical distance and wear their masks, Russo knows it's also not quite true.
"We're not in this same risk together. Groups within a single country are not facing the same risk," he said. "Depending on where I'm living, what my employment status is, what my insurance status is — my risk is different. We may all have the same susceptibility to the virus, but we don't carry the same burden of disease."