From advocating in the workplace to speaking truth to history, Steve Hammond '79 fosters human connection
On a brilliant May day more than 40 years after his own Whitman College graduation, Steve Hammond '79 faced the Class of 2022 from behind the podium—a tall figure in a long black robe.
Smiling at the sea of students before him, Hammond congratulated them not only on earning their college degrees but on doing so during a pandemic. Punctuating his words was the fact that this was the first in-person ceremony for families in over three years.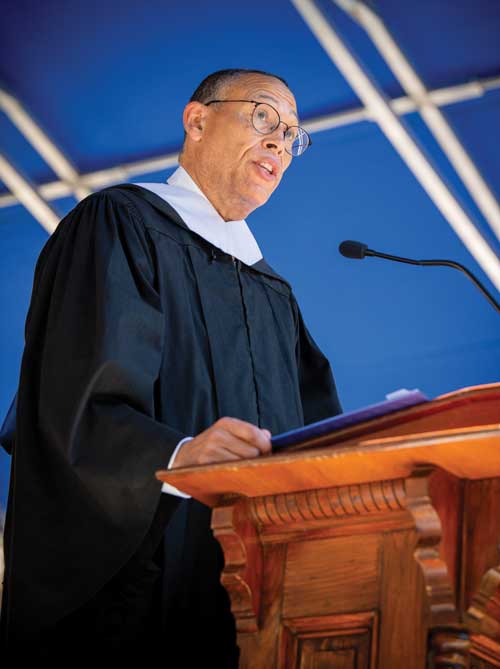 "Remember how you got here," he counseled the graduates. "It hasn't been easy, has it? But you have shown strength and perseverance. You have grown and stretched in ways that you never would have believed possible."
Hammond spoke from a place of poignant—and often painful—personal experience. While there was no lockdown or quarantine to contend with when he was in school, he could certainly relate to feelings of isolation.
"As a person of color on this campus in the '70s, I struggled … I didn't feel very welcome here at times," he told the crowd. "Role models were few. It took me several years of reflection to realize how fortunate I am to have received a Whitman education."
Fostering the inclusion and mentorship he felt he missed as a young Black man at Whitman has been a defining feature of Hammond's career with the U.S. Geological Survey—and a focus of his time as a college trustee. Again and again, in his speech and the interview for this post-commencement profile, he returned to the importance of cultivating relationships to sow change.
Standing Tall for Change
Hammond grew up in Denver and set his sights on engineering school before a serendipitous trip to Whitman changed his mind. He majored in math and geology, played on the tennis team, and was a founding member of the Multi-Ethnic Center for Cultural Affairs (MECCA), still part of the Interest House Community. He also hosted a popular jazz radio show on KWCW. But despite his involvement on campus, being one of only a small number of Black students brought challenges.
"There was an aspect of loneliness and feeling separated that left me a bit frustrated," he says.
Still, Hammond has Whitman to thank for his most significant relationship. He and his wife, Charlotte Bibb Hammond '79, met in a stairway in Anderson Hall and recently celebrated their 42nd anniversary.
In many ways, his Whitman experience prepared him for a distinguished career at a majority-white institution: The U.S. Geological Survey. Starting as an intern, he went on to be recognized multiple times by the Secretary of the Interior for service during the bureau's hazard response activities, including after Hurricane Katrina and Deepwater Horizon. Hammond is now an Emeritus Scientist and volunteers his time to specifically support people of color and women in STEM fields.
"As you begin your life after Whitman, I encourage you to carry your experiences with you. Don't bury them too deep. Allow them to help you work on becoming a better person and to help others where you can."
—Steve Hammond '79, Commencement Address, May 22, 2022
"Aside from all the scientific work, which I loved, I was also on this crusade to try to get the organization to flex, to shift how it operated—to see itself differently and be more inviting to people. You get a seat at the table so you can be part of those decisions, become a role model and create a better environment."
That same philosophy guided Hammond's decision to join Whitman's Board of Trustees. "I had the goal of moving the needle on diversity, being a part of the change."
While he acknowledges there is still work to be done, he praises resources like the Summer Fly-In Program for first-generation and working-class students, the Power & Privilege Symposium, and the Glover Alston Center, as well as the leadership of Vice President for Diversity and Inclusion John Johnson.
And this important work means more than sitting in meetings, he says. "It takes energy to be involved in the college in a way that helps you to understand the issues that are going on, versus when they're presented to you in a boardroom. If I'm going to be at that table, I think it's really important to plug into the Whitman of today, to be engaged with students.
"It's been a real honor to serve the school in the various capacities that I have, and to create the collaborative opportunities and friendships that have come from that."