The Whitman College Orchestra examines racism in classical music and pledges to diversify its repetoire.
In the fall of 2020, Whitman College's entirely online learning format created challenges for faculty and students alike. For Whitman's orchestra, conducted by Associate Professor of Music Paul Luongo, it also presented an opportunity for reflection and change.
It started when Luongo connected with colleagues from other colleges in Washington and Oregon to talk about what they, as orchestra conductors, could do when they couldn't lead live orchestras.
"In the midst of those discussions, we were also talking about the tragic murder of George Floyd and the ripples that were happening from that," Luongo says.
Soon the cohort came to a decision. "If we weren't going to be actively rehearsing music live, we thought this was a good time to look for productive conversations and exploration and growth around classical music, and in particular, racism in classical music—which has long been a fraught issue in American history."
A History of Exclusion
In the 1920s and 30s, says Luongo, there were more Black American voices in composition than ever before. At the same time, there was a significant pushback in orchestral composition from white American composers, which was partly entwined with some American cultural insecurity. Eager to prove that they were as culturally sophisticated in their perception as that of their European peers, white American composers were producing ultramodern works that cut out the threads most of the era's Black composers were exploring—like jazz and African American spirituals—which reflected their own lived experiences and cultural history.
"This was not where the establishment wanted to go," Luongo says. "And so, American orchestral music moved in an ultramodern direction, and a predominantly white direction. This aesthetic bias became coupled with a racial bias that silenced so many wonderful African-American classical contributions."
Shifting the Center
Committed to exploring the issue further, Luongo joined the orchestra directors of the University of Puget Sound (Tacoma, Washington), Lewis & Clark (Portland, Oregon) and Seattle Pacific University to form the Northwest Orchestra Consortium. The group pooled their resources to invite performers, composers, researchers and arts administrators who are on the front lines of the issue of institutional racism in classical music to participate in discussions with their students.
"Through the course of those conversations, we began to see some real possible, actionable steps for [the Whitman] ensemble," says Luongo. "We might not be able to change the conversation nationally but we can control our sphere of influence."
One of the virtual sessions in the fall was with renowned countertenor Reginald Mobley, the first-ever programming consultant for the Boston-based Handel and Haydn Society. Mobley, who sang with the Whitman Orchestra as a soloist several years ago, is also a leading advocate in promoting anti-racism in the choral community and co-authored the Black Voices Matter Pledge, a call to action for choral artists.
The conversation with Mobley inspired several of the orchestra students to form a group to dig deeper into the issue, says violinist Abby Herrick '21, who was a founding member of the Whitman College Orchestra Diversity, Equity and Inclusion Committee in her senior year.
"Our main goal was to produce a pledge [similar to the Black Voices Matter one] for the Whitman Orchestra, but it became something that will continue on to be more than just that," Herrick says.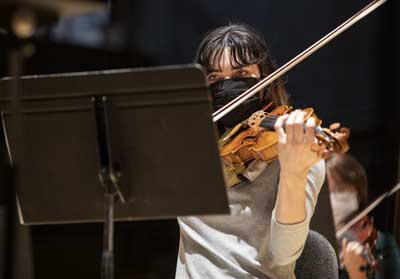 Luongo explains: "The student committee isn't going to be choosing the music for us, but they will meet with me several times a year to discuss my rationale for the repertoire that I may have selected, address concerns and bring ideas. They'll engage in their own research to uncover other possibilities and take a greater responsibility for their student experience and for the direction the ensemble takes."
A Pledge to Progress
The committee's pledge, completed in Spring '21 semester, outlines the ensemble's commitment to the reflection, critical interrogation and action in three areas.
First, through its repertoire—diversifying the music played to include underrepresented works and examining the value of works from the white, male-centered canon before programming them.
Second, in the way they rehearse; in addition to creating an inclusive environment for practice, the ensemble will make efforts to learn about the historical and cultural context of work, not just learning how to play them.
And finally, in performance—by introducing the orchestra to historically neglected audiences, inviting guest performers from diverse backgrounds and experiences, and educating its audience on the value of diversity, equity and inclusion in orchestral music.
After sharing the pledge with Kazi Joshua, dean of students, and Helen Kim, associate dean for faculty development, the committee sought feedback from Mobley.
"We wanted him to challenge us on our pledge and kind of kick the tires a bit—help us think more critically about our ideas and actionable items for [the 2021-22 school year] so it's not just a statement but actually a plan for modifying how we behave as an ensemble," Luongo says.
Revising the Repetoire
The Whitman College Orchestra Spring 2021 Concert demonstrated the pledge's principles put into practice. In addition to works by better-known composers Aaron Copland and Béla Bartók, the program included "Serenade for Strings and Piano" by 20th century Black composer William Grant Still, and "Arachanga" by Reena Esmail, a contemporary Indian-American composer who was one of the virtual guests in the Northwest Orchestra Consortium's speaker series.
Although she started learning violin when she was 7 years old, Herrick says this was still one of the first times she's performed works by composers who were not white men. "I think all of the first times happened at Whitman. As an orchestra, we'd played music composed by people of color and women before but we'd never had such an in-depth discussion about the importance of that before this last year," she says.
Individually, Luongo says he has grappled with these issues and considered them in his programming for several years, but he hadn't really engaged students in the process. Herrick says she was glad to be involved.
"Classical music likes to stay in its own little sphere and not branch out, and I think that it's important to try to change that exclusivity and to acknowledge the racism in it," she says. "A lot of music has been buried and still isn't played. I think we have to question that."
The process of creating a just and equitable orchestral community is an iterative one, says Luongo, and the pledge is the first attempt at a blueprint for change.
As a recent graduate, Herrick won't be a part of the orchestra's next steps, but she is confident they'll be in the right direction.
"I think smaller schools like Whitman can really make a change in classical music, specifically. It's probably much more difficult to do at larger schools and conservatories that are so blocked in with their canon. We have a lot more ability to make changes in what we play and what we learn because we can be more flexible and we have different priorities than a conservatory might. I think it's really exciting."