Two alumni will meet in legal action on Whitman's campus this week, when trial lawyer Andrea Burkhart '00 argues a case in front of Chief Judge Robert Lawrence-Berrey '86 of the Washington State Court of Appeals (Division III). The oral arguments will be held in Maxey Auditorium at 9:30 a.m. and 11 a.m. on Thursday, May 2, and are open to the public.
This special visit by the Washington Court of Appeals will give Whitman students and members of the Walla Walla community an up-close look at how lawyers and judges use the legal system to address complex disputes in today's society.
"The legal system is a process designed to resolve factual disputes between people, and to have recognized legal principles applied to those facts," Lawrence-Berrey said. "At its best, these legal principles produce the same result for the poor and powerless as they do for the rich and powerful. To the extent these legal principles are applied incorrectly, appellate courts serve as a tool for correcting legal error."
Burkhart and Lawrence-Berrey have met in court before.
"I enjoy arguing in front of him. I tend to have a conversational approach to oral argument, and I feel he does as well, so that suits us both," Burkhart said. "His opinions are well reasoned and hard to argue with, even though sometimes I have to try anyway."
Following the court proceedings, Whitman students considering careers in law are invited to attend an informational lunch with the chief judge.
Passion for Justice Leads to Judgeship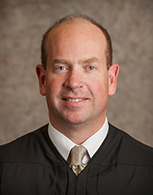 During his first year at Whitman in 1982, Lawrence-Berrey anticipated majoring in chemistry and becoming a doctor like his dad. But during his sophomore year, he decided to go in a different direction - law.
"Looking back, I am confident I made the right decision," he said. "There are few experiences in life more rewarding than to help a powerless person receive justice."
After graduating from Whitman with a degree in economics, he earned a law degree at Willamette University and served as a private practice attorney for 20 years in Yakima, Washington.
"I was fortunate to be able to choose which cases to take and which not to take. I took cases where I could help people who had been wronged," he said. "A good lawyer loses sometimes, because a good lawyer sometimes tries difficult cases."
In 2011, Lawrence-Berrey joined the Yakima County Superior Court by appointment of Washington Gov. Chris Gregoire. He served in that position until his 2014 appointment to the Court of Appeals by Gov. Jay Inslee. He was re-elected in 2018.
Thirty years into his legal career, Lawrence-Berrey still uses the skills he learned at Whitman.
"Whitman developed my work habits that have continued throughout my time as a lawyer and a judge," he said. "Whitman taught me that success is a combination of factors - but mostly ability and hard work. Find where you excel, work hard and enjoy those opportunities to help others."
His advice to students interested in law: "Expect disappointments, setbacks and stress, but know that this is a rite of passage in any challenging career."
Analog Law in a Digital World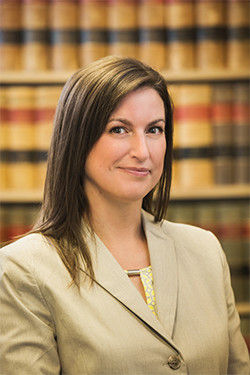 The case Burkhart will argue in front of the Court of Appeals deals with digital privacy, specifically cellphones and text messaging information.
"In general, digital cases are challenging because while the technology is old news, the law is very far behind," Burkhart said. "What used to be a pen dipped into ink and placed on parchment - a physical thing - is now electrons on wires going a million different directions, pinging off of servers. It's a new world legally to be grappling with."
Burkhart, who studied philosophy at Whitman, was originally attracted to a career in law as a result of her fascination with the foundations of society.
"What makes some societies work and others not?" she said. "I'm fascinated by legal and moral systems and always have been. It's what I was interested in as a Whitman student and what continues to fascinate me as a practicing attorney today."
Born and raised in the Tri-Cities area, Burkhart earned her law degree from Thomas Jefferson School of Law in San Diego, California. She served as a law clerk to Washington Court of Appeals Judge Elaine Houghton in 2006-07, and gained significant courtroom experience as a criminal defender in Walla Walla County.
Burkhart now practices law in Kennewick, Washington, alongside her husband Jeff, also a lawyer, at their firm Two Arrows. Over her career, she has represented a wide variety of cases, from defending accused murderers to helping clients recover millions of dollars of debt. She also has experience with water law, estate planning, construction liens and litigation, and real estate.
"The law is an extremely challenging profession. Especially when you deal with criminal violations, you're dealing with the worst things that people do to each other. It can be challenging on an emotional level. What happens to your worldview when you confront some of these terrible things that happen?" she said.
But Burkhart said being a lawyer has also been extremely rewarding.
"You have to develop a lot stronger sense of who you are and what you stand for. For me as a criminal defense lawyer, what has given me a lot of meaning is the recognition that everyone is deserving of compassion - even the people who are the worst of the worst."