Carl Ye '21 is no stranger to challenge.
As a runner on Whitman's cross country team, he has overcome two stress fractures, IT band problems and iron deficiencies.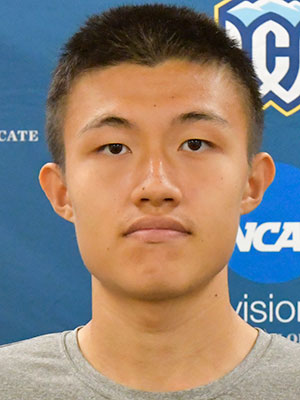 As an international student from Qingdao, China, he's had to overcome language barriers and academic challenges.
But he has conquered them all, and this spring will take on a new challenge: Studying abroad in Hungary through the Budapest Semesters in Mathematics.
"Honestly, I think that a positive mindset and a positive attitude is a very important quality when I think about how I overcome my injuries and academic challenges, I am always learning and finding better ways to work toward my goals," said Ye, who is double majoring in mathematics and economics.

Ye has wanted to study in the United States since middle school, which in China is three years, followed by three years of high school. In middle school, Ye had to decide whether he wanted to take the national placement exams for the Chinese university system or focus on his English and apply to colleges and universities in the United States.
Ye's parents encouraged his decision to study abroad, and while Ye was initially undecided he realized the opportunity to study in the U.S. was one he could not pass up.
"I realized that knowing another culture, especially that of the U.S., was sounding more and more attractive to me" said Ye.
He applied to 20 universities and colleges in the United States. It wasn't until the end of his application process that he began to look at smaller schools like Whitman.
"At the beginning, my knowledge of American colleges as not very much, I only knew about universities, but my parents and teachers encouraged me to apply to colleges, they knew that the universities would be too big for me" Ye said.
Ye found out he was admitted to Whitman in May 2017, committed to attending in June, and was on campus for a Scramble pre-orientation trip and international student orientation by August.
"The Scramble was the first time that I really started to speak English in the U.S. At the beginning I didn't really speak so the Scramble helped me get comfortable with the language and college life really quick!" Ye said.
The July before he arrived on campus, Ye reached out to a fellow Whitman student also from Qingdao, asking her about athletics at Whitman.
"I really wanted to play a sport in college, I even considered basketball, but when I saw how strong the program is at Whitman, I knew I had no chance," he said.
Ye had run for the track team at his school in Qingdao so he asked about running teams at Whitman. His friend encouraged him to contact the cross country coach.
"I didn't know anything about cross country. At that time, I thought that cross country was 'across the country' so I understood it as running across the countryside, and now I realize that I wasn't totally wrong," Ye said.
His passion for running has grown during his three years on the team.
"During my spare time I watch famous races, I pay attention to their form and sometimes I will even watch the race multiple times, each time watching a different aspect like their arm movements, cadence, and more," he said.
Beyond Ye's involvement in cross country, he is extremely dedicated to his academic studies. As a double major, he works very hard and knows the difficulties of overloading classes, sleep deprivation and stress management.
He is excited about the opportunity to learn more about another country while studying abroad in Budapest and comparing teaching styles across cultures. Budapest Semesters in Mathematics is an intensive mathematics program with classes in math, history and the Hungarian language. The courses are taught in English with the Hungarian style of instruction. His advisor, mathematics Professor Barry Balof, encouraged him to apply to the program. Balof also studied in Budapest when he was an undergraduate.
"It is a very attractive and competitive program because students apply to it from many colleges," Ye said. "The day that I found out that I was accepted, I was in the airport traveling back to school and I was so happy in that moment."
One of the differences Ye looks forward to with the Hungarian education system is the class selection process. Instead of choosing classes before the semester starts, students spend the first two weeks testing out a variety of classes, instructor, and subjects. Students then select the classes they would like to take for the rest of the semester.
"Hungary has many famous mathematicians, so it is a very good place to learn, I am very excited to have a whole semester to focus on math," he said.