Parents of graduating seniors applauded their progeny and Whitman College at the 131st Commencement ceremony held earlier today. Families came from around the region, country and world to witness the festivities that involved 374 walking and 346 graduating seniors—and took a few minutes to share an affirming, appreciative thought. Everyone smiled while recounting an impression or two; some relatives shed tears of joy. The common denominators of the sentiments? Parents liked that their offspring broadened their horizons through a well-rounded liberal arts education.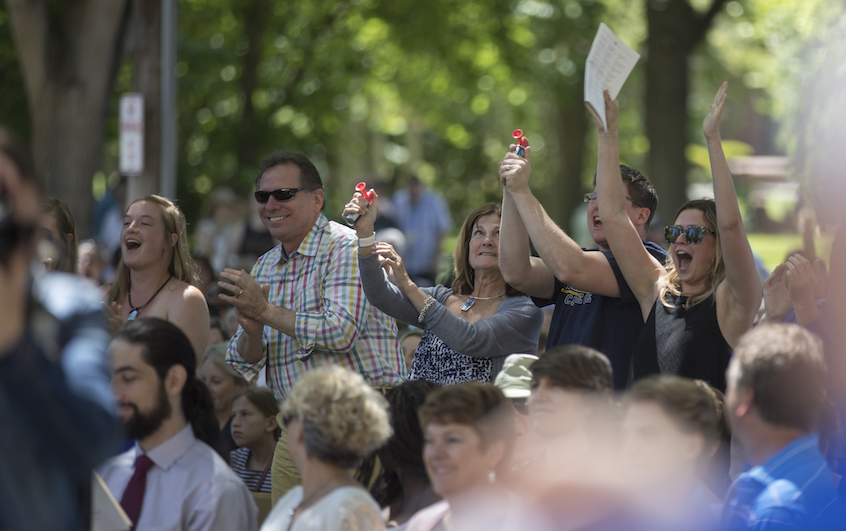 "She's my first born and the first in my family to graduate college. I really like the community feel of the college."
—Sinfie Pena, an executive assistant in healthcare in Houston, Texas, and mother of Kyla Foreman, a politics major. Relatives from San Pedro, California, also attended Commencement.
"She came to Whitman from far away, from another country, so many thousands of miles."
—S. V. Prasad Uppalapati, M.D., and his wife Rajalakshmi Thotakura, who traveled from Hyderabad, India, along with eight relatives from Seattle, said in support of daughter Saahitya Uppalapati, a politics and environmental studies major.
"He got to grow and explore in a lot of different ways."
—John Reed, director of project management for an IT company, from Kirkland, Washington, and his wife, said about his son, John Reed, an art history and visual culture studies major.
"The determination she showed in getting through has blown me away. And she took a wide variety of courses [such as creative writing and drawing] outside of her major [in biology] and truly got a liberal arts education."
—Nan Laurence, a city planner in Eugene, Oregon, and mother of Cora Amundson, a biochemistry, biophysics and molecular biology major.
"Oh wow. Where to start? That's a tough one. We're proud of his leadership in service," for instance, being an R.A.
—Peter Arnold, a product designer, and Kathy Arnold, a pharmacist/manager at a hospital pharmacy, from Snohomish, Washington, said about their son, Forrest Arnold, a rhetoric studies major. The graduate's older sister and paternal grandparents also attended Commencement.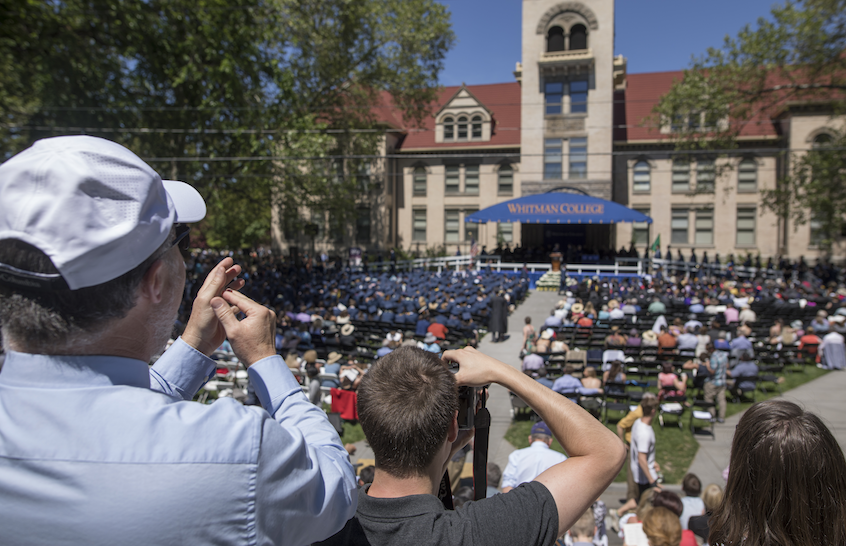 "We're so impressed at the balance and enthusiasm with which she went through her college education."
—Jack Hupper, a lawyer, and Cynthia Whitman, an epidemiologist, from New York City, said about their daughter, Danielle Hupper, a politics and environmental studies major.
"Are you kidding? I've been waiting for this for 16 years. It's amazing! He's had nothing but great professors. I'm pretty proud—he's had mostly As, he's graduating magna [cum laude]—he's just the smartest little booger. He doesn't like when I say that!"
—Cheryl Stone of Walla Walla, Whitman custodian and staff member at the college for the past 11 years, said about her son, Connor Stone, an economics major.
"I'm impressed that she persevered. She struggled with the limited nature of the school, I mean its small size, but figured out to make it work for her," for example, by spending a semester in Montana.
—Ben Olk, who owns a business that makes restaurant guest checks, and who accompanied his wife and other family members from Minneapolis, Minnesota, said about daughter Elizabeth Olk, a sociology and environmental studies major.
"His filmmaking. The community with different walks of life. The intellectual excitement."
—Rev. Paul Sterne, from Columbia, South Carolina, said about his nephew, River Sterne, a film and media studies major. Numerous other relatives, including parents and grandparents, also attended Commencement. Grandma helped the cleric pinpoint the comments.
Angela Tang "put in a lot of effort" and "was a speaker at the Baccalaureate ceremony."
—Tom Tang, who works at a food import company in Seattle, and his wife, Nhi Ly, said about their child, an economics major. Other relatives also attended the graduation.
"She took advantage of a lot of different subjects, not just her major, biology. She took music and rhetoric as well. She did great academically. And she took up new things besides academics."
—Tom Paul, who retired from the fish and wildlife service in Alaska, and Jan Caulfield, a consultant in natural resources management, said about their daughter Sally Paul, a biology major. Son Riley Paul '15 majored in geology. The family lives in Juneau.