—Staff report
Whitties littered for a good cause on April 5.
In a new event called Mt. Trashmore, students, faculty and staff volunteers sorted through a heap of garbage intentionally dumped on Cordiner Lawn to highlight what materials could be diverted from the city landfill and what could be recycled.

The eco-friendly lot sorted through 3,600 pounds of detritus and processed 800 pounds of it. The top reuses? Paper at 60 percent, food at 15 percent and plastic at 8 percent. About 100 pounds of uncontaminated recyclable materials were recovered.
"Up to 70 percent of the total materials thrown away could have been recycled," said Brandon Bishop, campus sustainability coordinator.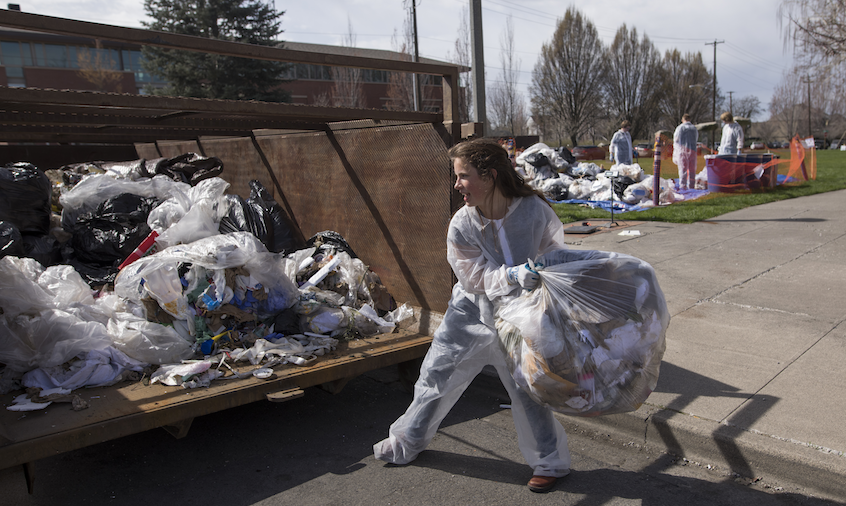 "Whitman College processes more than 285 tons of waste per year. That translates to 39,000-plus square feet—larger than Memorial Hall's 33,000 square feet. Some 288,000 pounds of that waste go to the city landfill. Whitman hopes to reduce this," he continued. "Addressing campus waste and purchasing strategies are critical to meeting our Climate Action Plan. Whitties can help through reducing, reusing and recycling."
Student groups and organizations distributed information about a variety of sustainability issues including food waste, multimodal transportation and food recovery throughout the daylong activity.
Here are other examples of Whitman sustainability by the numbers:
Landfill trash accounts for 1 percent of campus greenhouse gas emissions annually.
Whitman pays 1 cent per pound of paper recycled, 2.5 cents per pound of plastic and tin recycled, 2.7 cents per pound of waste disposed for compost and 4 cents per pound for trash disposal at the city landfill each month.
Each month, Whitman earns 2.5 cents per pound of cardboard recycled and 7 cents per pound of aluminum recycled at Walla Walla Recycling.
8 bales of cardboard, weighing 800 pounds apiece, are made from Whitman discards each month. These are sent to paper mills in Washington and Oregon.
30 percent of Whitman trash could be composted.
33 percent of the campus waste stream is recycled annually.
Whitman diverts more than 40 percent of campus waste each year.
Almost 58 tons of yard waste is composted through the city landfill annually.
60 percent of Whitman trash could be recycled.
More than 9,000 pounds of paper are recycled each semester.
Whitman College Office of Sustainability, the City of Walla Walla, the Sustainable Living Center, the Associated Students of Whitman College Sustainability and the Environmental Interest House partnered on Mt. Trashmore.