"I've worked hard to develop good relationships with faculty, staff and students," Chuck Cleveland, vice president for student affairs/dean of students, told hundreds of admirers who attended his retirement reception yesterday in the Reid Campus Center.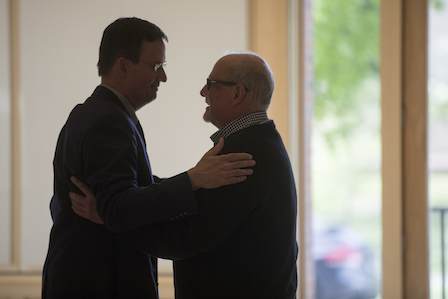 Judging by the fond sentiments expressed by students, alumni, faculty, staff and administration gathered in the Young Ballroom, Cleveland succeeded.
Chief Financial Officer Peter Harvey '84 described Cleveland as "friend" and "mentor," and as "compassionate" and "calming." Every other speaker, whether in person or in a video tribute, used similar language. In fact, at one point, residence life staff took to the podium to serenade Cleveland with Tim McGraw's 2015 hit single, "Humble and Kind," to the ukulele.
Determined and considerate
Cleveland began working at Whitman as assistant director/support services in 1981, became acting director of housing in 1984, assumed the title of director of housing six months later in 1985, rose to dean of students in 1994 and became vice president for student affairs in 2015. In all of those positions, he was "very intentional in his relationships," Harvey explained. Cleveland on principle thinks through issues when collaborating with colleagues. And he's been a "tireless advocate" for students while simultaneously holding them accountable, bringing "grace" to difficult conversations, Harvey said.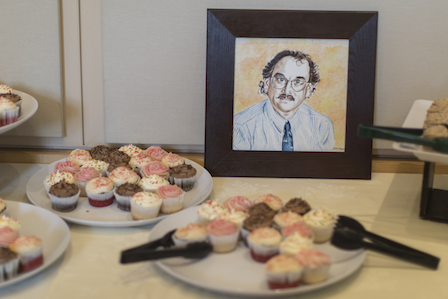 The only thing difficult about the conversations at the party were the occasional tears. Affection, though, pervaded the festivities. The warm ambience included photo collages of Cleveland, a memory book thick with reminiscences by some of those who hold him dear, posters that compiled (in)famous student escapades by the year (the "blow dart novice" from 2009; the "identification card caper" from 2011); and a painting of him by Dorothy Mukasa '19, a rhetoric studies major. Topping off the sweetness of the event and its upscale refreshments: cupcakes.
"This is a happy occasion," said the emcee, Nancy Tavelli, associate dean of students and director of residence life and housing. Her long association with Cleveland—dating to his earliest days at Whitman—afforded her a gimlet eye and a winking eye. He spearheaded free laundry for students in residence life and took leadership roles in the creation of the Glover Alston Center and the Student Engagement Center, she explained. Earning a B.S. and M.A. in sociology at Arizona State University and pursuing doctoral work at University of New Hampshire, Cleveland also taught sociology at Whitman for some 20 years, including to inmates, one of whom was the Hillside Strangler.
She, too, referenced "difficult conversations" he mindfully undertook with students and parents, whether about expulsion or death or other troubles. Along these lines, Cleveland never held a grudge, Tavelli added. And he relished any and all Whitman opportunities, from playing softball to going on a river rafting retreat (and winding up all wet in the process, she said with a smile).
Firm and gentle
A nine-minute video by Tywen Kelly '18, a film and media studies major, captured other heartfelt and humorous recollections. Cleveland understood the needs of part-time staffers raising families as their main job and treated students with dignity no matter how upsetting the circumstances. The health center toasted Cleveland by recycling items in a way that drew uproarious laughs best left not ruined by any spoilers. Kazi Joshua, vice president for diversity and inclusion, spelled out that three members of Whitman's current senior leadership team were students under Cleveland—to underscore the effectiveness of his legacy. And when asked what animal Cleveland resembled, respondents switched between sight gags (a koala bear for its cuddly appeal) and tender metaphors (an elephant for its ability to express grief and joy in a communal setting).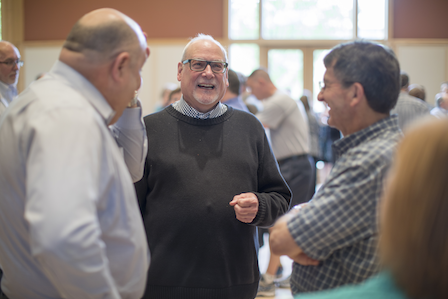 So of course Cleveland listened to President Kathleen Murray rant about locking students in their rooms to keep them safe—and then talked her down from that venting, she recalled. Cleveland, with the ability to see both the big picture and the key details, taught her that "almost any situation can be turned into a learning opportunity," Murray continued.
She read email excerpts from two generations of Whitties—Hailey McDonald '16 and her mother, Nicole Olson McDonald '90—who called Cleveland "a second dad." Thoughtfulness partly elucidates why Cleveland stayed two years beyond his anticipated retirement so that he could help Murray, new to the presidency then, gain her footing, she revealed. Besides, the longer he stuck around, the less often Murray, herself, would need to confiscate from students suspect items such as the potato gun she brandished in a show-and-tell; the trophy occupied a position of honor in Cleveland's office.
Befitting his commitment to Whitman, the college's Board of Trustees named him dean emeritus, Murray said, a rare honor in higher education. And as previously announced, Whitman's forthcoming dining commons will be named after Cleveland.
"This is probably the hardest thing I've had to do at Whitman," declared a visibly choked-up Cleveland at the close of the gala, assessing almost 36 years on the job of one kind or another.
He looked at his wife, Pat Sorenson '86, a retired Whitman staffer, whose last position was as an assistant in arts and humanities, and mentioned their daughter, Molly. "Pat and I have been blessed by Whitman College. It's changed our lives in ways we cannot comprehend," Cleveland said.
"I'll be around," he concluded. "Invite me for dinner."