—Staff report
In 1965, Bruce Jones '67 helped organize a solitary march in Walla Walla for Dr. Martin Luther King, Jr. and the thousands of nonviolent demonstrators who, over five days and 54 miles, walked from Selma, Alabama, to the state capitol of Montgomery to register black voters in the South.
Last week, Jones, now associate director of admission at Whitman, spoke about, as he put it, that "activism from the inside as well as outside," at Kimball Theatre in Hunter Conservatory. As a history major, he chaired the campus friends of the national Student Nonviolent Coordinating Committee that crusaded with King for civil rights. More than 3,000 people marched with King; some 125 Whitman counterparts marched from Ankeny Field to the county courthouse.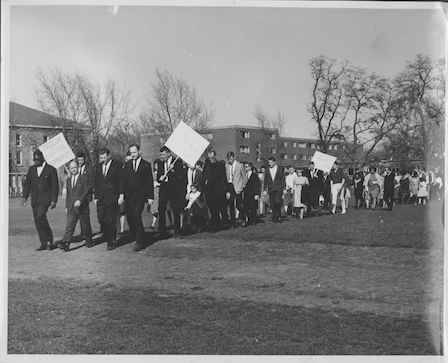 "I was galvanized by the movement," recalled Jones. "In living an activist life," he told listeners, "you come to the realization that you're running a marathon rather than a sprint." And each step forward, Jones continued, prompts the crucial question: "What comes after an uplifting, successful effort, whether it's a march or a demonstration or some other type of gathering?"
"What you do as a student activist, human rights advocate, or social justice change agent can influence your life for decades," said Noah Leavitt, associate dean for student engagement, about the reason for the remembrance. "Bruce recalled an important shared vision in Walla Walla and across the nation."
Whitman Teaches the Movement and Whitman's Student Engagement Center sponsored the appearance by Jones. The talk served as the culminating activity for Whitman Teaches the Movement, a community program in which current Whitman students lead discussions in local public schools about race and inequality. A partnership involving Whitman, Walla Walla Public Schools and the Southern Poverty Law Center's Teaching Tolerance project, Whitman Teaches the Movement began in 2011 and reaches first through 12th graders. Topics have ranged from lunch counter sit-ins to women's rights to agricultural workers' strikes.