Only connect, speakers told graduating seniors, parents, family and friends who attended the college's Baccalaureate ceremony on Saturday.

An annual sendoff preceding Commencement, the hour-long Baccalaureate is an enduring tradition at Whitman and more spiritual than religious. It honors the graduating class and highlights their personal growth and achievement. As President Kathleen Murray observed, "Baccalaureate is a time for reflection and commemoration."
Economics major Angela Tang '17 talked about combating visible and "invisible" violence, among other points. Assistant Director for the Intercultural Center and Stuart Coordinator of Religious and Spiritual Life Adam Kirtley discussed how Whitman prepares students to find joy and address societal problems. Vice President for Student Affairs/Dean of Student Chuck Cleveland, who is retiring after 36 years at Whitman, explained that shared experiences link people even through goodbyes.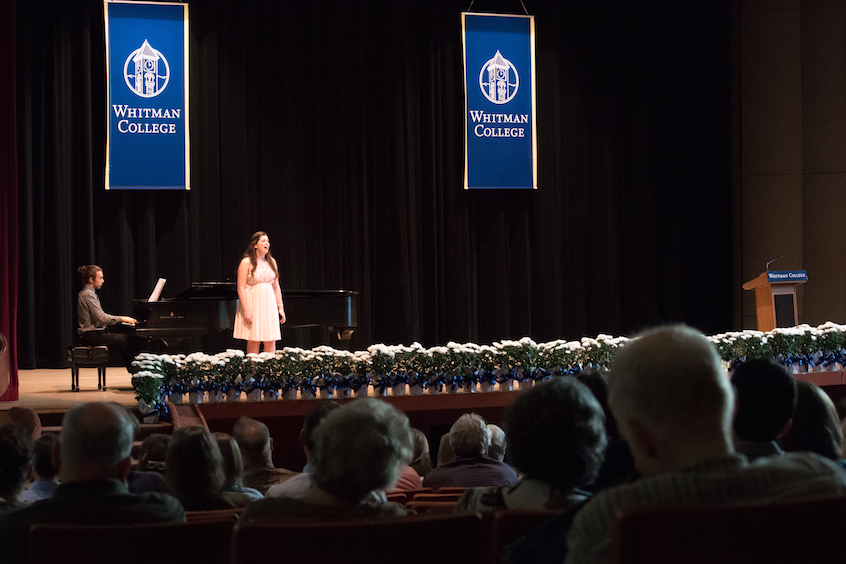 Anna Burgess Maberry '17 (music performance), Calvin Brigham '17 (music composition) and soprano Olivia Coackley '17 (music performance and psychology) also showcased their skills on the violin, accordion and vocals, respectively.
Here are more excerpts from some of the remarks. Watch the full video.
"In his letter to the Galatians found in the New Testament, the Apostle Paul refers to joy as a fruit of the spirit. Joy is evidence of God's activities in the world. His holiness the Dalai Lama has argued that happiness is the purpose of our lives. If you want others to be happy, he says, practice compassion. If you want to be happy, he says, practice compassion. But perhaps the sacred writing most salient to this talk comes from the Hebrew Bible. The proverb states: 'It is a joy for the just to do justice. It is a joy for the just to do justice.' We must work to identify injustice in our world. If we've done our job, you have awareness now that you didn't four years ago. If we've done our job, you have tools to identify and respond to the subtle and insidious nature of oppression. But I urge you to adopt a posture which quashes cynicism and rather seeks the good when it can be found, even when it comes from people and places you wouldn't expect. Let us extend grace in the midst of brokenness. I submit that our ability to find joy fortifies us for the tough work of making things right."
—Adam Kirtley
"One of the meanings of goodbye is the recognition that we are connected to others. We are connected to our friends, our classmates, our faculty, our colleagues and our college. Despite the fact we are leaving and parting, we are not leaving as empty vessels. We take memories, experiences, successes, failures and learning that are not likely to be forgotten. ... We have shared experiences that bind us together forever. We will long to see each other, to catch up and reflect on what it was like to be at Whitman College. Each of us takes a part of others with us when we go, never to be forgotten. We do not leave here empty only to separate; rather, we leave Whitman bursting with knowledge of what we did and who we know. So how do we say goodbye? A friend of mine who grew up in Hawaii suggests this as an appropriate goodbye: A hui hou, which translates to 'until we meet again.' That works for me."
—Chuck Cleveland