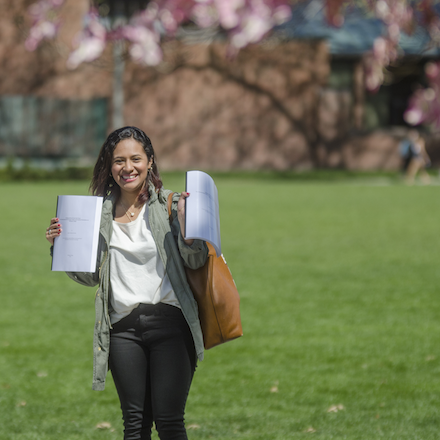 It's an unusual sight to see Memorial Building populated on a Sunday morning, but on the third floor, the comfortable chairs around the giant square table were filled with senior Whitman students. They slurped coffee and snacked on pastries, and settled in for a long day working on their senior theses.
The second of the academic year, this thesis workshop was sponsored by the Academic Resource Center (ARC) and the Center fOr Writing and Speaking (COWS). It spanned a large chunk of the day, 10 a.m. to 3 p.m., providing a structured space for seniors working on the biggest project of their Whitman careers: their thesis.
Just over two-thirds of Whitman academic departments require the writing of a thesis as part of the senior assessment in major study. The thesis is an involved academic inquiry guided by a member of the department's faculty. Nearly every department that requires a thesis also requires an oral exam on the subject matter of the thesis. The boot camp was meant to provide support for seniors as they prepare this project.
"I think the thesis boot camp is important because it provides a structured time for students writing theses to truly focus," said Mary LeBlanc, writing support specialist and assistant director of the COWS. "Having written my own thesis last year, one of the most difficult barriers to getting work done was simply holding myself accountable to large amounts of honestly focused writing time. I think the boot camp offers the structure for students to do just that."
The thesis boot camps were introduced in the spring of 2014, but there were only two, both sponsored solely by the COWS (then called the writing center): one very small session over spring break and another held in Penrose Library. They were popular, but held too late in the semester for many thesis writers. The COWS branched out in the 2014-2015 school year, partnering with the ARC to hold four boot camps in Memorial Building, where the participants had more space, more access to outlets and big windows looking out from the room.
The boot camp was five hours long, divided into 25-minute writing blocks. Each block was followed by a 5-minute break where students were encouraged to leave their computers and walk around or speak with their neighbors about what they had done so far.
"Research shows that writers who write in small chunks of time, taking frequent breaks, are more productive than writers who push through for hours," said Lydia McDermott, director of the COWS. "But this concept feels counterintuitive in the college setting, where we are all cramming to meet deadlines. The boot camp meets both needs: it is a large chunk of time that seniors commit to writing and nothing else, but there are also enforced break times, where writers get up, share their progress with fellow writers and get some sustenance."
According to LeBlanc, this division of time makes the five hours go by surprisingly fast, and is conducive to productive bursts of writing. It can be difficult to commit to long stints of writing, but the combination of the cozy work space in Memorial Building, other students working in the room, a strict no-internet rule and, of course, meals being provided, creates a work environment that reinforces productivity.
McDermott has three goals for thesis writers at this workshop:
"Firstly, quantity. Theses are long, so you need a lot of material. We tell writers to go ahead and write badly, as long as they are producing. You can always go back later. If you focus on perfection too early, you get blocked and can't write enough content.
"Secondly, camaraderie. There is something invigorating about being in a room full of people all singly struggling at the same task. Writing can feel solitary. Knowing others are there struggling too makes it feel more collaborative and can give you the little extra push you need to finish that chapter or section.
"Thirdly, habit. In an ideal world, I hope seniors walk away understanding better how to make themselves productive simply by enforcing a set schedule and taking breaks. I hope some of the tips stick with them, and as they move on to new writing tasks (master's theses, grant proposals, large projects) they have some tools to pull out and get themselves through the long haul: find friends to write with, commit to a schedule, make yourself take breaks every 20 to 25 minutes."

Read more about academics at Whitman College.