This year is off to a turbulent start for the small island nation of Haiti, site of a deadly 2010 earthquake and subsequent cholera epidemic. As the deadline to elect a new president officially passes, protests in the capital of Port-au-Prince persist and a runoff election scheduled for late December has been postponed twice.
It's a complex and ever-shifting situation, but someone who knows all about it is Brian Concannon, Jr. He's an international human rights lawyer and activist based in Boston, who also serves as director of the Institute for Justice & Democracy in Haiti, a group that drew attention for attempting to sue the United Nations for their role in inadvertently introducing cholera into the country.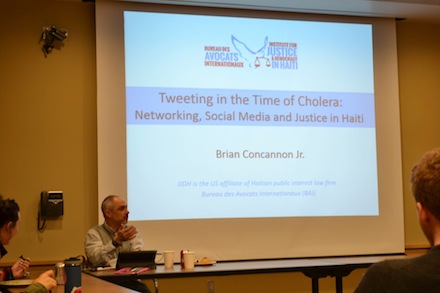 In the past year, Concannon has been quoted in The Boston Globe, The Los Angeles Times, The Miami Herald and PRI, among other news outlets reporting on the ongoing crisis. In late January, he took up residency at Whitman as an O'Donnell Visiting Educator, offering a one-credit course called Human Rights Advocacy: How and Why.
"One of the things that I was a little bit worried about coming in was whether people would be engaged in the discussions," Concannon said. "I was thinking about what I'd have to do to get everybody involved, but that wasn't a problem. Right from the beginning, they were asking great questions. They were motivated, deeply thoughtful and willing to stretch themselves a little bit to try to participate in class discussions."
He added that being on campus reminded him of his own college years at Middlebury College, a fellow liberal arts institution, but called his teaching role at Whitman "new terrain for me."
"The very first class, there was some interesting talk about aid accountability, which is a really big deal in Haiti... It's good for people to say 'here's a need, I've got a skill, I can fill it.' I think that's an impulse that should be encouraged in people," Concannon said.
"But I think you need to have a secondary impulse of 'how is this going to work in terms of sustainability—am I really helping in the long term?' A lot of times things that we think are a good idea to do when we're in Walla Walla or Boston aren't that good when we think about the long-term impact."
Concannon also delivered a public lecture on the mass deportations of Haitians and Dominicans of Haitian descent from the Dominican Republic, a controversial topic with ties to this year's Summer Read Program.
"It's always beneficial to develop programming that allows our students to build on the Summer Read selection," said Associate Dean of Students Noah Leavitt. "I thought about all of the creative human rights activists with expertise in the issues discussed in the book, and Brian, with his extraordinary track record on a variety of innovative Haiti-focused advocacy campaigns, was the obvious person to reach out to first."
Last semester, Haitian-American author Edwidge Danticat visited Whitman to discuss her 2007 memoir Brother I'm Dying, which addresses the emotional impact of immigration on her family.
"I'm very happy that we've had the chance to bring Brian to campus to extend discussions about Haiti, human rights, immigration and advocacy that have been happening in conjunction with Summer Read," said Nicole Simek, associate professor of French and Concannon's faculty sponsor.
"I think students were also interested to hear Brian's perspective on the role of the liberal arts in his trajectory, and the different paths that a liberal arts education opens up."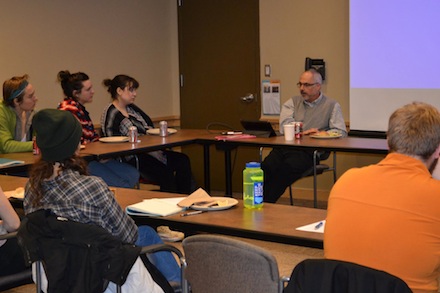 Brynn Walund '16, a biochemistry, biophysics and molecular biology major, was one of 12 students who completed the weeklong course.
"He could have held us there for at least two weeks just talking to us about life and the world and I'd have gone every day," she said. "He was really well-educated and inspiring. My takeaways were some notes on other NGOs to look at, and a really critical view on where money is spent and what the most sustainable approaches are."

According to Concannon, when it comes to supporting human rights efforts in Haiti, "you are almost guaranteed to make mistakes." But that doesn't mean people should give up.
"Look for sustainability," he said. "If you're going to support an organization—send them a $25 check, or volunteer—make sure that organization is serious about sustainability... [After the earthquake] there were sustainability issues when lots of people were sending food, because that actually hurt Haitian farmers. Haitian farmers had food that they couldn't sell, so that hurts their ability to continue to produce food for next year. Even on the medical end, an amazingly generous group of healthcare workers from the U.S. went down and volunteered their time, took their vacation time and did a lot of great work and saved a lot of lives. But at the same time, they displaced the Haitian medical professionals who better understood the context and had skills that the foreign medical workers didn't have, and who were going to be there the next year."
As events in Haiti continue to unfold and the future remains uncertain, Concannon said he was pleased to see Whitman students engaging critically with the complexities of foreign aid work.
"A lot of people are interested in getting involved, and it was good to see people having very critical and thoughtful discussions about how they could best fit in, whether they could really do something useful," he said.
"I think that's a very important question. Most of the people that are doing development work in Haiti don't even ask themselves that question—they sort of assume they're doing the right thing. I think a lot of people come to it and they say 'well, I've got the right motives, therefore whatever I do must be the right thing.' And I think that can be very dangerous. From personal experience, I know it's very easy to make mistakes, especially if you're in a context of which you have very limited knowledge. And so it was exciting on a bunch of levels to see the Whitman students asking those hard questions of themselves and of the development community."
Read more about O'Donnell Visiting Educators and Whitman's Global Studies Initiative on their website.