Rob Manning '80 ponders the aesthetics of blue Martian sunsets.
Contemplating solar events on the Red Planet makes sense for Manning, who led the NASA team that designed Curiosity, the rover currently exploring Mars.
Speaking at Whitman College's 129th Commencement, the Mars exploration program chief engineer at NASA's Jet Propulsions Laboratory told the 376 graduates gathered on the south lawn at Whitman's Memorial Building that he also reads Dilbert cartoons.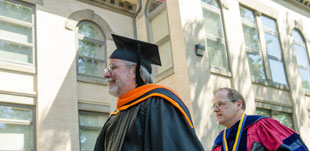 Manning went on to give graduates six simple life lessons. One of the aerospace engineer's nuggets of wisdom was telling graduates not to define themselves by their weaknesses.
He also recommended that in this electronic, plugged in world gradates should, in addition to watching cat videos and playing World of Warcraft, seek out the "storytellers who have something to say."
But what captured the audience's attention is when he affirmed the need for graduates to take risks. He explained that he wanted to build space robots so when NASA began contemplating a mission to Mars, Manning pretended that he knew everything there was to know about landing rovers on planets, and then he and his team figured it out as they went along.
"Boldly go and take risks, it's the only way great things happen." But being bold also means living with the possibility of failure, Manning said.
The ceremony started with a greeting by Brad McMurchie '84, chair of Whitman's Board of Trustees. President George Bridges then took to the lectern. Speaking to Whitman graduates for the final time as college president, Bridges reflected on how the graduates compared to himself, and their parents and grandparents.
"They have a depth of perception that perhaps we didn't have. A sense of truth that is deeper and less fragile than ours. I for one have come to conclude that our graduates before me today are the best reason for hope that our country and world knows," Bridges said.
English major Sam Adler '15, the senior speaker, took over commencement with a speech titled From Here to Where: Life Within a Precious Snow Globe. From the start Adler had his fellow classmates, and the entire audience, laughing.
"Today is about us [graduates]," Adler paused. "But right now, it's [all] about me," he joked.
Adler went on to say that Whitman was a "helluva place" where he learned to "read and write" and where he, on "February 22, 2012, became a man."
After the crowd's laughter relented, Adler wound down his speech with the time-honored sentiment that the "whole of Whitman is a family."
Having grown up in Walla Walla, Jose Beleche '15 has attended numerous commencements at Whitman. The Gates Millennium Scholar said, "a Whitman Commencement never fails."
After the ceremony, the anthropology major was still laughing about Adler's speech.
"Sam's an interesting character," Beleche said. "I lived with him my first year so I knew the speech would be a good one."
Beleche plans to live in Walla Walla for one more year in order to save money before continuing his education in engineering. He had mixed emotions about graduating.
"It came fast. It's scary, but at the same time it feels great to finish."
Adler and Beleche's Class of 2015 had many accomplishments:
This year, 20 graduated with the distinction of meeting the standards of the scholastic honorary Whitman's Phi Beta Kappa chapter.
Thus far in the selection process, 16 of are recipients of prestigious national fellowships, scholarships and grants. Six have earned Fulbright awards for research and teaching around the world. One is a Watson Fellowship recipient, and one is a National Institutes of Health IRTA recipient. The Class of 2015 also has four French Teaching Assistant Program fellows, and a Princeton in Asia fellow.
First-generation graduates accounted for 8 percent of the Class of 2015. Bridges has noted that this is a substantial achievement that will impact these families and their future legacy for generations to come.
Finally, the Class of 2015 also included Heather Johns '15, a biophysics, biochemistry and molecular biology major and a two-time All American who was voted the Capital One Academic All-American of the Year for Division 3 women's basketball.
During the ceremony, six faculty members were recognized as recipients of Distinguished Faculty Awards for mentoring, advising, teaching and scholarship. These awards reflect the highest recognition of the excellence of Whitman College faculty members. The faculty members were:
Walter E. Wyman, Jr., Weyerhaeuser professor of biblical literature and professor of religion—Thomas D. Howells Award for Distinguished Teaching in Humanities
Keith Farrington, Laura and Carl Peterson endowed chair of social sciences—Suzanne L. Martin Award for Excellence in Mentoring
Marcus A. Juhasz, assistant professor of chemistry—A.E. Lange Award for Distinguished Science Teaching
Halefom Belay, associate professor of economics-George Ball Award for Excellence in Advising
Walter T. Herbranson, professor of psychology and Herbert and Pearl Ladley endowed chair of cognitive science—G. Thomas Edwards Award for Excellence in Teaching and Scholarship
Jan P. Crouter, associate professor of economics—Robert Y. Fluno Award for Distinguished Teaching in Social Sciences
You can watch full videos of this weekend's ceremonies by clicking the links below: