The 17th annual Whitman Undergraduate Conference saw students, faculty and staff members crossing campus on April 7 to celebrate the scholarship and academic achievement of the college's undergraduates.
Nearly 200 students presented at this year's WUC on a wide range of topics: from critical interpretations of the environment in video games to policy and activism surrounding marijuana legalization, and from quantum entanglement to the ethics of eating meat.
"The overarching aim of the conference is to celebrate collectively the scholarship, intellectual energy and creativity of Whitman's students," said Director of Fellowships and Grants Keith Raether.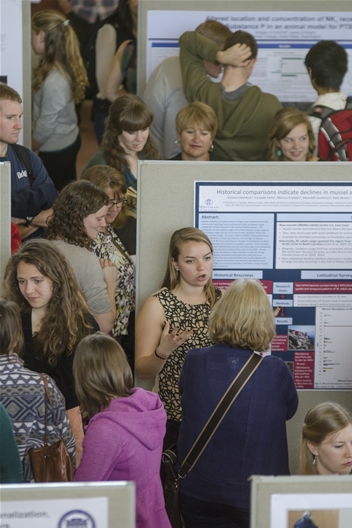 "For students, the day is an important moment in leadership, a day for them to lead the class, as it were, and teach the rest of us."
The annual conference also gives students the opportunity to showcase their academic work-whether it derives from their senior theses, their classroom studies, or their internship or study abroad opportunities.
Samantha Grainger Shuba '16, a rhetoric major and one of four presenters on the Women and Discrimination panel, gave a presentation titled "The Evolution of Title IX."
"I decided to participate... to get leadership experience and share research that I have been working on for the past year," Grainger Shuba said. Her presentation relates to her thesis work.
In the past, she enjoyed going to see her classmates' and friends' work.
"It was great to see my peers interact with texts and present their own ideas," she said.
This year's WUC was also filled with musical performances from the conference's chamber ensembles and college jazz ensembles. A poster session also took place in the foyer of Cordiner Hall, featuring work by students across the humanities, social and natural sciences.
For Raether, part of the WUC's goal is to bring the campus together.
"My hope is that the conference supplies at least a nudge of recognition that the college is a community and not a cluster of factions," Raether said. "What isn't a hope but rather a truth is that those who participate are exhilarated by the events of the day."