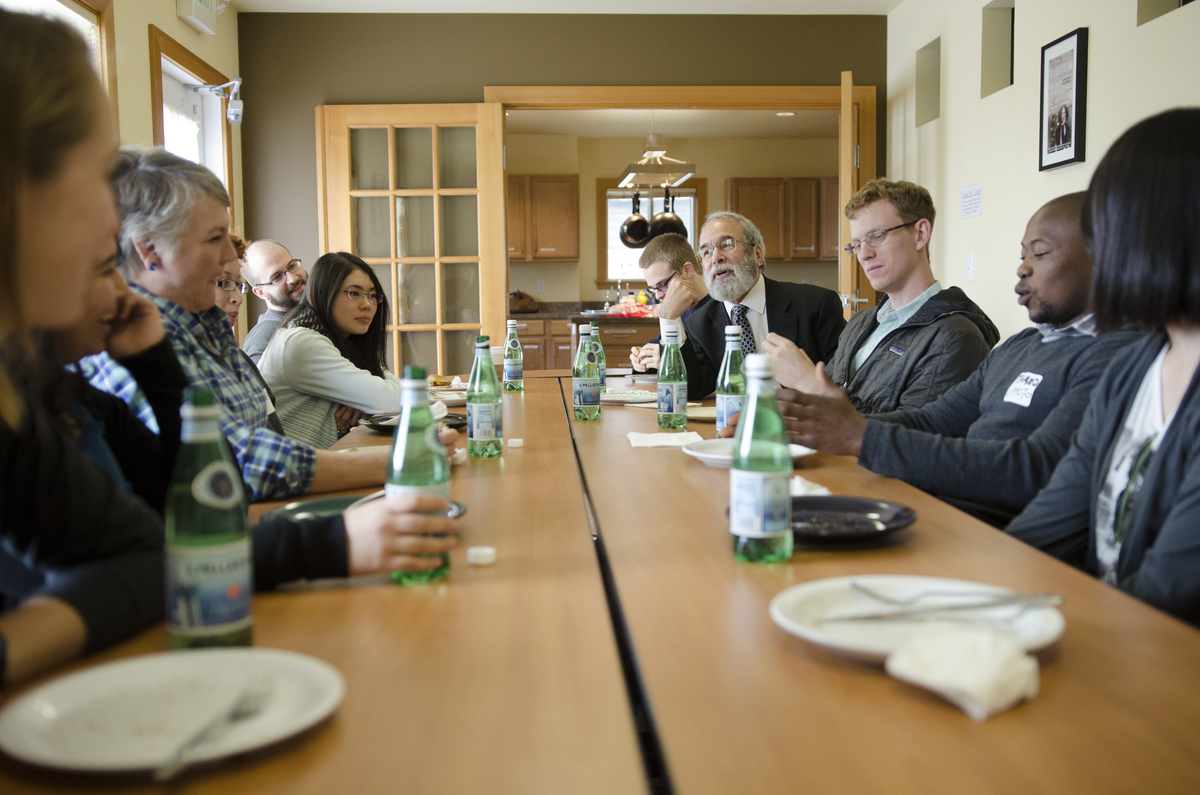 A connoisseur of hotdogs, Jonathan Lewis breaks for lunch with WA State Rep. Maureen Walsh, who is also the owner of Walla Walla Sweet Onion Sausage, and Clinic participants.
"I don't know any career path worth a damn that doesn't value dexterous, dot-connecting, problem-solving people."
Jonathan Lewis knows whereof he speaks. An accomplished social entrepreneur with many years of experience under his belt, he is passionate about translating a desire for social change and justice into a sustainable and rewarding career.
That's why the Student Engagement Center – with the help of an anonymous donation from a Whitman College alumnus – decided to bring Lewis to campus to lead a Social Entrepreneurship Clinic designed to help Whitman students make the leap from college campus to long-term careers in the social change business.
Problem-solving and dexterity were top of mind during the last session of Lewis' Clinic, an interactive workshop that capped off a week of lectures, group discussions and workshops.
After watching a short video made by Café Impact – a company founded by Lewis that produces videos offering insight into the work of social entrepreneurs – workshop participants were presented with a problem to solve. Three non-profit projects were laid out, and participants were told that the funding was available to pursue only two. Over the course of 90 minutes,
participants had to choose which of the three campaigns to cut: promoting eco-stoves, preventing mosquito-borne diseases or trying to stop tobacco use.
Initially, Alyssa Goard '14 was not sure what to expect, but she recognized that this was an unusual and unique opportunity.
"I took away many powerful lessons about social change and professional development," Goard said. "Our discussions forced me to consider not only the details of day-to-day life working in a social entrepreneurship career, but also the complex ethical decisions people have to make when they work in the social change world."
This closing session followed two smaller ones earlier in the week titled "Customizing your Social Impact Education" and "The Art of Raising Social Impact Money" (each of which included around 50 students) and two larger open sessions called "How to Convert your Convictions into a Career" and Non-Negotiable Skills for Social Change Work."
For college-aged men and women wishing to pursue careers in social change, the options can often seem limited to non-profit or volunteer work, Assistant Dean of Student Engagement Noah Leavitt said. Bringing in a seasoned entrepreneur like Lewis helped show Whitman students that their trajectory was not quite so limited.
The clinic was also a catalyst for discussing important – and very practical – questions about how to approach this kind of career.
Goard said, alongside issues such as investment and fundraising, the group discussed questions like: "How do you navigate your own privilege when you work in the world of trying to improve the lives of others? How do you know if your social change work is actually having a positive impact?"
Lewis also spoke about the value of harnessing imperfection or uncertainty.
"It's the problem-solving instinct and ambiguity that cause change," he said. "Fundamentally, people cannot make a choice they don't have. So you have to introduce options, educate people on your point of view. Life doesn't come in boxes; or if it does, it's gotten turned upside-down in the mail before it got to you."
Goard was also struck by the sense of camaraderie and support that she experienced working with her fellow students. "I was truly motivated by the ideas and convictions my peers shared during our discussions," she added. "It's exciting to know that there are so many passionate change-makers with innovative visions for social change on campus."