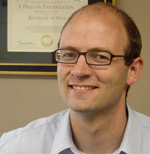 J Preston Frederickson '02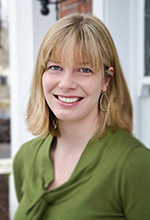 Kirsten Adams Gable '01
The Alumni Association Board of Directors has elected J Preston Frederickson '02 as president and Kirsten Adams Gable '01 as vice president.
Frederickson and Gable were elected at the board's annual spring meeting, held Feb. 23. They both assumed office at that time. Each will serve a two-year term.
"Frederickson and Gable are talented professionals who will help to ensure that Whitman maintains its strength and character and provides future generations of students with the one-of-a-kind experience the college offers," Nancy Mitchell, director of alumni relations, said.
Frederickson is an assistant city attorney for Walla Walla, representing the city on land-use, contract, municipal law and other civil matters. A politics major and studio art minor at Whitman, Frederickson attended Gonzaga University School of Law, where he earned his juris doctor degree in 2005.

"It's an honor to be selected to serve as President of the Alumni Board. I appreciate the mentoring from previous board leaders and anticipate that this coming year will be exciting, with many new things happening with the alumni office and with the Alumni Board as we work to advance the mission and goals of the College."
"Whitman College will always be a cause worth supporting. I am fortunate that living in Walla Walla has allowed my Whitman connection to continue and strengthen. I encourage all Whitman alumni to remain committed to Whitman and participate actively with the Whitman community at large. Frederickson said.
Gable majored in biology and minored in environmental studies at Whitman. She went on to earn her MBA at Gonzaga University in 2010. For the past 10 years, she has worked as a management consultant at Sapere Consultant, where she supports clients in the energy and natural resources sector.
"Whitman was an integral part in allowing me to develop into the person I am today and for that I am truly thankful," Gable said.
"I am honored to be elected as vice-president of the Whitman Alumni Board and excited to continue serving with the engaged and dedicated board members to continue implementing our five-year plan to support the goals of Whitman's Now is the Time Campaign.
"I hope my leadership will allow us to achieve our vision, which is to make Whitman College a place for alumni to call home."