Gerard van Belle '90, Danielle Wilson '13 and Nathaniel Paust '98 in front of the Discovery Channel Telescope. (Photos courtesy of Nathaniel Paust)
Danielle Wilson '13 and Assistant Professor of Astronomy Nathaniel Paust '98 use the Discovery Channel Telescope to investigate how the Milky Way Galaxy may have originated.

Danielle Wilson '13

Nathaniel Paust '98
It was built to help answer some of the fundamental questions about our universe.
The $53 million Discovery Channel Telescope is perched on the top of a cinder cone, on what's known as the Happy Jack site, 45 miles southeast of Flagstaff, Ariz.
And Danielle Wilson '13 was one of the first people to use the state-of-the art telescope to peer into the heavens.
Whitman alumnus Gerard van Belle '90 helped Wilson and Assistant Professor of Astronomy Nathaniel Paust '98 get access to the DCT to track star clusters on the edge of the Milky Way Galaxy that can't otherwise be seen through smaller telescopes.
Paust said the research he and Wilson conducted could contribute important insight into the origins of the galaxy.
"This is interesting, because it tells us where our galaxy came from, and indirectly, where we came from," Paust said.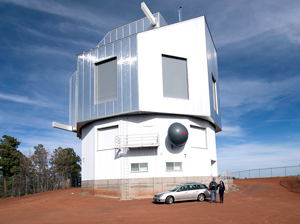 Gerard van Belle '90 and Danielle Wilson '13 in front of the telescope facility.
Wilson has been analyzing data from two star clusters, Ko 1 and Ko 2. The clusters have far fewer stars than expected. Paust said there is a possibility that the clusters may have formed in another galaxy and are being eaten by the Milky Way.
Earlier this year, Wilson and Paust attended the American Astronomical Society conference in Long Beach, Calif. At the AAS conference, they met van Belle, who is currently working at Lowell Observatory, the home of the DCT.
Van Belle, known for his study of stars and his search for planets outside our solar system, was able to give them access to the telescope during engineering time – meaning they were essentially test driving the telescope.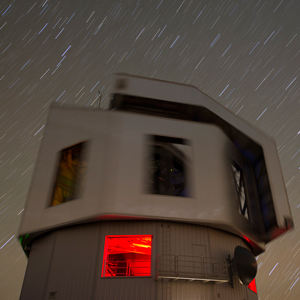 In this time lapse photo of the DCT, stars appear as streaks in the night sky as the Earth spins on its axis.
"This was cool, because there was three generations of Whitties working together," Wilson, an astronomy-physics major, said. "[van Belle] was so helpful, and he's doing amazing work."
Conducting research on world-class telescopes is expensive. It costs around $10,000 per night for researchers to use telescopes comparable to the DCT. For a night on one of the telescopes at the massive W.M. Keck Observatory, the cost is around $100,000.
"It's very expensive to be able to use a big telescope, so we were lucky to have been able to use one," Paust said.
Paust and Wilson plan to publish their research findings in the Astronomical Journal this summer, with Wilson titled as the primary author.