A Conversation With Eric Idle – Whitman College staff writer Edward Weinman chats with the comedic icon.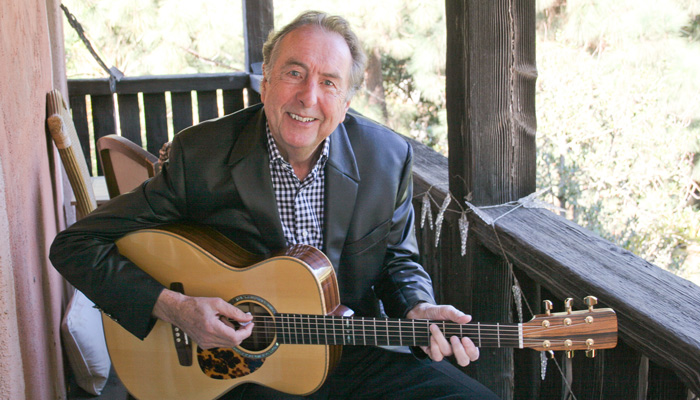 Eric Idle is an original member of Monty Python's Flying Circus. The English comedian, actor, author, singer and playwright also gave us "Spamalot," which he says he "lovingly ripped off from the motion picture 'Monty Python and the Holy Grail.'" And he stole the show at the 2012 Summer Olympics closing ceremony.
And now for something completely different.
Idle will hold a discussion for the Whitman community called From Monty Python to Spamalot on Saturday, May 18. He also will deliver the 2013 Whitman College Commencement address Sunday, May 19.
Though it's certain Idle will entertain and enlighten the audience, the occasion will be a family affair. The funny man will present a diploma to his daughter Lily Idle '13. His daughter's graduation is going to be an exciting moment in the English comedian's life. However, the proud father is lamenting, as Idle calls it, "Bacchanalia."
Don't you mean baccalaureate? I asked.
"You go to your party. I'll go to mine," he joked.
Few Commencement speakers have a screwy enough mind to compare the cerebral, spiritual ceremony that is baccalaureate to a Roman festival celebrated with dancing, song and revelry. But that's to be expected from an alumnus of Monty Python's Flying Circus.
When asked what his favorite Monty Python skit was, Idle replied, "I don't like Monty Python. I'm not a fan. I was in it, you know."
Surly, he must be goofing around. Monty Python was a classic TV show with millions of followers who to this day watch clips of the comedy show on YouTube. He must have a favorite skit.
"Okay, how about the skit with the three nuns jumping on a trampoline," Idle said with a laugh. "Was there such a sketch? You see, Python stopped in 1983 and that was the movies. The TV show stopped in 1973."
Idle has moved on from the days when, in the sketch known as "Candid Photography," his snarky character pestered a squire in a bar by asking, "Know what I mean? Know what I mean? Nudge. Nudge. Know what I mean? Say no more."
This sketch is so iconic that the phrase "Nudge. Nudge. Wink. Wink." entered into the English language as an idiom.
In perhaps what was his biggest performance, the Closing Ceremony at the 2012 Summer Olympics, Idle dressed up as a canonier, danced around on stage, and sang the hit song "Always Look on the Bright Side of Life."
So what was it like to perform before the world during the London Olympics?
"What? Perform before a billion people? A billion people is fairly staggering. I remember doing 'Saturday Night Live.' You open the door and there were 30 million people watching live [on TV]. But it makes no difference. You just perform to the people in the room."
Despite his celebrity status, before Idle agreed to deliver the Commencement speech there was someone with whom he first needed to ask permission.
"I was asked by President Bridges. I said, 'Well, I need to ask my daughter.' I wanted to make sure she was happy and comfortable with it, because it's her day. Not mine."
And how did Lily Idle react to the news that her father would be addressing her friends and fellow Whitman classmates at graduation?
"She was thrilled," Idle said.