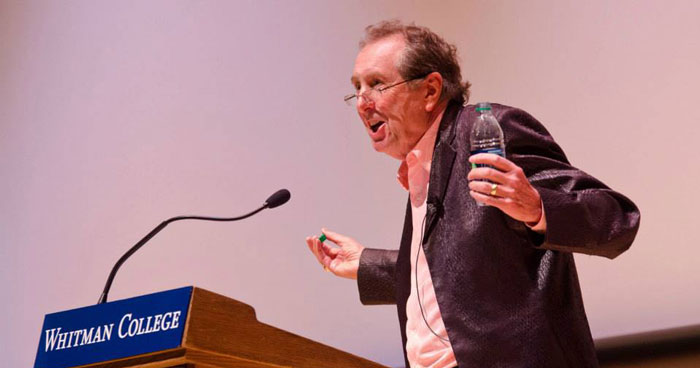 Before serving as Whitman's 2013 Commencement speaker, the former member of Monty Python's Flying Circus performed for the Walla Walla community at Cordiner Hall
By Edward Weinman
"Comedy is saying the wrong thing at the right time," Eric Idle, an original member of Monty Python's Flying Circus, explained to a full house at Cordiner Hall on Saturday, May 18, 2013.
The English comedian, actor, author, singer and playwright in a presentation titled "From Monty Python to Spamalot" told a story about taking a boat tour through St. Petersburg, Russia. An elderly woman came up to him and asked if she could sit in the open seat next to Idle.
"Yes," he responded. "As long as you keep your hands to yourself." The audience laughed hysterically.
Idle spoke for nearly an hour and said that the sign of a healthy society is comedy.
"It's deeply subversive, which is of course (exercising) free speech."
Then to prove his point, he joked that there were no comedians in North Korea.
Idle showed a classic Monty Python clip known widely as " The Philosophers' Football Match," a sketch depicting a faux football match in the old Olympiastadion at the 1972 Munich Olympics between Greek and German philosophers.
"It was awesome," said Eric Weber, whose son Aedan Webber '13, a math and economics major, graduated on Sunday.
"He had so much energy," Weber said about the 70-year-old Idle. "He looked like he was 30 years old again."
Before finishing the event by answering questions from the audience, Idle performed a brief comedy skit with Whitman's Varsity Nordic Improv group. He brought the seven-member comedy troupe on stage after giving them a mock award for being the "Worst Named Comedy Group in the World."
Sam Gelband '16, a theater major from Seattle and a member of Varsity Nordic, said it was a thrill to perform with a legend like Eric Idle.
"Eric is a comfortable presence on stage, Gelband said. "I was more nervous about meeting him than performing with him."
Video: