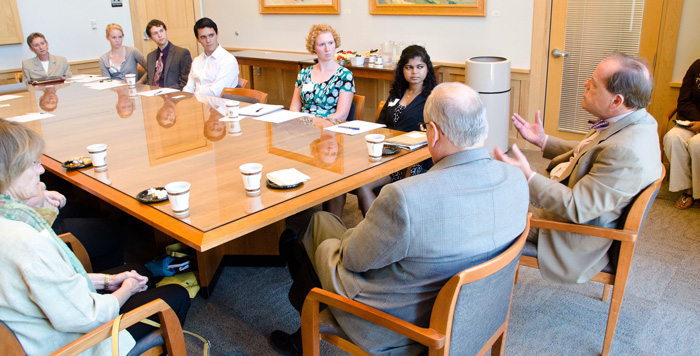 One drawback to internships, said Kelsey Beckmeyer, supervisor at the STEP Women's Shelter for Walla Walla Helpline, is that they only last a semester. By the time students master their positions, they're out the door.
"Working with students is great," said Beckmeyer. "But an intern spending more time here can put more energy into the development of STEP...and into building up volunteer programs."
To resolve this dilemma, Whitman's Student Engagement Center (SEC) launched the Community Fellows Program, which increases experiential learning opportunities, provides a pool of skilled, creative and eager students to fill much-needed positions at public agencies and nonprofits that might not otherwise be able to afford to hire employees due to the current economic climate.
And each fellowship lasts one year.
"The program creates a symbiotic relationship between students and local public agencies and nonprofits, said Noah Leavitt, assistant dean for student engagement. "These community fellowships differ from traditional internships, because they last one full academic year.
The program is in its inaugural year and provides eight, year-long, paid internships to current Whitman juniors and seniors. "It lets us deepen our connection to very innovative local organizations that deal with issues that students want to understand," Leavitt said.
"The program is designed to be responsive to student and organization feedback, as well as the current demands of our economy."
The fellowship program came about thanks, in part, to the Sherwood Foundation, which aims to enhance the quality of life in Walla Walla. This year, the Sherwood Foundation allocated funds to increase student involvement in the community. With these funds, the SEC would be able to provide a variety of paid internships for up to eight months, creating a more extensive experience for students and organizations.
"I wasn't even going to apply," said Claire Matsunami '13, who is a fellow at STEP, a shelter open to single homeless women in the county. "I thought there was no way I was qualified, but I'm more capable than I thought."
The religion major, from Kenmore, Wash., spends up to 10 hours a week with two professional case managers, working on anything from volunteer coordination to assisting in planning parenting classes and relaxation workshops.
Walla Walla mayor Jim Barrow speaks to Whitman students.
"The program has been a great fit for me. Working at the shelter is a really empowering opportunity that Whitman was able to give me. When I go out to get a job after graduation I'll be able to say I did this," Matsunami said.
After spending a year studying abroad in Israel, Matsunami realized she wanted to work in social justice, but felt she needed to explore the field as much as possible before graduating and searching for a job. This is why she applied to the fellows program.
Beckmeyer, who supervises Matsunami, believes that the longer duration provided by the Community Fellows Program benefits the shelter because there is less turnover and more consistency. The extended timeframe also enables interns to become more involved in the job, which enables them to better foster the development of lifelong skills.
"By taking on more responsibilities, our fellow can develop transferrable skills that will help her in finding a job after graduation," Beckmeyer said.
This year, there are six community partners offering eight fellowship positions: Department of Court Services (BECCA Fellow, Day Reporting Fellow), Helpline (Executive Fellow, STEP Shelter Fellow), Walla Walla Valley Chamber of Commerce, Walla Walla Leaders Network, Downtown Walla Walla Foundation and the Small Business Development Center.
The students applying for the fellowships submitted their applications directly to the organization with which they desired to work. The organizations then interviewed and hired the students independently of the college, at which point the college checked the students' eligibility and finalized the positions. The process was extremely competitive, even during this inaugural year, as dozens of juniors and seniors applied.
The mayor of Walla Walla, Jim Barrow, kicked off the fellowship program in Reid Campus Center. At the ceremony, Barrow spoke about the tremendous experiential learning opportunities the program offers by giving students an avenue outside of the classroom to apply theories and ideas they have learned to real situations.
"Whitman's job is not just to educate the young men and women in the core academics of a liberal arts curriculum, it's also to expose them to life," Barrow said.
"The world is broad, and Walla Walla encapsulates America in general. [The program] helps Whitman fulfill what it sees as its core responsibilities, to broaden the life experiences of the student body."