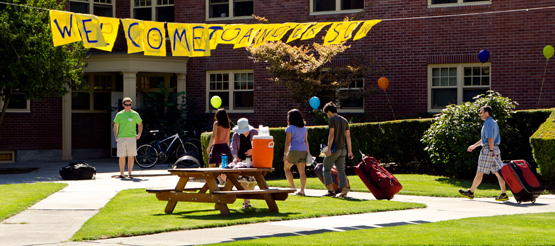 In the Class of 2016, Whitman has again attracted a diverse group of down-to-earth, high achievers with strong leadership skills and a knack for getting involved. In fact, the overwhelming majority – 87 percent – of the incoming class has already participated in community service of some kind.
The class reflects a diversity rate of 20 percent. Students come from 30 states (as well as the District of Columbia and Puerto Rico) and 14 foreign nations; together they speak 19 foreign languages. Here's a breakdown of some of the achievements of the 409 students comprising the entering class:
359 (87 percent)
Number of students who participated in community service while in high school
Types of service
Volunteer at Tomorrow's Hope, an organization geared towards preventing human trafficking
Worked with naturalists in bird banding, guiding tours and animal care
Therapeutic Riding Center horse handler
Volunteer as a companion for people suffering from HIV/AIDS
Planted trees to reforest the rain forest
Humpback and sperm whale research at Whale Acoustics Lab
Portland Bureau of Planning and Sustainability
Roads of Bangkok volunteer for Indian Thai Association
Seattle Aquarium High School Interpreter
Special Olympics volunteer
Intern at Seattle Children's Museum
Meals on Wheels volunteer, serving food to elderly members of the community
Counselor at Muscular Dystrophy summer camp
Campaign volunteer for Seattle City Council
Taught Ultimate Frisbee in Guatemala
Worked at an orphanage in Ukraine
63 (15 percent)
Number of students who founded a club or organization while in high school
Clubs founded:
Anti-Human Trafficking Club
Quidditch Team
Spanish Culture Club
Women's Self Defense Club
IB Honor Code Panel
The Next Generation
Leadership Initiatives Club
A Cappella Group
Students Working Against Genocide
Baking Club
Organic Garden Club
Tuition on Track
Extreme Sports Club
Improvisation Club
Gay Straight Alliance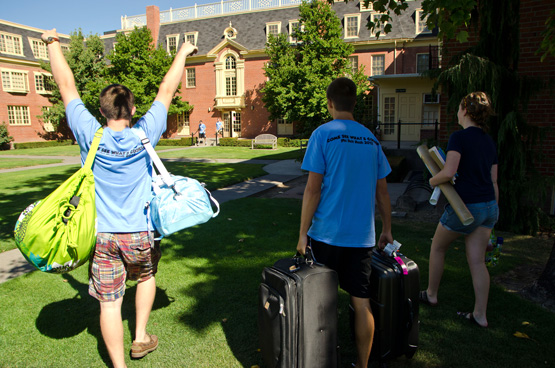 277 (67 percent)
Number of students who attended a public high school.
128 (31 percent)
Number of students who attended a private high school.
More than 70
Number of countries to which students have traveled.
Countries they have traveled to:

Andorra, Australia, Austria, Belize, Bolivia, Bosnia and Herzegovina, Botswana, Brazil, Cambodia, Canada, Cayman Islands, Chile, China, Colombia, Costa Rica, Cote d'lvoire, Croatia, Czech Republic, Dominican Republic, Ecuador, Egypt, Fiji, France, Galapagos Islands, Germany, Greece, Guatemala, Holland, Honduras, Hong Kong, India, Indonesia, Iran, Ireland, Israel, Italy, Jamaica, Japan, Kenya, Korea, Mexico, Micronesia, Myanmar, Nepal, New Zealand, Nicaragua, Nigeria, Panama, Peru, Philippines, Poland, Portugal, Puerto Rico, Russia, Rwanda, Senegal, Serbia, South Africa, Spain, Sri Lanka, Switzerland, Taiwan, Tanzania, Thailand, Turkey, Uganda, Ukraine, United Kingdom, Uruguay, Venezuela, Vietnam, Zambia
19
Number of languages other than English spoken at home.
Languages:

Afrikaans, Arabic, Chinese, French, German, Hindi, Japanese, Korean, Persian, Punjabi, Russian, Spanish, Swahili, Tagalog, Tamil, Thai, Vietnamese, other.
18 (4.4 percent)
Number of students who were ASB or class presidents.
26 (6.3 percent)
Number of students who were editor or co-editor of their high school newspaper or year book.
95 (23.1 percent)
Number of students who were captains or co-captains of a varsity athletic team.

Other accomplishments of members of the entering class:
Worked at NASA Center for Space Research.
Interned at the Physics of Mass Spectrometer Design at Oregon State U.
Competed at the USA Junior Olympics for Track and Field.
Designed and assembled a three-wheeled, self-propelled vehicle for an engineering challenge.
President of Break Dancing Club.
Helped preserve a native plant species.
Traveled for an International Basketball Team for two weeks in Germany.
Conducted research at the University of Minnesota's Chemical Engineering and Materials Science Department.
Participated in the National Geographic Student Archaeology Expedition in Italy and Greece.
Executive director of Young Americans Theatre Company.
Winner of numerous awards at the Davis Film Festival including: Best Soundtrack, Best Documentary, Best Special Effects, and Best Short Film.
Took part in two different language immersion clubs (Spanish and Chinese).
Worked to create environmental sustainability and food security in South Africa.
Licensed general aviation pilot.
Intern at the Smithsonian National Museum of American History.
David Letterman show appearance for 2nd place finish in bird calling contest.
NPR "This I Believe" essay published.
Youth Director of Anti-Teen Sexual and Dating Violence.
Documentary Film Director traveling all over the world making a film on genocide.
Founder and owner of Flours Catering, began in the 8th grade.
Female deckhand on a fishing boat in Alaska.
Popular Academic Interests
as reported on the Common Application:
Engineering
English Language and Literature
Environmental Studies and National Resources
Foreign Languages, Literatures, and Linguistics
History
Political Science
Psychology