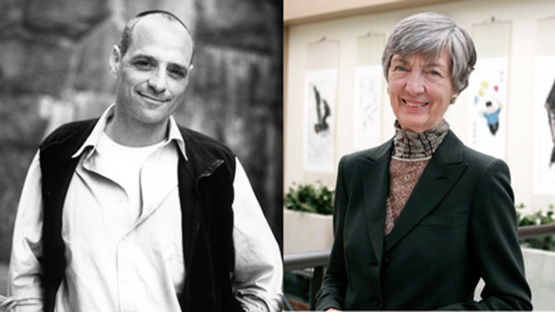 WALLA WALLA – May 7, 2012 – Whitman College will present two honorary degrees – Doctor of Humane Letters, honoris causa – at the 2012 Commencement ceremony, May 20.
One recipient is a nationally renowned author; the other is an accomplished alumna and community servant.
The recipients are: Eric Schlosser, best-selling author of Fast Food Nation and this year's Commencement speaker, and Colleen Seidelhuber Willoughby '55, known as "Seattle's superwoman of volunteerism."
Schlosser is an award-winning American journalist and best-selling author acclaimed for his investigative skills. A former correspondent for Atlantic Monthly, he has been the recipient of the National Magazine Award for reporting and his work has appeared in The New York Times, The New Yorker, Rolling Stone, Vanity Fair and The Nation.
In conjunction with Schlosser's Commencement speech, Whitman is hosting a free, public event with the author. Schlosser will deliver a short reading from Fast Food Nation Saturday, May 19 at 4:30 p.m. in Reid Campus Center, Young Ballroom.
Willoughby has passionately pursued a decades-long career of volunteerism and helping others to achieve their dreams. She has organized and hosted "Women's Education: For Living and Leadership," an annual symposium that brings inspirational female leaders to campus. Willoughby also served on the Board of Trustees and remains an active trustee emerita. The Whitman College Alumni Association presented her with the Gordon Scribner Award for Distinguished Service in 1996. Willoughby says she is guided in her work by the words of Eleanor Roosevelt: "The future belongs to those who believe in the beauty of their dreams."