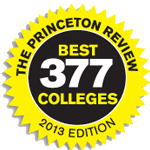 Every year, The Princeton Review selects Whitman for inclusion in its popular "Best Colleges" guidebook and lists the college in any number of its 62 "Top 20" rankings. This year, Whitman is included in nine Top 20 lists:
Best Classroom Experience (5th)
Best Health Services (11th)
Their Students Love This College (12th)
LGBT-Friendly (12th)
Best Quality of Life (15th)
Everybody Plays Intramural Sports (15th)
Best-Run College (17th)
Professors Get High Marks (18th)
Most Accessible Professors (20th)
"Although the value of a Whitman education cannot be defined simply by a number on a ranking sheet, it is gratifying to be consistently recognized as one of the top schools in the nation," said President George Bridges.
"What we value most about The Princeton Review rankings is that they are generated primarily from student input. Whitman's high standings reflect not only the dedication of our faculty and the academic excellence they foster, but also the exemplary efforts of our staff, which contribute to our 'Best-Run College' ranking. We take enormous pride in both areas."
Three of Whitman's Top 20 rankings this year particularly spotlight the college's celebrated academic experience: "Best Classroom Experience," "Professors Get High Marks" and "Most Accessible Professors."
"The academic program is at the core of what attracts students to Whitman, and its strength is our faculty" said Timothy Kaufman-Osborn, provost and dean of the faculty. "Foremost, Whitman students are intellectually curious and they appreciate the benefits of a liberal arts and sciences education. But they particularly value the kind of educational experience Whitman offers, and it shows in these rankings."
The Princeton Review bases its rankings on findings of a survey that asked 122,000 students at 377 top colleges to rate their schools on dozens of topics and report on their campus experiences. In the past, Whitman has been recognized as a "Best Value" school and has been included in The Princeton Review's guide to "Green Colleges." Whitman has also been recognized for its theater, radio station and overall quality of life.
For the complete list of Princeton Review Top 20 colleges and universities, click here. Free registration required to view rankings.