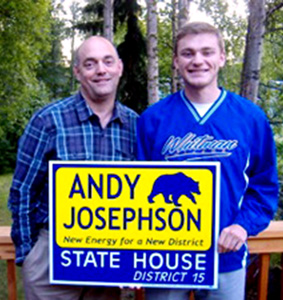 John-Henry Heckendorn '12
with
Andy Josephson '86
. Josephson is running for Alaska State House.
Serving as campaign manager for a State House race might seem like a lot of responsibility for someone only a few months out of college. But that hasn't deterred John-Henry Heckendorn '12 from taking on the challenge.
"I'd made a list of the kinds of things I might like to do after Whitman, and I realized I wanted to do something a little bit unusual; to go somewhere I'd never been and work in a field that I hadn't yet experienced," he said. "When this opportunity came along, it sounded like an adventure."
The former politics/economics major and champion debater from Andover, Mass., is spending his first summer as a post-grad in Anchorage, running a State House campaign for Alaska's District 15. He plans to remain there at least until after the election this November.
And the candidate? That would be Whitman alumnus Andy Josephson '86, a moderate Democrat with an environmental focus. A native of Alaska, Josephson earned a master's in teaching after graduating from Whitman and went on to attend law school. He has taught constitutional law at the University of Alaska, served as a prosecutor in an Eskimo village and worked in private practice for the better part of the past 10 years. This is his first political campaign.
"After I decided to run for office, I had this epiphany that I would call Whitman for someone to help with the campaign," Josephson said. "So I called the chair of the politics department and said 'give me your best and brightest.' When I hired John-Henry, it was a little bit like Match.com or eHarmony. Neither of us had seen the other, but we'd spoken on the phone a number of times. Luckily, we hit it off."
For Heckendorn, the Whitman alumni network played a crucial role in helping him land the position. Not only was he hired by an alumnus, but he says the Whitman community in Anchorage helped him settle in and find a place to stay.
"I came out to Anchorage with very few friends here," he said. "I didn't know anybody except a couple of current Whitman students, and yet now I already feel like I have a community in place. I've had offers from alumni for places to stay, invitations for home cooked meals, suggestions about fun things to do and opportunities to buy or rent a car for the summer. The extent to which the Whitman community supported my move really surprised me."
In Anchorage, Heckendorn also met with prominent public relations expert and Whitman alumna Mary Deming Barber '78, who advised him on campaign strategies and the local political landscape. Beyond his many campaign responsibilities, Heckendorn has found time to accompany Josephson on a backpacking trip, and he celebrated the Fourth of July with Josephson and his family.
"Alaska in the summer is amazing," Heckendorn said. "I live 10 minutes from downtown Anchorage and 10 minutes from the base of a mountain. People here are friendly, and the seafood is out of control. I'm definitely not lacking for things to do or people to meet. It's just a matter of finding time off work to do everything!"
Josephson, a former history major and member of the Whitman swim team, says he was inspired to run for office after serving his home state as a teacher, lawyer and engaged citizen. He says his Whitman liberal arts education also helped equip him for the demands of the campaign trail.
"Whitman taught me how to be a critical thinker," he said.
Josephson admits he is the underdog in this race, facing an opponent who currently serves as city assemblyman. But he does have the advantage of a highly dedicated campaign manager working in his favor.
"It's an incredible job for someone that age," Josephson said. "There's so much going on. And like any job, there are people who aren't very good and don't do a lot and there are people who do a lot, and he's doing a lot."
"One of the things that sets this job apart from other jobs is that the work constantly varies, so I have to manage multiple different projects at the same time," Heckendorn said. "I wanted a job that wasn't super repetitive, so this is a really good fit. I like being able to think strategically and be creative."
Heckendorn works 10 to 11-hour days managing Josephson's campaign. While the candidate concentrates on talking to voters and fundraising, Heckendorn tracks the campaign's finances, coordinates events, writes op-eds, designs mailers and organizes volunteers to canvass local precincts and distribute yard signs. He credits Whitman for his ability to multitask so effectively; as a student, Heckendorn juggled classwork, debate team, athletics and practicing with his band.
"Whitman really taught me how to present myself," he said. "It prepared me for this kind of work."
Despite the long hours, Heckendorn has managed to carve out a place for himself in the tight-knit community.
"His ability to have a good time here is as important to me as his working hard for me," Josephson said. "He's playing on a couple of soccer teams and an ultimate team, and he's made a huge number of friends. He has a fan club here."
Both Josephson and Heckendorn remain strongly connected to their alma mater. Josephson says he gets together almost every year with four of his former classmates, meeting up in Florida, California or Costa Rica for a Class of '86 men's retreat. And Heckendorn has become close friends with a number of Alaska Whitties.
"It's kind of weird that I ended up in Alaska, but it's a fun job," he said. "The most interesting thing from my perspective is that it's a Whitman team running this campaign, and that's a great example of the Whitman alumni network at its best."