WALLA WALLA, Wash. – Whitman College will induct four new members into its Hall of Fame this year. The athletes graduated between 1947 and 2001, and include two record-holding basketball players, a track and field star and a champion swimmer. They will be honored at this year's Whitman Athletics Hall of Fame Reception on Saturday, Sept. 29 at 7 p.m. in the Sherwood Center Hall of Fame Foyer.
More information about each of the 2012 inductees follows:
Kim Flerchinger Bolander '87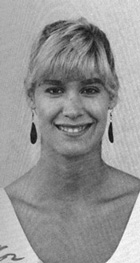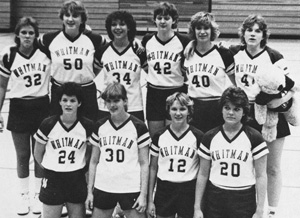 Kim Flerchinger Bolander graduated from Whitman in 1987 as the college's all-time leading scorer for women's basketball with 1,251 career points and 565 rebounds. A member of the All-Northwest Conference First Team her junior and senior seasons, Bolander still ranks No. 4 on Whitman's career scoring list.
Enjoying her best season as a junior – Whitman woman's first year in the present-day NWC – Flerchinger scored a remarkable 505 points, averaged 21 points per game (third in the conference), shot an incredible 51.2 percent from the floor and averaged 7.3 rebounds per game.
She kicked off her senior year with a bang, scoring 37 points and setting Whitman's single-game scoring record in the opener at La Grande. She went on to average 15.8 points and 6.6 rebounds per game in her final season. "Kim was always working to make herself a better player, and that devotion rubbed off on her teammates," Coach John Wilcox said. "She was a pleasure to coach."
The mother of two grown sons, Flerchinger makes her home in the Walla Walla area, where she works as the national/international sales manager for L'Cole No 41 Winery. She's also a member of the Washington Wine Commission export committee.
Tucker Jackson '01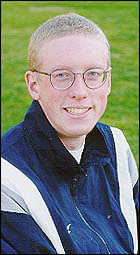 Tucker Jackson graduated in 2001 as the best freestyle sprinter in Whitman's history, a title he held for a decade. Whitman's only four-time Northwest Conference swim champion, Jackson held school records in the 50-yard and 100-yard freestyle events for more than 10 years.
In his three-plus seasons at Whitman (he spent part of his junior year in Australia), Jackson never lost a 50-yard freestyle dual-meet race to a conference opponent, and he won all but one of his 100-yard freestyle events. The versatile Jackson at the time of his graduation was also Whitman's second all-time in the 200-yard freestyle, fourth in the 100-yard butterfly and fifth in the 100-yard backstroke.
As a freshman, Jackson earned All-American Honorable Mention, placing ninth in the 200-yard freestyle and 12th in the 100-yard freestyle at the NAIA National Championships. Whitman later made the transition from the NAIA to NCAA Division III.
Jackson received the 2001 Borleske Trophy, given annually to the most outstanding male athlete. He was only the third swimmer to earn this award, which has been given since 1937.
Head Swimming Coach Jenn Blomme coached Jackson his senior season and described him as a "fierce competitor and amazing athlete." Blomme said the senior captain's "enthusiasm and positive spirit were an inspiration for the entire team."
Bobby Rhay '47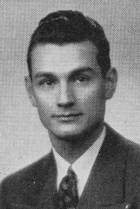 Following a three-year stint serving in the U.S. military during World War II, Bobby Rhay captained the Whitman track and field team to the 1946 Northwest Conference championship by tying his conference record to winthe 440-yard sprint and anchoring the mile relay.
His senior season at Whitman culminated with him winning the 1946 Borleske Trophy.
Before enlisting in the Army Air Corps in August 1942, Rhay captained Whitman to its fifth straight NWC track title by again winning the 440 (setting a conference record) and anchoring the winning mile relay.
As a freshman, Rhay placed second in the 440 at the NWC championship meet. Earlier that season, he ran on Whitman's winning mile relay team at Portland's Hill Relays, a major meet featuring two Olympians, Glen Cunningham and Don Lash.
Rhay is more than a former collegiate athlete. He is a World War II veteran who flew P-47 Thunderbolt fighter planes, logging 47 combat missions. In 1957, he became warden at the Walla Walla State Prison (the youngest in the nation at that time). He retired 20 years later as the nation's oldest warden. He later became assistant director of the Washington Department of Corrections in Olympia and then director of corrections in Montana.
Rhay also worked as a chief investigator for Argosy Magazine's "Court of Last Resort," which was dedicated to upgrading the American justice system. In early 1953, he appeared on Dave Garroway's "Today Show" with Silas Rogers, a young man freed from a life sentence based on evidence collected by the Court of Last Resort.
Dave Snow '65

Dave Snow graduated in 1965 as Whitman's all-time leading scorer in men's basketball with 1,431 points. Nearly five decades later, he ranks seventh on the career scoring list, and his single-season scoring average of 27.1 points per game for his junior campaign is still a school record.
Snow, a 6-foot-4 center, was voted All-Northwest Conference First Team as a junior and senior. As a senior, Snow was also named Associated Press Small College Player of the Week for the state of Washington following a 34-point effort against Northwest Nazarene.
Other career accolades included a spot on the NAIA's All-District Team and Honorable Mention recognition on the Little All-American Team.
While a bit undersized for the center spot, Snow was hard to handle near the basket, noted then-Oregonian sports editor Al Watts. "Snow is one of the finest movers under the basket I've seen," Watts wrote. "If he doesn't make a field goal, he's being fouled."
Snow, who attracted comparisons during his playing days to Princeton's Bill Bradley (NCAA Player of the Year in 1965), later earned a Ph.D. in applied psychology at the University of Washington in 1969. Snow is currently a professor of psychology and executive director of the Consultation Center at the Yale Medical School.
To RSVP for the Whitman Athletics Hall of Fame reception, or with questions, contact Athletics Director Dean Snider at sniderdc@whitman.edu or (509) 527-5288.