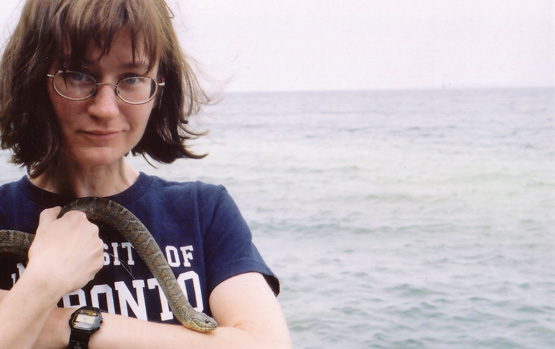 Photo by Heather Jackson
The National Science Foundation awarded Assistant Biology Prof. Kate Jackson a $159,968 grant to support her study of amphibians and reptiles in Central Africa.
Jackson heads a project officially titled "Collaborative Research: Biotic Inventory of the Amphibians, Reptiles and Associated Parasites of the Central African Lowland Forests."
This project is a collaboration between Whitman, the University of Texas at El Paso, the Centre de Recherche en Sciences Naturelles and Groupe d'Etude et de Recherche en Diversité Biologique, which are located in the Democratic Republic of the Congo and the Republic of the Congo.
"The goal of this project is to shed new light on the most poorly known animal groups,
amphibians, reptiles and their endoparasites, in one of the most poorly known regions in the world, the lowland forests of Central Africa," Jackson said.
Jackson has traveled to these "poorly known regions" numerous times to conduct research, and the herpetologist recently launched the first-ever online database of Western and Central African snakes.
The website, which identifies the snakes of sub-Saharan Africa down to the genus level, will serve as a powerful tool for local doctors treating snakebites.
"The 'Snakes of Central and Western Africa' database provides the information, tools and training necessary for African medical professionals to make expedient snake identifications, which are necessary for treatment of snakebites," Jackson said.
The website is a companion to her forthcoming book, also titled "Snakes of Central and Western Africa," (John's Hopkins University Press, 2013) which covers 26 countries and almost 300 species of snakes.
—Edward Weinman