WALLA WALLA, Wash. -- When U.S. Sen. Maria Cantwell's constituents have a problem, they phone a regional office, and Elaine Whaley '14 takes their call.
"I'm basically a junior caseworker," Whaley said. "We help constituents who are having problems dealing with federal issues."
Whaley's impressive academic record at Whitman and her commitment to social responsibility earned the history major a summer internship with the junior Senator from Washington.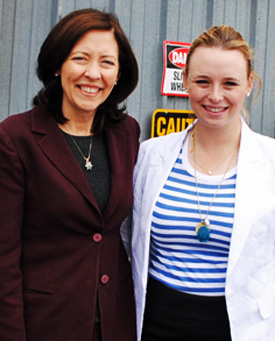 Elaine Whaley, U.S. Sen. Maria Cantwell
While student interns often get stuck performing mundane office tasks, such as data entry or filing, Whaley is on the front lines, assisting constituents with everything from receiving their veterans' benefits to expediting visas.
"I wanted to have a job that was benefiting someone. I'm always getting phone calls from constituents that need my help. I'm their liaison to the government. I help guide them through the maze," Whaley said.
While Whaley is inspired to help Sen. Cantwell's constituents navigate the federal bureaucracy, Whaley sometimes has to deal with voter anger over hot-button political issues, such as gay marriage or health care.
"When someone calls to complain, one of the most challenging things is to not argue with them. No matter how you feel about an issue you listen to what they say" and field their complaints.
Whaley has the ability to stay composed. Part of the poise she exhibits on the job emanates from the fact that she's been golfing since she was seven-years old and was part of the Whitman golf team that competed at the national championship.
"It has been hard getting to practice during the summer with my internship, but I'm able to go early in the morning or during the evening and practice. I'm hoping that on my free time I can also help out with The First Tee program here in Spokane."
The First Tee is a volunteer program dedicated to introducing golf to community youth as a "fun, fulfilling and life enhancing sport." That Whaley would take time from her busy schedule to volunteer on the golf course underlines the type of person she is.
"Elaine is a positive, talented and engaged member of our student body," said Noah Leavitt, assistant dean for student engagement, who helped Whaley apply for the position in the senator's office.
"She also has a knack for drafting effective professional emails and letters, an important skill which I'm sure did not go unnoticed by the staff in Senator Cantwell's office when Elaine was seeking this position. The SEC is delighted to be able to support her in this summer internship."
Despite having met Sen. Cantwell, Whaley doesn't think she's ready for a career in politics. However, her internship has altered her career goals.
"There's a real need for public service out there," Whaley said. "This job has made me want to work with immigrant rights groups and help represent people who are vulnerable."
It was at Whitman where Whaley discovered her motivation to "help people who don't have anywhere else to go."
"Whitman enables students to recognize that there are people in society who need to be heard. I"m on the phone every day at work listening to these people, and I've learned there aren't a lot of services out there for people who need help."
By Edward Weinman