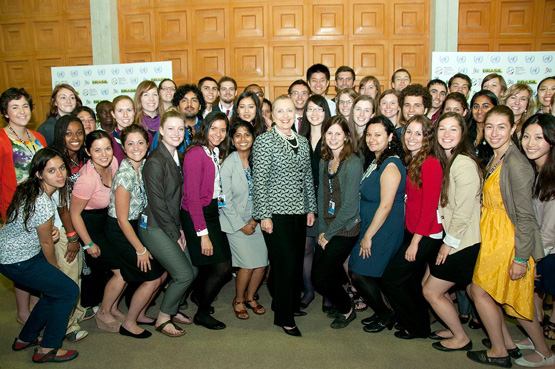 With Secretary of State Hillary Clinton: Lisa Curtis, third to the right from Clinton; Emily Rodriguez, four over to the left of Clinton, and one row up.
"Realizing the future we want," was the motto of the United Nations Conference on Sustainable Development which took place in Rio de Janeiro, Brazil, in June, 2012.
Kim Smith '90 was one of three Whitman alumni who joined more than 50,000 participants from governments, private sectors and various NGOs, all working to realize one goal: "ending poverty, addressing environmental destruction and building a bridge to the future."
"While not everyone is pleased with the outcome document, 'The Future We Want,' [we] achieved many amazing goals," said Smith, who was the North American representative for higher education, representing the Association for the Advancement of Sustainability in Higher Education.
Smith took center stage at the U.N. Conference, dubbed Rio+20 (it's been 20 years since the 1992 Earth Summit in Rio), working with a consortium of educators and administrators around the world who promoted the role higher education plays in implementing sustainability goals in schools' curriculums and operations.
"We were thrilled to have launched the Higher Education Sustainability Initiative," said Smith, explaining that the leaders of the international academic community are now called upon to commit to the development of sustainable practices for higher education institutions.
"It's a powerful way to create partnerships and help move the Earth Summit initiatives forward by showing our commitment and offering examples to the world about how sustainability education matters," Smith said. "The HESI also has tremendous potential in creating a more sustainable way of living, doing business and advancing the global green economy."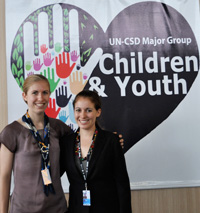 Lisa Curtis right, Emily Rodriguez left at Rio +20.
While Smith was approaching sustainable development through the lens of education, Lisa Curtis '10 represented youth organizations at Rio+20, focusing on helping American youth get their voices heard in the media, a skill she developed by working at the Whitman Pioneer throughout her college career.
"Whitman led me to Rio in a couple of different ways," Curtis said. "First, by allowing me to become involved in environmental activities on campus and by supporting me to attend U.N. conferences in New York and Copenhagen while I was in school."
"But part of my duties at Rio+20 involved blogging for Forbes and the environmental website Grist, which I wouldn't have been able to do if not for my four years working at the Whitman Pioneer."
Curtis works in communications for Solar Mosaic, a startup committed to raising money to build "solar power plants" on the rooftops of buildings. She felt it was important to attend Rio+20 because she wanted to support the young leaders in SustainUS, the youth delegation with which she went to the conference.
However, Curtis echoed Smith in saying that Rio+20 was incredibly frustrating, but she added that the U.N. conference was also exciting.
"It was exciting that the leaders of the world and thousands of civil society members came together to discuss building an inclusive green economy and that progressive items such as phasing out fossil fuel subsidies and finding better ways to measure a country's well-being than GDP were on the agenda. At the same time, it was frustrating that, because the US is in an election year and Europe is in a financial crisis, not much was accomplished policy-wise."

Curtis' friend Emily Rodriguez '10 attended the U.N. conference after being asked by the World Association of Girl Guides and Girl Scouts to coordinate the Girl Scout delegation to Rio+20.
"I was so excited to lead the Girl Scout delegation and to influence the policy document," said Rodriguez, a Girl Scout USA environmental expert.
"I felt well prepared with my knowledge of international sustainable development which is supported by my Whitman backbone in environmental studies. Rio+20 was also an opportunity to promote Girl Scouts Forever Green, a national campaign where girls lead local environmental projects."
Rodriguez, who is currently in Sweden working towards her master's in science for sustainable development, said a highlight of the conference was collaborating with youth organizations to get a paragraph about non-formal education into the negotiation text, which found its way into the final policy document the conference produces.
"The youth at Rio+20 played an instrumental role. We explained why outside-of-school, hands-on, curriculum-based education is so important for environmental sustainability."
Rodriguez said her Whitman background prepared her for the intellectual rigors of attending the international conference, and it also helped her develop the interpersonal skills necessary to lead a delegation.
"I learned about environmentalism at Whitman. But my course work and involvement in extracurricular activities like cross-country and cycling gave me a solid foundation in critical thinking, teamwork, time management skills and public speaking," Rodriguez said.