WALLA WALLA, Wash. -- Thanks to an outpouring of support from locally owned businesses, including title sponsor Key Technology, the Whitman College men's basketball program is hosting two weeks of Together We Can (TWC) Youth Leadership and Basketball camps free of registration charge this summer.
Established in Walla Walla four years ago by Whitman head men's basketball coach Eric Bridgeland, TWC camps have become a local staple of summer youth activities.
In running the first TWC camp in 2009, the program partnered with local sponsors to raise money so that children from the Friends of Walla Walla youth program could attend camp for free. Since that initial camp, more sponsors have become involved, and in 2011, for the first time, TWC camps were offered free of registration charge.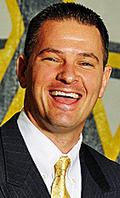 Eric Bridgeland
"Most camps cost anywhere from $150 to $200 per week, and that simply isn't doable for many families in our community," Bridgeland says. "We are so blessed to have local businesses, such as Key Technology, who care enough about children to give back in such a powerful way."
Key Technology, a worldwide manufacturer of agricultural and food sorting technology based in Walla Walla, has stepped up to support the TWC camps as the title sponsor for the fourth consecutive year.
The camp sessions, which run June 11-14 and August 6-9, and are open to boys ages eight to 14. Hours each day are 9 a.m. to noon. The only cost associated with the camp is a $20 administrative fee — even food is covered, as sponsor Big Cheese Pizza is providing free pizza at the end of each day of camp.
To register for the camps, parents can contact Whitman assistant coach Matt Airy by phone (509 386-1945) or e-mail (airymw@whitman.edu).
"Thanks to Key Technology and over 23 additional local businesses, we have the opportunity to provide leadership and life-skills training, through basketball, to children in Walla Walla County – regardless of their socioeconomic background," Bridgeland says.
"The fact that our Together We Can camps are entirely community supported in Walla Walla is simply phenomenal. I've never been a part a community that's done anything like this. It speaks volumes about our city's character."
- 30 -
CONTACT: Dave Holden
Sports Information Director
Whitman College, Walla Walla, Wash.
509 527-5902; holden@whitman.edu